In the digestive tract i.e. in your small intestine, large intestine and stomach, gas is generated by swallowing air and normal breakdown of certain undigested foods by harmless bacteria naturally present in the large intestine (colon). Gastric problem is a commonly found disease in almost every individual. One can experience this problem a number of times in the same day. It may include few acts like abdominal bloating, belching, flatulence and intestinal gas. It may be embarrassing sometime. Few precautions that can be taken to reduce the problem include avoiding consumption of fatty food and gas producing items, avoid smoking, reducing intake of carbonated drinks and beer, regular exercise, eating slowly. Read on to find more.
A statistics by NIH (National Institute of Health) shows that most people produce digestive gas about 14 times in 24 hours. The normal source that cause this problem is swallowing air and eating fatty food. Gas problem may lead to bloating, belching, flatulence and other gastric problems. Gastric problem is considered natural, but sometime it makes you feel uncomfortable and embarrassing. So the question arises, how can we avoid this situation of embarrassment?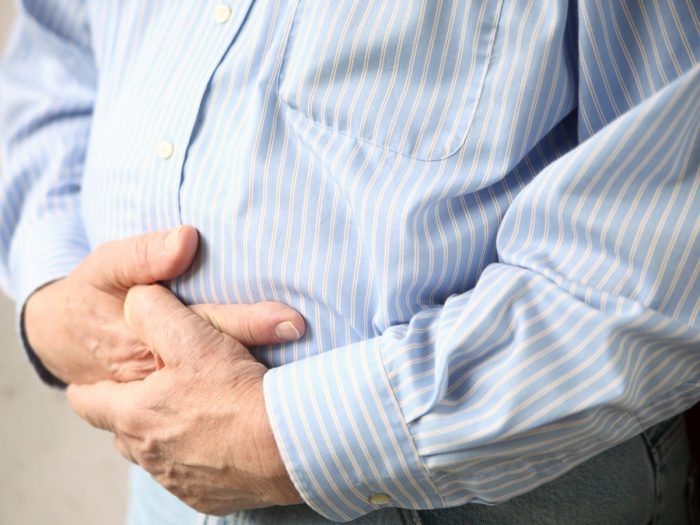 Keeping a proper diet and regular exercise not only makes you healthy. This also helps in reducing the problems like farting, bloating etc. Avoiding eatables that contains fat like broccoli, baked beans, cabbage, carbonated drinks, cauliflower, hard candy etc is necessary. Gastric problem may also lead to stress or anxiety, gastrointestinal infection or blockage and stomach pain.
Curing or prevention of the problem takes time, but it can be reduced to a great extent following simple home based remedies.
Avoid Fatty Food: You must avoid the food that affects you most. It includes items like broccoli, cabbage, onions, beans, peas, carbonated drinks. If dairy products are a problem, try low-lactose or lactose-free varieties.
Exercise Regularly: Regular exercise and evening walks help in reducing problem. Exercise keeps our body fit and helps in maintaining our abdominal system.
Don't Smoke: Smoking increases the chances of belching in our body that is formed by excess of air. Smoking helps in swallowing air thus causes belching. So, to get rid of this problem, you need to quit smoking.
Eat Slowly: Fast intake of food results in digestion problem. Your digestive system needs time to digest the food that can not be done, if you eat fast. Chewing the food is a must and can help in reducing gastric problem. So, those who eat fast should not do so, in order to take care of their intestinal problem.
Avoid High-Fiber Food on Temporary Bases: Fiber aids digestion, but many high-fiber foods are also great gas producers. After a break, slowly add fiber back to your diet. Add products such as Beano to high-fiber foods to help reduce the amount of gas they produce. When you're ready to begin incorporating fiber into your diet again, work slowly by choosing small portions of whole, high-fiber foods. Fiber is an important nutrient and should be part of any healthy diet; but if you're prone to gas and bloating you must gradually increase your tolerance. Once your body becomes acclimated to its presence, fiber boasts a number of health benefits, from helping to cleanse the colon to helping maintain feelings of fullness.
Change in Diet: Changing your diet to reduce the discomfort of gas may help you to a certain extent. Most of the doctors suggest changing the diet along with consumption of few medicines and it has proved to be a successful experiment.
Are You Not Benefited?
Problem of bloating, blenching and gas can be reduced by following the above steps. If you are still unable to get out of it, it is better to consult a doctor because small problems may sometime lead to big chaos, if not treated timely. Consultation with doctor is advised, if you do not feel any kind of improvement with your intestinal or gastric problems.