Abdominal pain is known by various names like stomach pains, bellyaches, or abdominal cramps.
What is Abdominal Pain?
Abdominal pain refers to the condition of acute pain felt in the region between the chest and the groin. It affects a number of organs, including the stomach, liver, kidneys, gallbladder, pancreas, and intestines. It may be caused due to digestive issues, metabolic disorders or other complicated reasons. The pain may last for a short duration or for extended periods of the day. It may also be followed or accompanied by other problems like vomiting. Mild pain may be treated with simple home remedies while severe pain might need a doctor for a complete diagnosis.
Causes
Abdominal pains can be caused by a number of reasons. Here is a summary of the most common reasons that lead to this situation:
Digestive distress: It may be the result of

overeating

, digestive

malfunctioning

, the formation of excess gas, or constipation.
Inflammatory bowel diseases: It may be due to

inflammatory

bowel diseases like Crohn's disease and

ulcerative

colitis.
UTIs: It may also be caused due to infections in the urinary tract.
Inflammation: It may be caused due to inflammation of the gallbladder, appendix, or other sensitive body parts.
Kidney stones/ gallstones: The presence of stones in the kidneys or the gallbladder can also cause abdominal pain.
Premenstrual problems: In women, it might be caused by the

premenstrual

disorder.
Acid imbalance: An imbalance in different types of body acids may also lead to pain in the abdomen.
Intolerance and allergies: Milk intolerance and allergies due to different food products are some other causes of abdominal pain.
Infections and ulcers: It may be caused by food poisoning, stomach flu, ulcers, or parasitic infections.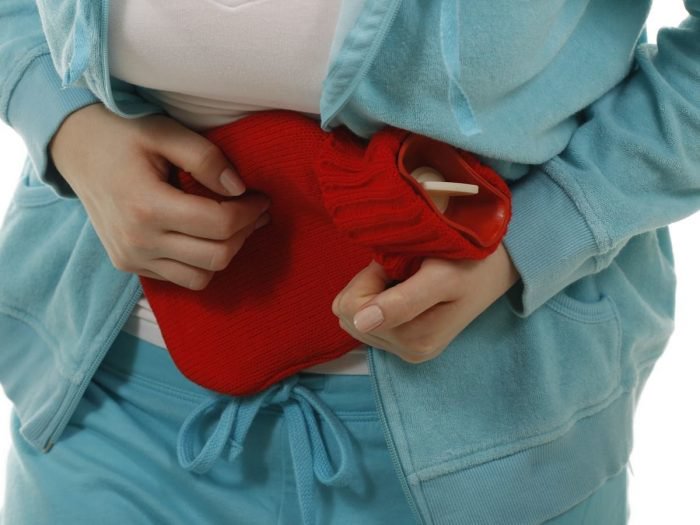 Symptoms
The following are the common symptoms of abdominal pain:
Pain and discomfort in the chest, neck, and shoulders, and around the stomach
Vomiting
Nausea
Heartburn
Difficulty in

breathing

Inefficient muscle movement
Inability to perform routine activities