The old adage that the more vibrant a fruit or vegetable, the more nutrition it carries is true with Brazil's superfruit, acai berry. In less than a year, acai bowls have taken over Instagram, along with cats and yoga. After all, who wouldn't admire a bowl full of utterly refreshing colors, right?
While you cannot find fresh acai berries around you (unless you are in the subtropic regions of Central and South America), acai powder will definitely help you get closer to the breakfast of your dreams. It is made from freeze-dried acai berries and can be mixed in a number of desserts and smoothies. Fitness enthusiasts are adding this health-food to their diet as it provides many benefits of acai berries and also makes everything taste great.
This article will help you know more about its benefits. We have also included some fun recipes for you!
Is Acai Powder Healthy?
Known as "Amazon's superfruit," acai berry earned this tag because of its rich antioxidant content. There is limited research on the benefits of acai powder, however, studies done on other acai-based products suggest that this powder may have similar benefits. Let's take a look at them below. [1] [2]
Antioxidant properties: Berries are synonymous with abundant antioxidants and acai is no exception. It contains anthocyanins, which support vitality and longevity. Acai is also found to have neuroprotective effects as its antioxidant potential can help in bipolar disorder therapy. Acai berry also helps reduce general inflammation in your body. [3] [4] [5]
Heart health: Acai berry-based juice is shown to reduce muscle damage due to exercise and improve cholesterol balance in the body. [6]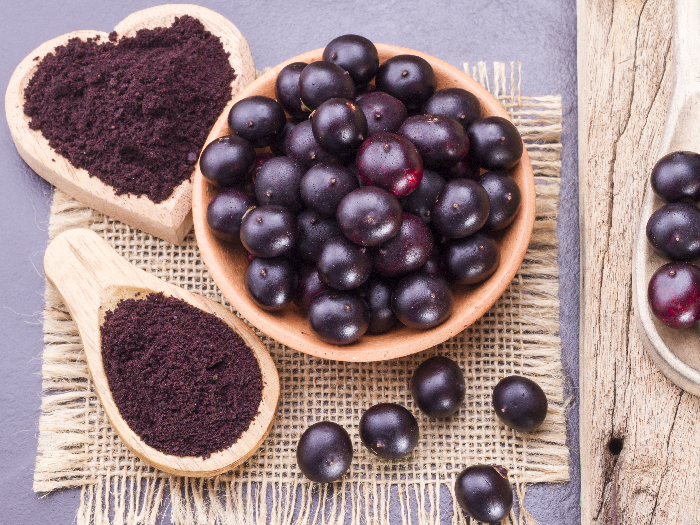 Recipes
You can add acai berry powder to many things like smoothies, desserts, juices, and protein shakes. Let us take a look at some of these simple recipes below.
Delicious Acai Bowl with Acai Berry Powder
Loaded with fruits, nuts, and toppings of your choice, this thick smoothie bowl takes no more than 10 minutes to make. It is so satisfying, you wouldn't need a pastry to fulfill your sugar cravings!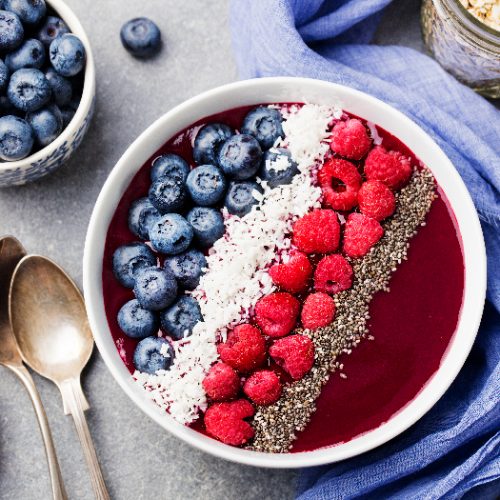 Simple Acai Bowl with Acai Berry Powder Recipe
An antioxidant-rich bowl to lighten up your day!
Print
Pin
Rate
[7]
[8]
Ingredients
1

cup

raspberries

1

cup

blueberries

1

cup

banana

frozen

2

tbsp

acai berry powder

1

cup

water

1

tbsp

nut butter

1

cup

granola

1

tsp

chia seeds

1

tbsp

coconut flakes

fresh berries
Instructions
Put berries, banana, acai berry powder, nut butter, and water in a blender.

Blend until you get a smooth consistency. You can add more water if you need.

Now empty the smoothie in a bowl and top it with granola, chia seeds, coconut flakes and fresh berries of your choice. Your homemade acai bowl is ready!

You can also drizzle some chocolate syrup of your choice.
Notes
You can use any berries or fruits to make this smoothie bowl. Instead of water, you can also add any milk of your choice. You can use various toppings like corn flakes, chocolate chips, and nuts.
Overnight Oats with Acai Berry Powder
Overnight oats make for an easy breakfast on-the-go. With a little effort, acai berry powder blends well with your oats and gives you a rich, nutritious meal to start your day with!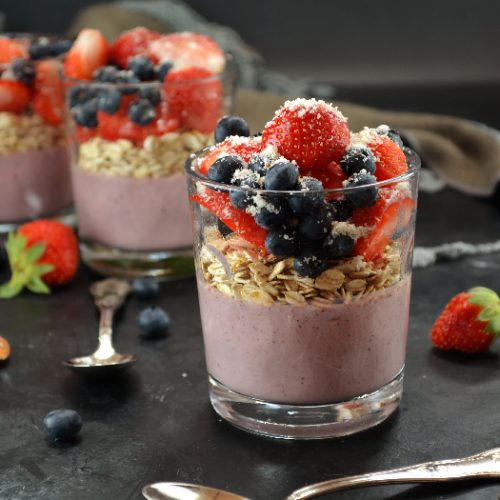 Ingredients
Instructions
Add oats, chia seeds, flaxseed meal, acai berry powder, and honey to a mason jar.

Now mix everything and then add milk to the jar. Mix the oats well again.

Cover the jar and place it in the refrigerator overnight. You can also keep it for a shorter duration if you are making the oats for some other time of the day. A minimum of 2 hours is recommended for a good taste!

Once the oats are cool enough, top them with nuts, berries, or fruits and serve!
FAQs
How do I select the best acai powder?
Acai berry powder is available at most supermarkets nowadays. You can look for a version that is non-GMO, USDA-certified and has the least additives and preservatives. Many stores also keep vegan and gluten-free versions of this powder. For people with specific allergies like nut allergy, it is always best to check the nutrition label before selecting the pack as some manufacturers add nuts to the powder.
Does acai berry powder taste good?
Acai berry powder tastes like a blend of chocolate and wild berries. However, it also depends on other ingredients that are added to the powder. If you skim through the reviews on the internet, many people have said that they do not like the taste of this powder. We suggest you look for a trial pack first and then go ahead with a larger one if you like the taste.
How long does it last?
Acai berry powder usually contains preservatives and has a shelf-life of about two years. To keep the pack unaffected, keep it sealed and away from heat. You can also refrigerate it. Although the powder is expected to last long, use it regularly so that it doesn't go bad.
Can you make tea with it?
You can make tea with acai berry powder. Boil the water and add the teabag of your choice to it. Once you see that it has steeped well, add acai berry powder. Mix well and strain it in a cup. For acai iced tea, refrigerate the tea for about an hour and serve with ice cubes!
Word of Caution: It is always advised to try and add fresh fruits to your diet. Acai berry powder, on the other hand, is good to have when you cannot find fresh berries for your smoothie or desserts.
Many of these powders can lead to gas formation and common stomach disorders. We suggest you consult with your doctor if you experience such symptoms.
Caution is advised regarding certain websites/sellers that are promoting this powder as a weight-loss supplement, as per reports published by the FDA. It is always safe to check the label of the package before buying or using these products. [12]