Acne scars ranging from dark hyperpigmentation marks to angry red spots are a much-feared skincare issue. In some cases, there could be an infection in the lesions or when the pimples are squeezed or scratched. The American Academy of Dermatology (AAD) reports that there are as many as 50 million Americans with this embarrassing skin condition.
What is Acne?
Basically, acne refers to the blackheads, whiteheads, and short pink bumps called papules, which appear on the skin in the form of cysts as a result of prolonged contact with dust, polluted air, sweat, or dirty water. Acne usually occurs on the face, but areas like the legs, buttocks, shoulders, chest, and back are also not spared by this skin condition in certain cases. According to the dermatologists at the Acne Research Institute in California, men and women can even experience acne at 25 or 35 years of age, sometimes even older, which many people don't know since acne is typically associated with teenagers and pubescent individuals.
Acne is caused due to clogged pores and an outbreak of lesions, as reported by the National Institute of Arthritis and Musculoskeletal and Skin Diseases. Acne can be an embarrassing condition to experience when you are a teenager or an adult; but once those hormonally charged years are over, and you have reduced the chances of recurrences, the scars, spots, and after marks of acne can still cause a lot of self-esteem and confidence problems. That is why curing the condition of acne is not enough; the acne scars must also be taken care of.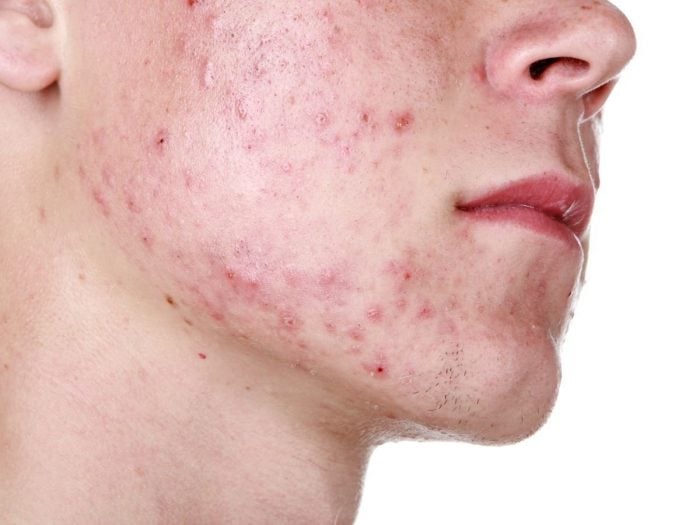 Causes
There are a number of things responsible for acne scars. Different dermatologists have different theories for their emergence. Although none of them indicate a whole and sole cause of it, one thing that is common is that they are influenced by the skin of a person and the environmental conditions in which they live. Below, we have discussed some of the reasons for acne scarring:
Presence of Oil on the Skin: Too much oil makes it difficult for the skin to breathe by clogging the skin pores, thereby slowing the healing process and causing scars.
Accumulation of Bacteria: The ideal place for the

bacteria

to grow is around the hair

follicles

. This results in red and yellow colored lesions on the acne prone area.
Dead Skin Cells: The oil glands present inside your skin secrete sebum; this process helps lubricate your skin. When these oil glands secrete a huge amount of sebum, it results in the accumulation of dead skin cells, which causes acne scarring.
The above three are the primary reasons or causes of acne scarring. We shall also take a look at the secondary reasons:
Genetics:

Genetics

also play an important role in acne scarring. Those who have parents who went through the same ordeal are more prone to have acne scars than others.
Poking and Pinching: Another thing that can cause scars is the pinching and poking of acne spots or pimples.
No Treatment: If you have acne and are experiencing a lot of them on the face, arms, shoulders, etc., then it is crucial that you take some treatment for it. Because if you don't, then acne scars are expected to happen.
Symptoms
The following are the common signs of acne scarring.
Raised lesions: These are the most common and have pus within them. They are also called pustules.
Dark spots: After the acne heals, it leaves pigmented spots that are a form of scarring that could take a few weeks or months to heal.