Asparagus is absolutely my favorite vegetable. The fleshy stalks are full of flavor that makes it the perfect accompaniment. But I love it when it shines on its own, as in a soup. My only complaint is that the classic asparagus soup is full of cream. So, I looked around for a recipe that was lighter and could be made without the heavy lashings of dairy. The non-cream version, I'm happy to say, is even better than the classic. This asparagus soup can be easily adapted for non-dairy, vegan, paleo, and vegetarian diets.
Cream or No-Cream?
This is not to say that the trusty, but elegant cream of asparagus soup is any less. There's a good reason why it remains one of the most popular soups in restaurant menus. But sometimes a girl just wants something less calorific. The no-cream version is ideal for those on calorie-restrictive diets or those who want to avoid heavy meals. Our no-cream version is just as hearty and wholesome. You can also make it with canned asparagus.
Asparagus soup is not just delicious, it is also very beneficial for your health. This lovely green bowl of soup can boost your immunity. A 2018 research, published in the journal Phytotherapy Research revealed that it could be used in cancer therapy. [1] [2]
How to Make No-Cream Asparagus Soup?
This no-cream version is also a frugal housewife's dream. It uses vegetable parts that are usually discarded, such as the woody ends of asparagus stalks and green leek tops. To compensate for the cream, I have added potatoes.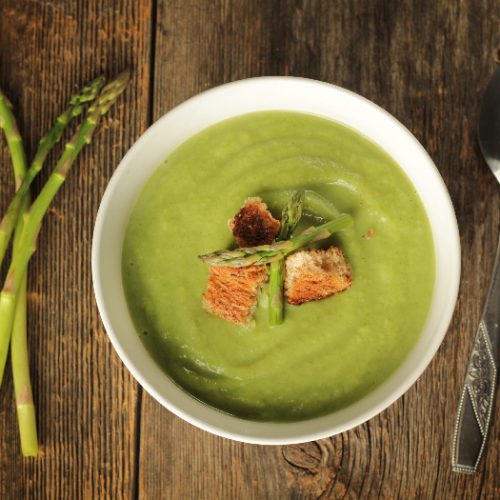 No-Cream Asparagus Soup Recipe
Instead of cream, we have used vegetables like celery, leek tops, and potatoes to make a heartwarming soup. This immunity-boosting soup is also jam-packed with flavor.
Print
Pin
Rate
Ingredients
10-12

stalks

asparagus

1

cup

leek tops

chopped

1

onion

chopped

3-4

garlic pods

minced

1

medium russet potatoes

diced

1

cup

celery

chopped

tbsp

butter or olive oil

plus a tsp

3

cups

vegetable stock

salt & pepper

to taste

croutons

optional
Instructions
To make no-cream asparagus soup, prepare the asparagus. Cut the tips and keep aside. Chop up the rest of the asparagus, including the woody ends.

To a large pan, melt the butter under medium heat. Alternatively, heat the olive oil. Add the chopped onion, celery, and garlic. Saute till the onion becomes soft and translucent.

Add the potatoes, leek tops, and the asparagus. Mix well and cook for 5 minutes.

Add the vegetable stock. Check the salt and add as per taste. Cover the pan and let it simmer. Allow the vegetables to cook until they soften.

Meanwhile, prepare the celery tips. Add them to salted boiling water and let them simmer for 5 minutes till the tops soften. Alternatively, you can also steam them.

In a pan melt a teaspoon of butter or an equivalent amount of olive oil. Saute the asparagus tops in the butter/oil. Keep aside the tops.

Meanwhile, check if the soup vegetables have softened. Use an immersion blender to blend the vegetables into a smooth puree. Let the soup simmer for a couple of more minutes. Add pepper as per taste.

Serve the soup with asparagus toppings and croutons.
Notes
If you want a luxurious version, serve the soup with shaved parmesan cheese and fried bacon.
For a vegan version, use olive oil instead of butter.
A note about the ingredients:
You can make this with canned asparagus. Add it after the other vegetables have softened and proceed as the recipe.
You can add other vegetables like carrots and spinach. Add the spinach towards the end and just let it wilt. Do not let it cook for more than a few minutes.
If you want a 'meaty' version, add chicken stock in place of vegetable stock. Top up the soup with fried bacon.
What to Serve With Asparagus Soup
Asparagus soup is quite hearty and full of nutrients. Like most soups, you can serve it with crostini or croutons. For a posher version, I'll recommend topping it with bacon and parmesan shaving. Whatever else you may choose to serve with it, I highly recommend that you include the asparagus topping as suggested. The fleshy tips, bursting with flavor, add an interesting texture to the soup.
This soup can be frozen for at least a month. Just heat up before eating. You can also use the leftovers in other interesting ways. Add it to stews and pasta sauce. For pasta sauce, you can combine the soup with pesto.
Did you try out our recipe? Let us know how you found it. Tell us about your favorite toppings and how you used your leftovers. And while we cannot taste it, we'll love to hear from you. So, please leave a comment below.