Assam tea is one of the most common types of tea in the world, even if you don't immediately recognize the name. It is packed with nutrients that can boost your health in a number of ways.
What is Assam Tea?
Assam tea is a type of black tea, which is named after the region in India in which it is grown, which happens to be the largest tea-growing region in the world, and has native tea plants, just as the major tea-growing regions in Southern China. This particular subtype of tea is scientifically classified as Camellia sinensis var. assamica but may be more commonly known as an English breakfast tea. The majority of the teas grown in this region are grown as breakfast teas, although there are also white and green tea varieties cultivated there. [1]
There is caffeine in Assam tea, approximately 80 mg in every 8-ounce cup, making it one of the strongest teas in terms of caffeine, second mainly to chai tea. The taste of this tea is widely recognized as slightly mellow and earthy, with a smooth buttery overtone. There is a strong malty flavor in the tea as well, and this variable flavor is what makes it one of the most popular brews on the planet.
Assam Tea Benefits
The top benefits of Assam tea include boosting cardiovascular health, preventing certain cancers, improving cognitive function, and speeding the metabolism, among many others.
Cancer
A 2017 research study reveals that black tea like Assam tea contains quite a few phenolic compounds and other antioxidants that can help inhibit the spread of cancer. More human trials are awaited but the results look promising.Heart Health [2]
The active ingredients in this tea have been linked to improving the integrity of your blood vessels and arteries, thus making you less likely to develop plaque buildup in your cardiovascular system, and lowering your risk of cardiovascular disease. [3]
Metabolism
Caffeine is a stimulant substance, and as such, can increase the rate of your metabolism, not only giving you an energetic boost but also improving certain metabolic functions, such as fat-burning. [4]
Digestion
There is a slight laxative effect of this tea, and it can help to keep your bowels regular, particularly if you regularly suffer from bouts of constipation. [5]
Cognitive Function
Studies have found that this tea can help to improve mental alertness, and with the notable levels of antioxidants, it can also prevent oxidative stress in the brain, which can reduce your risk of neurodegenerative diseases, such as Parkinson's disease. [6]
How to Make Assam Tea?
Due to the global popularity of Assam tea, it is widely available in both loose leaf and tea bag form; both are prepared in a similar way. Let us take a look at the recipe below.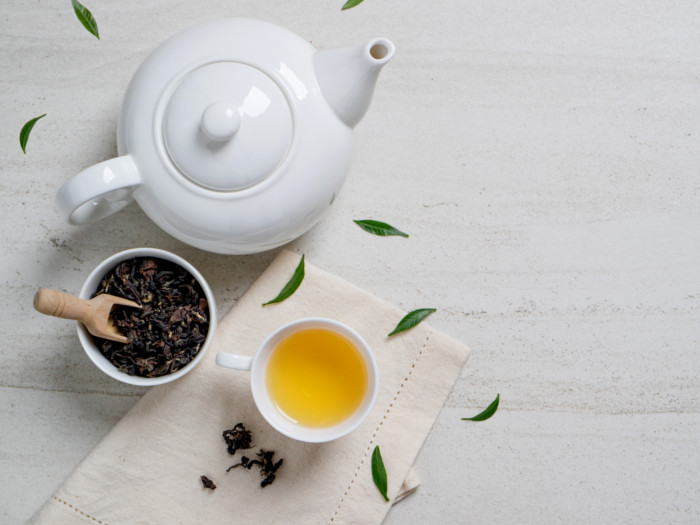 Ingredients
8

ounce

of filtered water

1

tsp

of loose Assam tea leaf

1

tsp

of honey
Instructions
To make Assam tea, add 1 teaspoon of loose-leaf Assam tea into a teapot for every 8 ounces of water.

Bring water to a boil in a kettle. Allow water to cool to just below boiling, then add to the tea leaves.

Let this mixture steep for 2 minutes. Strain out the leaves. You can add a teaspoon of honey to enhance the taste. You can also add milk if you wish to do so. Serve hot and enjoy!
Assam Tea Side Effects
There are some side effects of drinking this black tea of which you should be aware, including an elevated risk of anxiety disorders, bleeding issues, sleep problems, high blood pressure, indigestion, and others. However, these side effects are all linked to drinking an excessive amount of this tea. In moderation, drinking a caffeinated beverage is not inherently dangerous. Similarly, pregnant women should only consume this tea if they have consent from their doctor.