These days, backache is a leading cause of disability, preventing many people from completing their tasks or going about their normal life with ease. In the United States alone, chronic pain, particularly backache, costs the country nearly $635 billion each year in medical treatment as well as lost productivity, says a book titled, 'Relieving Pain in America', by the Institute of Medicine. This goes to show how widespread the problem of backache really is and how developed nations such as the US, are struggling to find a solution for it.
Well, there are many lifestyle habits, right from poor posture at the workplace to a sedentary lifestyle, that may cause severe backache. These causes largely go unnoticed. To prevent any kind of health issue, it's primarily important to know what causes it. So let's take look at what is backache and its various causes and symptoms.
What is Backache?
A backache refers to the constant mild or chronic pain in the back of one's body. It occurs for several reasons, including irregular lifestyle, food habits, or as a result of various diseases. It can be treated effectively with various home remedies such as low-impact, regular exercises, such as yoga, Tai Chi, and water aerobics, to name a few.
Causes of Backache
According to the Better Health government website, the kind of lifestyle, working conditions, sitting at a computer for long hours, and food habits are responsible for backaches. It has been found that they may occur due to holding an improper posture for long periods of time. Wearing high heels also results in strenuous stretching of the muscles, resulting in backaches. Some of the other causes of backaches include carrying heavy things on your back, pregnancy and certain diseases like kidney disorders, irregularity in the menstrual cycle, meningitis, obesity, influenza, osteoporosis, or arthritis. Sometimes, a simple change in the posture can also help treat backaches.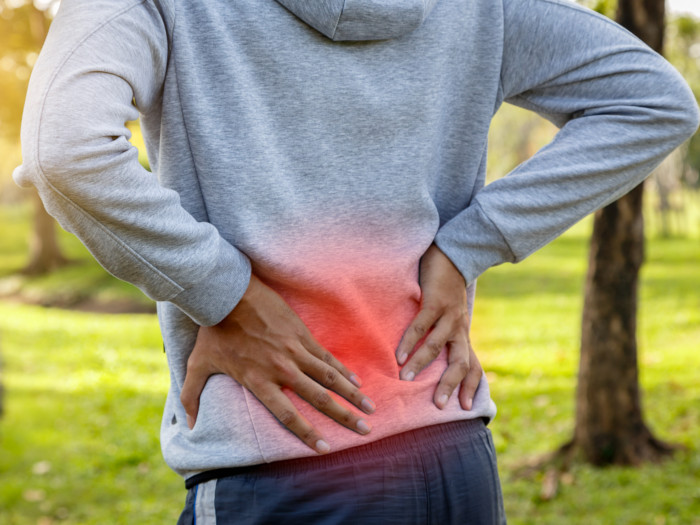 Symptoms of Backaches

Backaches are characterized by the following symptoms-
Pain in the lower or middle back portion
Pain sometimes spreads to the hips and waist
Pain is felt between the hips and upper legs
At times, it becomes too difficult to alter from one position to the other
When backaches are due to spondylosis, the spine becomes inflexible.
Backaches can be prevented and even cured by taking a few remedial measures. It is always advisable to consult a medical professional before taking medication, food supplements or any of the other remedial measures when pregnant or breastfeeding.