The home remedies for baldness include coffee, coriander juice, mustard oil, henna leaves, coconut milk, amla, shikakai, reetha, lemon, black pepper seeds, pepper, and curd.
What is Baldness?
Baldness, also known as alopecia, is a condition in which you see abrupt hair loss. It is characterized by patchy areas of skin without hair.
Men are most commonly affected, but women can also suffer from hair loss. Factors like stress, hormonal imbalance, prolonged diseased conditions, and inadequate nutrition are the primary causes of baldness, along with hereditary factors. Once considered an incurable condition, baldness can now be treated in various ways. There are a number of preventative measures and home remedies that can protect you from baldness.
Baldness is a condition denoted by an absence of hair. According to University of Virginia Health System, it is usually detectable on the scalp, but other places bearing hair can also undergo hair loss. It is found to be most prevalent in men.
In simple terms, when hair shed off, new hair doesn't typically grow to replace the lost ones, and baldness occurs. It usually follows a set pattern of events. It starts with the loss of hair in a gradual fashion in a receding hairline pattern and thereby increases the area afflicted by baldness. The hair becomes thin at the top portion. In men, hair loss is typically due to hereditary reasons and can lead to complete baldness, which is not the case with females.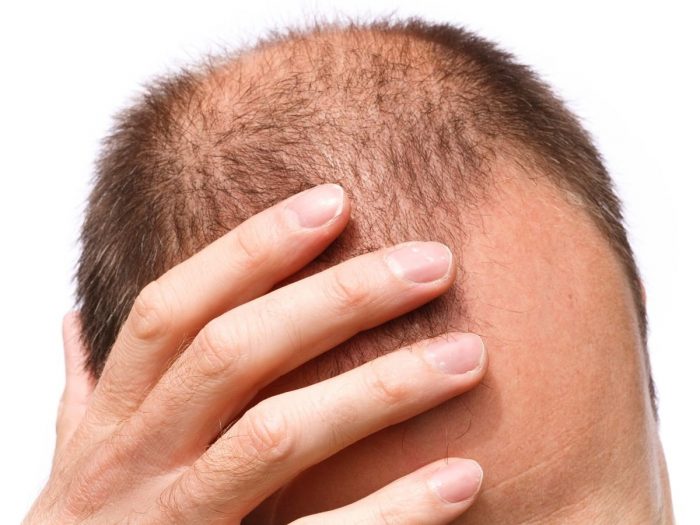 Causes of Baldness
Baldness can be caused by any of the following elements or a combination of these factors.
Change in hormonal conditions within the body
Genetic factors or hereditary factors
Stress or trauma
Age factor
Burns or exposure to fumes
Inadequate diet
Chemotherapy treatment for cancer
If left untreated, one has to participate in expensive treatments like hair transplants or flap surgery. These can involve many complications and may result in bleeding, infection, or the formation of scars. Therefore, home remedies may be followed for reducing hair loss or treating baldness.
Home Remedies for Baldness
Home remedies provide an effective way of reducing the occurrence of baldness.
Coffee
Research conducted by the European Hair Research Society have shown that caffeine, one of the major constituents of coffee, tends to rejuvenate hair when applied over the bald areas. It is the simplest home remedy for combating baldness.
Coriander Juice
Juice obtained from the leaves of coriander can also be applied to the scalp and they have been found to be beneficial in the growth of new hair.
Mustard Oil & Henna Leaves
Henna leaves can be boiled in mustard oil and applied to the patchy area devoid of hairs. This aids in the growth of healthy hair.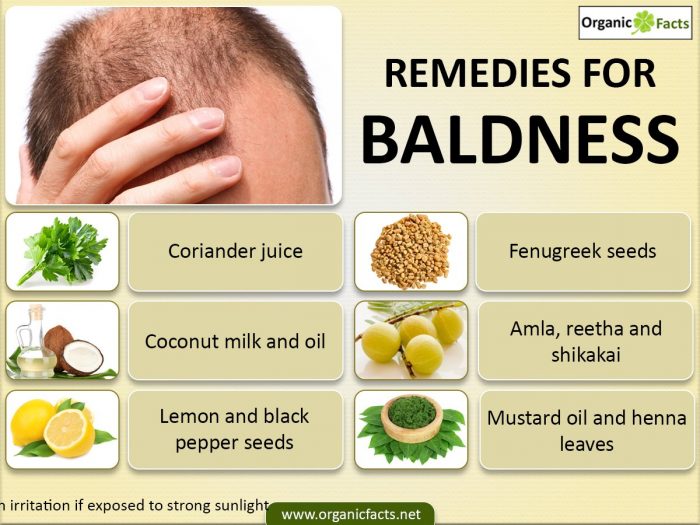 Coconut Milk
Coconut milk is a rich source of protein and can also induce the formation of new hair. Tender coconut fruit can be broken down carefully or bored to obtain the milk. When the milk is applied on the scalp of a bald individual, it gives rise to new hair.
Amla, Shikakai, & Reetha
These can all be mixed together and boiled in water to yield a shampoo that you can apply regularly. This results in the rejuvenation of hair in bald individuals. It has been recognized as one of the essential home remedies for treating baldness.
Lemon & Black Pepper Seeds
These can be made into a paste and applied over the bald area to stop any further loss of hair.
Licorice, Milk, & Saffron
A pinch of saffron added to milk containing ground up pieces of licorice can stimulate the growth of new hair in the bald area.
Fenugreek Seeds
Mix with water and apply to the bald area and leave it for an hour, followed by washing. Doing this for a month can result in the growth of hair.
Red Gram
A paste made up of red gram can be applied for treating both baldness and hair loss.
Olive Oil, Honey, & Cinnamon
A paste of olive oil, cinnamon powder, and honey applied before a bath and then washed off after 15 minutes is effective in treating baldness.
Pepper and Curd
Pepper is mixed in curds and applied on the scalp once a week, followed by washing hair with warm water.
Herbs
A combination of dried bhringaraja, amla, haritaki, and vibhitaki made into a paste and applied on the bald area results in the growth of new hair.
Apart from these home remedies, it is also advised to take a proper amount of rest to keep yourself stress-free, avoid spicy or salty food, and keep away from alcohol and smoking. Timely and restful sleep plays a vital role in maintaining the homeostasis of the body. Thus, with some preventive ways and home remedies, one can rejuvenate lost hair and prevent any further loss.