Using balsamic vinegar in cooking is an easy way to give a dish some unique flavor, but it also provides a number of health benefits!
What is Balsamic Vinegar?
Balsamic vinegar is a type of vinegar that has been highly concentrated, leaving it with a dark and flavorful taste. To qualify as this type of vinegar, it must be completely or mostly derived from grape must. While this vinegar is often used in Italian cooking, it has become popular in many other cuisines and is commonly found around the world. In terms of taste, this vinegar is slightly sweet and astringent – a potent addition to any meal.
Balsamic vinegar comes in two forms, traditional and domestic. The traditional variety is made in only a few regions of Italy, while the domestic variety is produced on a much larger scale and sold for a much lower cost in other countries, such as the United States. This vinegar will not go bad, provided it is stored in a proper bottle with the cap kept on, to prevent further oxidation. For those who are worried about consuming gluten-containing products, this popular ingredient is perfectly safe. [1]
Nutrition Facts

---

Vinegar, balsamic

Serving Size :
Nutrient
Value
Water [g]
76.45
Energy
88
Energy [kJ]
369
Protein [g]
0.49
Ash [g]
0.37
Carbohydrate, by difference [g]
17.03
Sugars, total including NLEA [g]
14.95
Glucose (dextrose) [g]
7.57
Fructose [g]
7.38
Calcium, Ca [mg]
27
Iron, Fe [mg]
0.72
Magnesium, Mg [mg]
12
Phosphorus, P [mg]
19
Potassium, K [mg]
112
Sodium, Na [mg]
23
Zinc, Zn [mg]
0.08
Copper, Cu [mg]
0.03
Manganese, Mn [mg]
0.13
Sources include : USDA [2]
Nutritional Facts
In terms of nutrition, balsamic vinegar is a rich source of electrolytes, such as potassium, phosphorous, calcium, zinc, and magnesium. It is also very low in calories and contains no fat or protein. The most beneficial part of this vinegar is the high level of phytonutrients, which have antioxidant properties.
Benefits of Balsamic Vinegar
The most impressive benefits of balsamic vinegar include its ability to boost the immune system, reduce blood sugar levels, promote faster weight loss, and protect the skin, among many others.
Calorie Count
Despite being low in calories, this is a very flavorful addition to any dish, making it an ideal ingredient for those trying to watch their calories or shed some pounds. [3]
Blood Pressure
The potassium found in this vinegar functions as a vasodilator and can reduce your risk of hypertension, which protects cardiovascular health as a whole. [4]
Blood Sugar
Studies have found that using this type of vinegar in moderate concentrations can help to regulate blood glucose levels, which is good news for diabetic patients. [5]
Digestion
Adding any form of vinegar to your diet can invigorate your immune system, much of which resides in the gut. This can also help to reduce inflammation in the stomach, which can consequently eliminate symptoms of constipation and stomach upset. [6]
Cholesterol Levels
Balsamic vinegar has been directly linked to controlling your overall cholesterol levels, which can lower the risk of atherosclerosis, as well as heart attacks, strokes, and coronary heart disease. [7]
Skin Health
The phytonutrients found in this vinegar are able to neutralize free radicals and stop them from causing oxidative stress in the body, including the skin, thus helping to treat inflammatory conditions and prevent premature aging. [8]
How to Make Balsamic Vinegar?
It is possible to make balsamic vinegar at home if you have the patience and the time!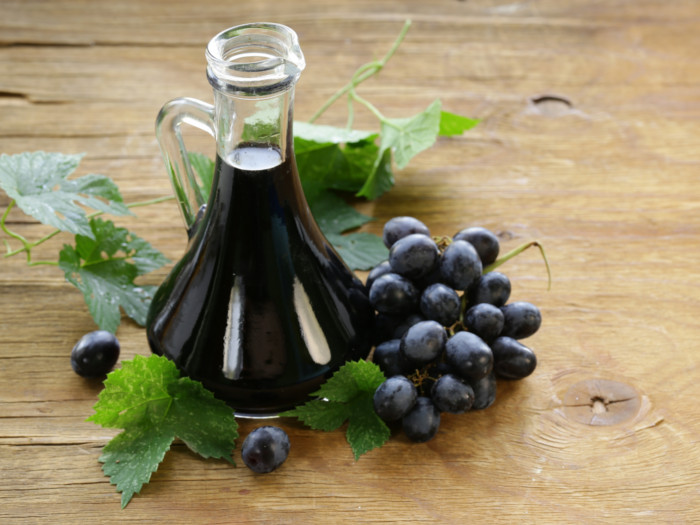 Homemade Balsamic Vinegar Recipe
Balsamic vinegar is one of those elements that can elevate any dish. Making homemade balsamic vinegar may take time, but it can be well worth the effort.
Print
Pin
Rate
Maturing Time:
4017
days
16
hours
1
minute
Total Time:
2
days
15
minutes
Ingredients
Italian grapes

Trebbiano, Ancellotta or Lambrusco
Instructions
Acquire the proper grape varieties from Italy (Trebbiano, Ancellotta or Lambrusco)

Crush the grapes and simmer them in a pot for 1-2 days.

Allow the mixture to reduce by half its volume.

Let the mixture cool and then put it in a barrel for at least 1 year.

The result after 1 year will be vinegar, but you need to make balsamic vinegar.

Store the vinegar in increasingly smaller barrels for the next 10 years or so.

The vinegar will evaporate slowly and reduce in volume, but will also soak up the flavors of the barrels.
Uses of Balsamic Vinegar
Most common uses of balsamic vinegar include the following:
Salad dressings
Marinate meat
Add extra flavor to soups
Being reduced down into a sweet dessert syrup
Add to certain cocktails
Selection & Storage
If you are buying balsamic vinegar, it is best to purchase a high-quality product, so look for a traditional variety that is imported from Italy. This will cost more, but will also be a superior product. In terms of storage, the vinegar will stay viable for years, but be sure to leave it capped, and out of direct sunlight.
Side Effects
When used in excess, as with any form of vinegar, there can be some side effects, such as:
Throat inflammation
Stomach pain
Heartburn
However, due to the potency of this flavor, only a small amount is needed, and when consumed in moderate quantities, this form of vinegar is completely safe.