Consuming beet powder is a simple and effective way to increase your overall nutrient intake and promote several impressive health benefits in the body.
What is Beet Powder?
Beet powder is the dried and powdered form of beetroot, which is the taproot of the beet plant, known scientifically as Beta vulgaris. Beet powder is a more versatile way to enjoy the many minerals, nutrients, and antioxidants found in the beetroot. This root vegetable is typically red or purple, and the powder possesses the same distinctive shade. Since beets tend to have a divisive nature – people either love or hate them – this powder provides a good option that eliminates much of the flavor, without losing the nutritional benefits. [1]
Nutritional Facts
Beet powder is a rich source of nutrients, including high levels of antioxidants, iron, potassium, calcium, copper, manganese, selenium, and phosphorous, as well as vitamins E, A, C, K, beta-carotene, and various B vitamins. Furthermore, this powder provides various flavanones, flavonols, bioflavonoids, along with many essential amino acids. In terms of calories, beet powder only contains 10 calories per teaspoon, along with some of the sugars from the original beetroot. [2]
What are the Benefits of Beet Powder?
There are quite a few notable health benefits of beet powder, including the following:
Regulate blood pressure
Boost athletic performance
Manage diabetic symptoms
Improve blood sugar levels
Prevent neural tube defects
Let us discuss them in detail below.
Healthy Blood Pressure
High levels of potassium and other minerals mean that this powder can lower blood pressure and protect cardiovascular health, given that potassium is a vasodilator. By reducing strain on the heart, this powder can lower your risk of atherosclerosis and stroke! [3]
Aphrodisiac
Throughout history, the beetroot has been famed to increase virility, stamina, and sex drive, and some people still use the powder for that reason today! [4]
Neural Tube Defects
This powder is naturally high in folate, which has been directly linked to neural tube defects in infants. Some pregnant women are advised to boost their intake of this B vitamin, and this powder is a great option. [5]
Athletic Performance
With a dense concentration of minerals, vitamins, amino acids, and antioxidants, this powder can provide a major boost for athletes before and after their workout, helping to improve endurance and speed recovery. [6]
Homocysteine Levels
Studies have found that using 1-2 tablespoons of this powder per day can help to lower homocysteine levels, particularly if you are struggling with a genetic condition that causes these levels to rise. [7]
Blood Sugar Control
Despite beets being slightly high in sugar, beet powder has shown the ability to control and regulate blood glucose and insulin levels in the body, when used properly. [8]
Uses for Beet Powder
While it can be hard to be creative with raw beetroot when you're cooking, it is much easier to incorporate the powder into your dishes, such as in soups, powders, gravies, or dry coatings, among others.
Soups: A teaspoon of this powder will change the color and taste of soups, curries, and stews.
Powders: Many people choose to use this powder in their morning smoothies, but remember, a single teaspoon can be equivalent to a single beet!
Gravies: Many sauces and gravies, including tomato sauces, use this powder as a thickening and flavor agent.
Dry Coating: Mixing in some beet powder with dry rubs for chicken and steak can give the meal an earthy flair.
Food Coloring: Instead of using food coloring, adding beet powder to cakes and desserts can improve consistency, color, and taste!
Powder Blush: Applying a small amount of this powder to your cheeks is a natural alternative to expensive cosmetics.
How to Make Beet Powder?
Some people prefer to make their beet powder, rather than buying it from a store, and it's quite simple, provided you have a dehydrator.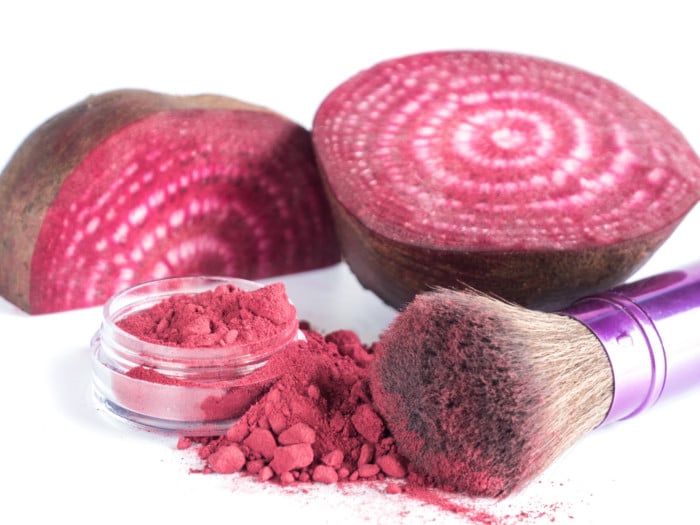 Beet Powder Recipe
Beetroot powder can not only be used as a natural coloring for homemade cosmetics but also as additives in food. Although it resembles a distinctive pinkish tone that usually comes from chemically produced red food dye, it is devoid of any kind of strong flavor and has this intrinsic sweetness to it, which can naturally enhance the flavor of the food it's added into. It can be added to sauces, smoothies, frosting, baked products, soups and the like. This vegetable is also a nutritional powerhouse with abilities to boost immunity. So without further ado, let's look at a simple way to prepare it at home.
Print
Pin
Rate
Total Time:
2
hours
20
minutes
[9]
[10]
Instructions
Take fresh beetroots, wash, peel and slice them into very thin pieces. Make use of a food processor to cut the beetroot quickly into even pieces.

Now, take the beetroot slices and dry them in the sun or in a food dehydrator, which for the uninitiated is a convection oven, on low heat. If you are drying them in the sun, cover the slices with a net to protect them from insects.

Once dried, they will resemble beetroot chips. You can then take these dried beetroot chips and grind them into a fine powder using a food processor or a coffee grinder. The powder that you get should be extremely fine, as it can then be used in cosmetics. Keep it in a clean container and store it. You can then use it as a 100 percent organic cosmetic product.
Notes
You can prepare the powder in large quantities and use them in batches. However, if you don't want the freshness of the powder to be compromised, you can always make them frequently in small batches.
Side Effects
Most of the effects of beet powder are positive, but there are some potentially negative side effects to consider, including the following:
Mineral toxicity
Stomach problems
Since beets are high in iron and copper, people who have issues eliminating excess copper or storing excess iron should avoid this powder. In some people, using an excessive amount of this powder can result in the following:
Some studies have found that beetroots can elevate cholesterol levels, which is dangerous for those with kidney disease and those looking to lose weight. Pregnant women can use this powder but should consult with their doctor first.