The origins of Essiac tea are shrouded in mystery. It was popularized in the 1920s by a Canadian nurse named Rene Caisse who apparently got the recipe from a patient who herself received it from an Ontario Ojibwa medicine man. It was publicized as the 'miracle tea' that could cure cancer.
What Is Essiac Tea?
Believed to be originating in the Ojibwa tribe of Canada, Essiac tea is a mix of sheep sorrel (Rumex acetosella), burdock root (Arctium lappa), Turkish rhubarb (Rheum palmatum), and slippery elm inner bark (Ulmus fulva). The original proportions of the recipe are still unclear. So popular was the recipe that the Canadian government decided to investigate its efficacy. However, no research could conclusively prove the anticancer claims of its proponents. [1]
Cassie herself offered her formula to the Memorial Sloan-Kettering Cancer Center and later to the Resperin Corporation Ltd for further research. But both these studies faced difficulties when questions were raised about the consistency of the original formula. Resperin Corporation abandoned its research. The Memorial Sloan Kettering Cancer Center website points out that although Essiac may prevent the growth of prostate cancer cells, it also seems to stimulate the growth of breast cancer cells. [2]
While its efficacy as an anticancer measure may be questionable, there is research that shows its antioxidant properties. Its constituent herbs have anti-inflammatory and antioxidant properties. A peer-reviewed, evidence-based review, published in the PDQ Cancer Information Summaries, elaborated on the properties of the individual herbs used for making the tea that could account for its popularity as alternative medicine. An in vitro study published in the Journal of Ethnopharmacology found that Essiac tea possessed potent DNA-protective and antioxidant properties, which are found in natural anticancer agents. But these findings are yet to be backed up by an in vivo research. [3] [4]
Essiac tea is often also mentioned with Flor Essence, a product that was developed later based on Essiac's formula. It contained all the herbs of Essiac, along with watercress, red clover, blessed thistle, and kelp. The PDQ Cancer Information Summaries found its effects as an anticancer measure equally inconclusive.
How To Make Essiac Tea?
If you can find the ingredients for Essiac tea, you can make the brew at home. Alternatively, look for Essiac tea bags.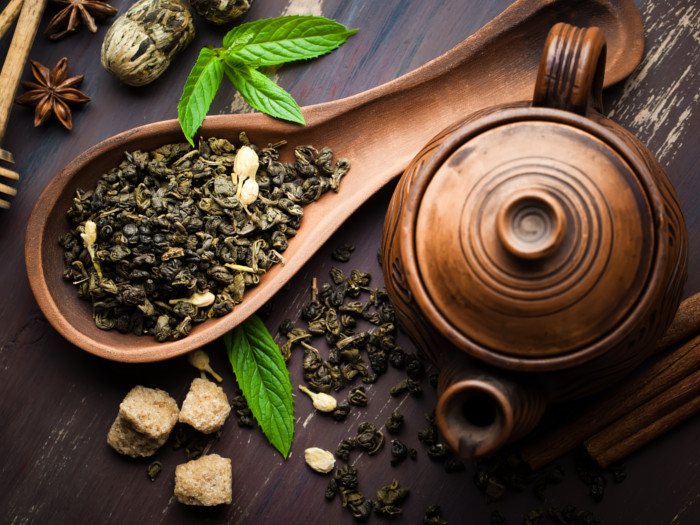 Essiac Tea Concentrate Recipe
Store this tea concentrate in your fridge and make a cup before bedtime each day. Take it 2 hours after dinner.
Print
Pin
Rate
Steeping time:
12
hours
10
minutes
[5]
[6]
Ingredients
1.5

pounds

burdock root

cut

1

oz

Turkish rhubarb root

powdered

1

lb

sheep sorrel leaves

powdered or cut finely

4

oz

slippery elm bark

powdered

1

gallon

water
Instructions
Mix all the dry ingredients together. Make sure that its a uniform mixture. This is the Essiac tea mix. You can store it in an airtight jar in a clean and dry space for up to 1 year.

To make the tea concentrate, bring the water to boil in a pot.

Add half a cup of the Essiac tea and stir in the mixture with a spatula.

Cover the pot and let the tea simmer for 10 minutes.

Turn off the stove and let the tea steep for 12 hours. You will have to stir the tea leaves at around 6 hours, covering it up and letting it steep further.

After 12 hours, bring the tea to a gentle simmer. Just turn on the stove and let the tea bubble gently. Do not bring it to a boil.

The tea concentrate is ready. You can strain this into a clear glass bottle and store it in the fridge for up to 2 weeks.

To serve the tea, just add two tablespoons of the Essiac tea concentrate to double the amount of water.
Notes
Do not dilute the tea concentrate with milk. You can add stevia or honey. If you cannot easily source the ingredients, look for tea bags and use them as per the manufacturer's instructions.
Where To Buy?
The rights to the Essiac tea formula are held by Essiac Products Ltd., which sells its products through Essiac® International. Apart from tea, it also sells powder and capsules. Essiac or Essiac-like (using the same ingredients) products are today sold by more than 40 companies worldwide. These are also easily available at online stores.
Word of caution: Essiac tea does not have FDA approval for treating cancer or any other disease. It is sold as a dietary supplement. The NIH National Cancer Institute warns that although some of the herbs in Essiac tea have shown anticancer activity, some of them may also help cancer to grow in the body. It also points out the commonly-held belief that it should not be used with conventional methods like radiation therapy or chemotherapy because these treatments can hamper its working. [7]