Black cohosh tea has many benefits. It is a natural sedative, relieves menopause and inflammation, eases pre-menstrual syndrome, lowers cholesterol levels, and has traditionally been used to induce labor.
What is Black Cohosh Tea?
Black cohosh tea is made by steeping the dried root of the herb black cohosh, scientifically known as Actaea racemose, in warm water. It is bitter in taste and hence is consumed with honey. Markets around the world offer flavored varieties too. For people who do not wish to drink the tea, a supplemental form is also available, which makes it easier for consumption as a medicine.
Black cohosh tea contains no caffeine. Black cohosh contains phytoestrogen, similar to estrogen, which is a major reason why it is cherished around the world for treating female health problems.
Black Cohosh Tea Benefits
Let's have a look at the benefits of this tea in detail.
Eases Pre-menstrual Syndrome
Black cohosh is known for its sedative and anti-inflammatory properties for a long time. It helps in treating the pain and stress of PMS. Regular consumption of black cohosh tea can help you drive away the painful cramps and irritation and can also regulate the hormonal cycle as well, thus easing the menstruation.
Relieves Menopause
Black cohosh tea helps to stimulate the estrogen levels, which proves beneficial for hot flashes, vaginal dryness, and depression. It acts as an adrenal tonic to relieve you from the stress caused by menopause.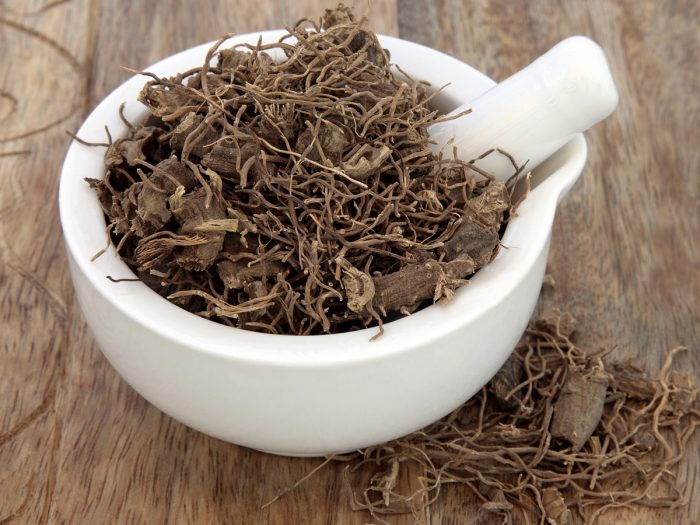 Natural Sedative
As a sedative and a painkiller, black cohosh tea can drive away your headache and improve your mood.
Relieves Inflammation
Black cohosh tea effectively reduces spasms and muscle tension. It relieves the pain and improves blood flow, thereby helping the body flush out toxins that cause inflammation. It is a well-known remedy for osteoarthritis. This tea is well-known for its anti-arthritic properties. It treats the rheumatic pain, especially in the elderly, and reduces joint pain.
Lowers Cholesterol Levels
This tea is great for keeping your heart in a healthy state. A cup of black cohosh tea is all you need to reduce your LDL cholesterol levels.
Induces Labor
This tea induces labor and is recommended for pregnant women in their third trimester. However, some experts feel that pregnant women should use black cohosh with caution during pregnancy. Always talk to your doctor before trying any herbal supplements during pregnancy.
How to make Black Cohosh Tea?
Recipe
1 teaspoon black cohosh root
1 cup water
Honey, to taste
Step 1: Bring a cup of water to a boil
Step 2: Pour the boiled water in a jar or glass
Step 3: Add black cohosh root to the water and let it steep for 3 minutes
Step 4: Filter the tea into a cup with a strainer and add honey to taste. Your tea is ready!
Note: You can also use black cohosh tea bags instead of the root.
Black Cohosh Tea Side Effects
Super tea, isn't it? But as always there are two sides to everything. It is always good to know the side effects before using this powerful herbal tea.
Excess intake of black cohosh tea can slow down the heart rate, and cause nausea and intestinal distress.
If you are suffering from cancer or are on a medication for other problems, consult your doctor before trying out this herbal tea.
In extreme cases, it may cause tremors, liver toxicity, vomiting, and dizziness.
Black cohosh tea is a uterine stimulant. So for women taking birth control medicines consult a doctor before use.
Avoid intake during breastfeeding because the effects of the herb could pass on to your baby through your milk.
This tea should not be given to children as it can lead to many side effects.