Drinking blackberry tea can be an excellent way to improve your overall health, and add a bit of variety to your beverage intake!
What is Blackberry Tea?
Blackberry tea is a delicious floral infusion tea that typically consists of black Ceylon tea and crushed blackberries, resulting in a tart and sweet bite to your average cup of black tea. Given that blackberries are native to Europe, Asia, North, and South America, they are easy to find and widely available. They are also an excellent source of antioxidants, such as anthocyanins, which provide the dark, rich color of these berries. When you infuse some of the juice from these berries into black tea, you make the beverage even more beneficial for the body, and certainly more delicious! [1]
How to Make Blackberry Tea?
If you wish to make blackberry tea at home, it is quite a simple recipe, provided you have a bit of time to spare.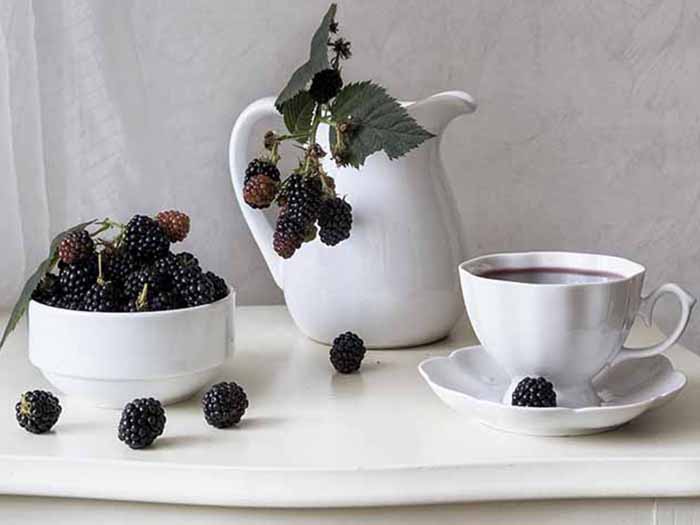 Refreshing Blackberry Tea Recipe
This cool and refreshing blackberry tea can be made ahead. It has a fruity, tart taste that is both energizing and rejuvenating.
Print
Pin
Rate
Steeping Time:
1
hour
4
minutes
[2]
[3]
Instructions
Bring the water to a boil.

Combine the blackberries and sugar in a container.


Crush the blackberries with a spoon or potato masher and mix with the sugar.

Add the tea bags to the boiling water and steep for 3-4 minutes.

Pour the tea over the blackberry mixture, stirring occasionally.

Let the mixture sit for 1 hour.

Strain the tea through a fine-mesh strainer to remove the blackberry pulp.
Notes
This tea is typically served cold, making it a popular summertime drink.
Blackberry Tea Benefits
The primary benefits of blackberry tea include the following:
Skin care
Lowers risk of cancer
Aids in digestion
Boosts immune system
Improves circulatory health
Skin Care
The high level of polyphenols and other antioxidants in blackberry tea has the ability to improve your skin appearance, as antioxidants can seek out free radicals and neutralize them before they can cause more permanent damage, such as wrinkles or age spots. [5]
Anticancer Potential
Antioxidants are provided by a healthy mix of beta-carotene, lycopene, vitamins C, E, and A, and other substances, all of which are present in blackberry tea. According to Federal Occupational Health, these antioxidants prevent oxidative stress and inflammation, and also lower cancer risk. These antioxidants found in this tea further boost the body's defenses against chronic disease. [6]
Heart Health
The flavonols and anthocyanins present in this tea have been directly linked to lowering blood pressure, which can have a major effect on the cardiovascular system. It is also known to soothe heart arrhythmias and other heart issues, including the prevention of atherosclerosis. [7]
Energy Levels
As with any form of black tea, there is some amount of caffeine in blackberry tea, although notably less than you would find in a cup of coffee. This can provide a pleasant burst of energy later in the day, without worrying about being sleepless. [8]
Digestive System
There are certain compounds in black tea and blackberries that can stimulate the digestive system, which can lower your risk of constipation and the feeling of bloating, while also promoting healthy and smooth bowel movements and less inflammation in the gut. [9]
Bone Density
Blackberry tea contains critical minerals and nutrients that the body needs to maintain its bone mineral density. Calcium and magnesium, among others, are found in good quantities in these berries, and thus in the infusion tea, which can lower your risk of developing osteoporosis as you age. [10]
Blood Clotting
One of the most important nutrients in our body is vitamin K, although it is often overlooked. This nutrient is found in high concentrations in blackberries and can help to clot the blood, which is ideal for people with bleeding disorders. This can be complicated with other blood-thinning medications, so be sure to speak with a doctor. [11]
Pregnancy
Anecdotal evidence points to the use of blackberry tea to ease labor pains and stimulate contractions, making it a very valuable remedy for pregnant women, but the tea should not be consumed earlier in pregnancy, due to the same stimulant activity.
Blackberry Tea Side Effects
While there are some clear benefits to this tea, you must also be wary of the potential side effects, including stomach upset and its possible impact on the liver and uterus.
Stomach Issues: If consumed in excess, any form of tea can cause gastrointestinal distress, including cramping, nausea, and vomiting. Blackberry tea is no exception, and the tannins in this beverage have been known to upset sensitive stomachs.
Liver Health: While tannins are often considered good for the body in small amounts, they can have negative effects on the liver when consumed in excess, so speak with your doctor before drinking this tea, particularly if you have had problems with your liver in the past.
Uterine Problems: Some studies have found that blackberry tea can be used as a natural remedy to ease the pain of childbirth; however, when drunk in excess early in the pregnancy, this could potentially cause contractions and put both the mother and the baby in danger.