The best natural and home remedies for bladder cancer include a healthy diet and an active lifestyle. Fruits and vegetables like grapefruit, oranges, mistletoe, spinach, tomatoes, gingko biloba, beans, carrots, sprouted broccoli, cauliflower, and cabbage help in lowering your risk of cancer.
The bladder is a portion of the excretory system that performs the function of storing urine before urination. The bladder is lined with specialized cells known as urothelium cells. When these cells reach a certain stage of continuous proliferation, they give rise to bladder cancer, which itself occurs at 3 stages, depending on the extent of the tissue that is invaded. Bladder cancer may grow beyond the lining, extending to the muscles and even reaching the lymph nodes.
A number of risk factors are involved, apart from genetic and hereditary factors. These include infection by some form of parasite, smoking, a high-fat or rich diet, exposure to specific chemicals, dyes or drugs, and people who work in the aluminum, rubber or leather industry.
According to the National Cancer Institute, the estimated cases of bladder cancer are 81190, including both men and women, in the US alone. Not only that, but research also suggests that men are more prone to bladder cancer than women.
Symptoms of Bladder Cancer
Hematuria, or the passage of blood in the urine
Pain while urinating
The urge to urinate but an inability to urinate
Cloudiness in the urine
An increase in the frequency of urination
Urinary incontinence
Pelvic pain
Swelling in the feet
Nausea, weakness, loss of appetite and unexplained weight loss

Abdominal

or lower back pain
If you see any of these symptoms being present for a long time, visit your doctor and get yourself checked. If bladder cancer is detected, one should take care so as to delay the tumor progression. Along with conventional treatments like chemotherapy, radiotherapy, surgery, or immunotherapy, a lot of people are also looking for alternative medicine to fight cancer. It includes making some vital dietary as well as lifestyle changes to complement the formal treatment you are going through.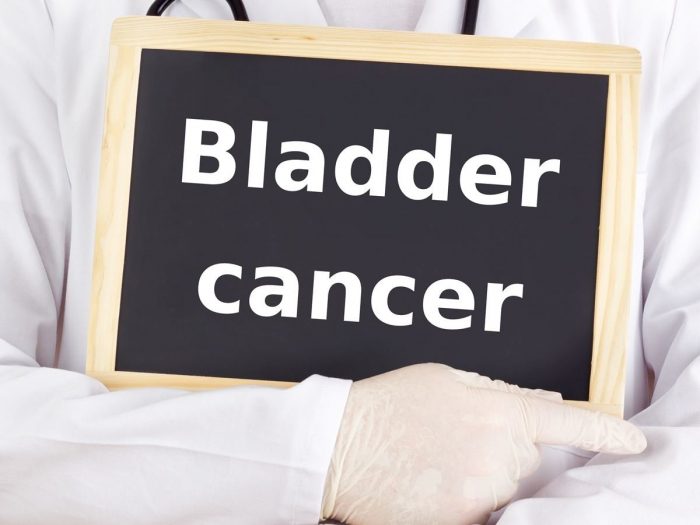 Home Remedies for Bladder Cancer
Consuming a nutrient-dense diet may not only help to reduce the risk of bladder cancer but also help in reducing the side effects of chemotherapy. Although it is remotely possible to cure bladder cancer or any other type of cancer, adopting a healthy way of living may still aid in slowing the fast-growing cancerous cells in comparison to the normal symptoms of bladder cancers.
Fruits
The Journal of the National Cancer Institute has published a research suggesting the fruit intake for bladder cancer. They have mentioned that including fruits and dry fruits like grapefruits, avocado, bananas, cantaloupe, watermelon, apples, pears, oranges, strawberries, blueberries, peaches, and raisins, apricots, and plums help to lower your risk of cancer.
Mistletoe
According to a study published in the Journal of Urology, a regular dose of mistletoe extract has been found to be safe in people with bladder cancer.
Cruciferous Vegetables
Research suggests that including cruciferous and green leafy vegetables like spinach, romaine and leaf lettuce, broccoli, cabbage, Brussels sprouts, coleslaw, cauliflower, sauerkraut, and even kale helps in lowering your risk of cancer as they are rich in phytochemicals like glucosinolates.
Tomato
Lycopene is an antioxidant found in tomatoes that exerts a protective effect against many cancers. According to the studies conducted by the University of Illinois College of Pharmacy, lycopene has been shown to reduce the risk of urinary tract infections, as well as the incidence of bladder cancer if taken daily.
Gingko Biloba
Gingko Biloba is shown to contain a selenium-containing polysaccharide which is helpful in reducing the risk of bladder cancer, as per the research at the Capital Medical University, Beijing. The correct dosage is, however, not specified in the study.
Beans and Carrots
As per the findings of the study published in the Journal of the National Cancer Institute, beans, and carrots, if taken regularly, have been found to reduce the risk of bladder cancer.
Sprouted Broccoli
Sulforaphane is an isothiocyanate, which is present in high concentrations in broccoli sprouts. Evidence shows that having at least 2 servings of broccoli sprouts a week can drastically lower your chance of bladder cancer because of the sulforaphane in it.
Dairy Foods
Research shows that a lower intake of fermented dairy products like butter may be lead to higher chances of bladder cancer. However, a detailed study is needed to determine the role of dairy products in fighting this type of cancer.
Essential Oils
A 2004 research study has shown that frankincense essential oil and sandalwood essential oil help in inducing cancer cell death in people suffering from bladder cancer.
Staying Hydrated
Drinking a lot of water is undoubtedly the most important thing you can do to protect your bladder from cancer but while you focus on the amount of water, also check for pollution levels in drinking water. Chlorine and contaminated water can do just the opposite and expose you to higher chances 0f cancer.
No Smoking
Smoking is the major cause behind cancer and the same applies to bladder cancer as well. It not only makes you prone to cancer but also affects people around you as they share the same air as you.
Physical Activity
Research suggests that a good amount of physical activity may help to reduce the risk of cancer. Trying out relaxation techniques like meditation or yoga helps in lowering the stress levels in your body.

All these changes and additions are a part of complementary medicine that you can surely go ahead with once you get a go-ahead from your doctor.