While blood clots can save your life in case of an injury by arresting the flow of blood if they form when they are not needed they can cause serious medical problems like a heart attack or paralysis.
What are Blood Clots?
Blood clots consist of a mass of red blood cells and other components of cells that clump together at the site of injuries and stop the blood flow in the vessel. After being injured, it is important for you to prevent as much blood loss as possible. However, if this injury happens to a healthy blood vessel that is flowing, it may cause a sudden blockage of blood flow. This is called emboli, which occurs rarely but is often dangerous and can lead to tissue damage and even death.
Blood flow can be blocked at several blood vessel sites and may cause different clinical conditions. The specific sites or arteries are explained below, as well as the related diseased condition to each variety.
Coronary

artery blockage causes coronary

thrombosis

Limb vessel blockage results in deep vein thrombosis (DVT)
Lung vessel blockage causes a

pulmonary

embolism (PE)
Any other vein that becomes blocked leads to

peripheral

venous

disorder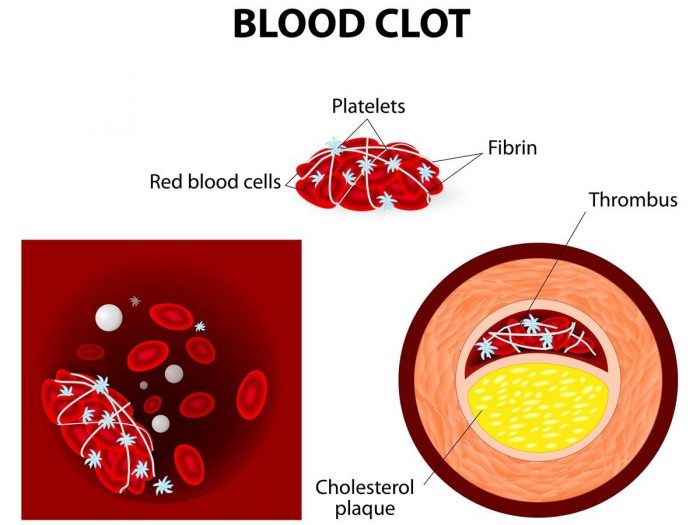 Causes
Blood clots may be caused by any of the following:
Missing components in the blood system
Plaque formation in the arteries (atherosclerosis)
Genetic factors
Heart disease

Cholesterol

Sickle cell anemia
Liver diseases
Injury
Old age
Your risk may be increased after surgery or on long plane rides (in which you sit very still for long periods). However, blood clots can also occur spontaneously.
A blood clot in the lungs is generally caused by a clot forming elsewhere in the body, and then traveling toward the lungs. This is called a pulmonary embolism and is considered a medical emergency.
Symptoms
According to the Centre for Disease Control and Prevention, about 350,000 to 600,000 people in America suffer from blood clotting in the legs or lungs each year; and hundreds of thousands of people die from this condition every year. Some of the symptoms observed in these patients include:
Excessive pain at the site of clot formation

Swelling

and tenderness
Blue-colored bulge
Ulcers
While, in the case of pulmonary embolism, you will experience the following symptoms:
Sudden shortness of breath
Pain in your chest
Heart

palpitations

Blood in a cough
If any of this happens, you need to see a doctor immediately. You can also undergo an ultrasound, CT scan, and venography for proper identification of the condition.
What does a blood clot feel like?
If you have a blood clot, you may not feel anything at all – so if you suspect you may have a blood clot, it's important to talk to your doctor as soon as possible. A common blood clot is one that occurs in the veins of the leg – you may feel pain or notice redness or swelling.
How do you know if you have a blood clot?
Sometimes there are no symptoms of a blood clot. They most commonly occur in legs; these can be dangerous if some of it breaks off and moves to your lungs or heart. If there is a blood clot in your leg, you might notice swelling, pain or redness. If you do, you should contact your doctor as soon as possible.