Drinking blueberry juice is a great way to boost your nutrient intake for the day – and it happens to be quite delicious as well!
What is Blueberry Juice?
Blueberry juice is made by blending or pressing blueberries, scientifically members of the Vaccinium genus, into a nutrient-dense beverage. These berries are some of the healthiest berries available and are often considered a superfood for their high antioxidant content. Blueberry juice is widely considered to be good for overall health, as there are countless benefits to increasing your intake of this powerful berry. [1]
Blueberry Juice Nutrition
When it comes to nutrition, blueberry juice offers extremely high levels of vitamin C, as well as good amounts of dietary fiber, vitamin A, potassium, and vitamin K. This juice also contains high levels of tannins, anthocyanins, salicylates, and various other antioxidants that can have positive effects on your health and wellbeing.
Blueberry Juice Benefits
The main benefits of blueberry juice include its ability to improve digestion, aid in weight loss, prevent Alzheimer's and Parkinson's, reduce the risk of chronic diseases, protect the heart, and boost eye health, among others.
Digestive Health
Even when you strain out much of the puree from this juice, you will still benefit from some of the fiber in the fruit, which can stimulate digestion and alleviate constipation. [2]
Cognition
The high level of antioxidants found in these berries can help prevent oxidative stress in the brain, thus lowering plaque deposition and lowering your risk of neurodegenerative diseases, such as Alzheimer's and Parkinson's. [3] [4]
Heart Disease
With good levels of anthocyanins and potassium, this juice is more than capable of lowering your blood pressure to more manageable levels, thus reducing your chances of developing atherosclerosis. [5]
Premature Aging
The various antioxidants in blueberry juice can affect skin health as well, preventing inflammation and oxidative stress in the face and the rest of the body, which slows the advance of wrinkles, blemishes, and age spots. [6]
Weight Loss
Since this juice is so nutrient-dense but relatively low in calories, it can help your body feel full, thus preventing overeating, snacking between meals, and other bad habits that compromise your weight loss goals. [7]
Muscle Damage
If you are an athlete or have suffered an injury of some kind, repair and recovery are very important. The high concentration of vitamin C in this juice can stimulate the production of collagen, which is necessary for new tissue and cell growth throughout the body. [8]
Diabetes
When consumed in moderation, this juice is able to suppress blood sugar levels and regulate the release of insulin in the body, which is great news for diabetics or those at high risk for this condition, as per a study published in the Canadian Journal of Physiology and Pharmacology. [9]
Urinary Tract Infections
The immune-boosting effects of this juice can help treat urinary tract infections (UTIs) in a natural and effective way.
How to Make?
Making blueberry juice is quite easy, whether you are using a juicer or a blender.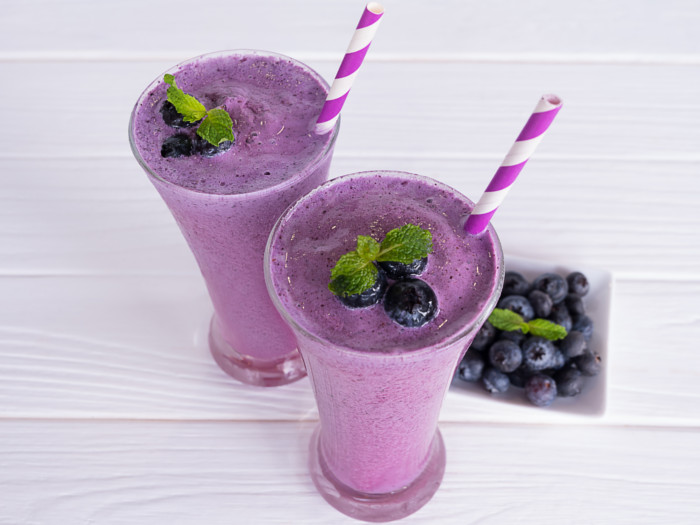 Slushy Blueberry Juice Recipe
This is a nutrient-dense juice. But you should limit your intake to 1-2 glasses per day, to prevent any unwanted side effects.
Print
Pin
Rate
Ingredients
1

cup

blueberries

1

apple

1/2

cucumber

1/2

cup

water

1

lemon
Instructions
Wash the blueberries, apple, and cucumber.

Core and cut the apple and cucumber.

Add all the fruits to a blender, along with the water.

Blend thoroughly for 20-30 seconds.

Pour the resultant juice through a fine-mesh strainer.

Use a spatula to press the puree, separating the juice.

Add juice from 1/4 of fresh lemon and enjoy!
Side Effects
Despite the overwhelming benefits of this fruit, there can be some side effects, particularly when this beverage is consumed in excess.
Blueberries are known to act as both blood thinners and blood sugar-reducers
Drinking too much of this juice can drop your blood sugar level dangerously low
Intake of excess juice can exacerbate bleeding disorders
Furthermore, blueberries do contain a compound called salicylate, to which some people are sensitive, as it can cause allergic reactions.
Generally speaking, however, drinking a moderate amount of this juice per day is perfectly safe.