If you are looking to bulk up, bodybuilding supplements may be an excellent choice, as they are readily available and highly effective to improve the results of your exercise regimen.
What are Bodybuilding Supplements?
By definition, bodybuilding supplements are specially designed substances that are intended to improve or complement your health and fitness goals, particularly if you are an athlete, bodybuilder or weightlifter. The most common forms of bodybuilding supplements include branched-chain amino acids, protein, vitamins, essential fatty acids, glutamine, creatine and testosterone boosters, among others. This massive billion-dollar industry continues to grow, as more and more people seek ways to improve their overall health and fitness. Many of these bodybuilding supplements come in the form of single ingredients, such as protein or creatine powder, but they may also be combined in countless ways by manufacturers. [1]
The primary purpose of bodybuilding supplements is to replace meals, increase muscle growth, boost physical performance or lose weight. Many regular people use these supplements in various forms, but the results are different based on your activity level, diet, and the type of supplement you choose. Protein is perhaps the most popular form of bodybuilding supplement, as protein is critical to muscle-building and recovery following a workout. However, each of these supplement varieties has their own benefit; doing your research is highly recommended before you choose a supplement and make it a consistent part of your health regimen.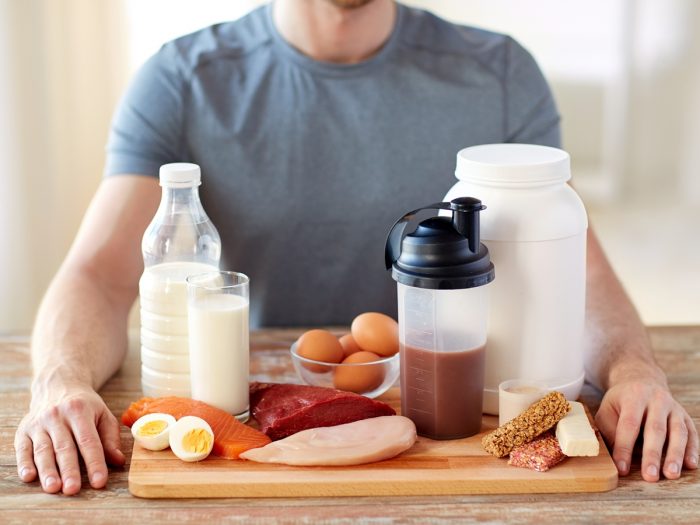 [2]
Best-selling Supplements
The best-selling supplements in recent years have included Gold Standard 100% Whey, Evlution Nutrition's LeanMode, EVLTest, and BCAA Energy, as well as Cellucor's C4 Original.
Gold Standard 100% Whey – With 24 grams of pure whey protein in every serving, this is considered one of the best muscle-building protein supplements on the market.
LeanMode – If you are trying to lose weight, or increase your metabolism to the point where it is burning fat for you, Lean Mode by Evlution Nutrition is considered one of the most reliable substances to shed pounds fast.
BCAA Energy – Also from Evlution Nutrition, BCAA Energy is composed of branched-chain amino acids, which are integral to protecting the body from post-workout damage and will significantly speed/improve the recovery process after an intense workout. [3]
C4 Original – Nitric oxide supplements are gaining popularity, due to their clear effects on muscle-building efforts. In that vein, Cellucor's C4 original is known to provide fast results and strong definition in various muscle systems, when combined with a vigorous exercise regimen.
EVLTest – The EVLTest supplement is intended for men who want to boost their testosterone level; this allows for an additional fat loss, increased endurance, and muscle-building capacity, all of which are vital for bodybuilders.
Top Supplements for Faster Muscle Gain
For people trying to gain muscle mass quickly, the best supplement options include MuscleTech's Platinum 100% Creatine, Kaged Muscle C-HCL, Pro-Mera Sports CON-CRET, EVLUTION NUTRITION's Stacked Protein, and BSN's Syntha-6, among others.
Platinum 100% Creatine – Creatine is a naturally occurring substance in our muscle cells that help to produce energy during a workout. If you use a product like 100% Creatine, you will be increasing your endurance and ability to create muscles during high-intensity workouts, leading to better results.
CON-CRET – This highly concentrated form of creatine powder can help you increase muscle mass and speed up the results of your workouts, although you only need to consume small "micro-doses" before and after your workout for the effects to appear. [4]
Stacked Protein – This is a "stack", meaning that it is a combination of different supplements, including 25 grams of protein, beta-alanine, and glutamine. This has been highly awarded as a great way to increase your muscle gains.
C-HCL – Creatine Hydrochloride is a twist on the traditional creatine supplement, but this brand in particular – Kaged Muscle – is known for aggressively fast results if you're trying to boost muscle.
Syntha-6 – Combining essential amino acids with a healthy dose of protein powder, this supplement provides everything your body needs to boost muscle growth and should be consumed before a heavy workout.
Best Bodybuilding Supplements for Hard Gainers
If you're a hard gainer, you may need to supplement your diet with high-calorie substances that give you the raw material for muscle development. If you struggle to gain muscle, some of the best supplements include MTS Nutrition Epic Gains, Core Nutritionals Grow, ProSupps Karbolic or Optimum Nutrition Pro Gainer, among others.
Epic Gains – This supplement gives you a massive dose of brown-rice carbohydrates, as well as 20 grams of protein, fiber, fat, and roughly 300 calories per serving. The dense nutrients of this supplement will give you more than enough raw materials to boost your weight.
Core Nutritionals Grow – With 40 grams of protein, as well as unique sources of fiber and carbohydrates, this product stands out among its competitors, including medium-chain triglycerides and various other oats and healthy ingredients in this hard-gainer blend.
Karbolic – This supplement is specifically designed to facilitate the passage of carbs and protein through the stomach, where it can be used more effectively by the muscles, thus leading to muscle gains! [5]
Pro Gainer – With 650 calories and a wide range of proteins, micronutrients, and minerals, Pro Gainer is one of the fastest and most delicious ways to gain weight, and then immediately turn that excess weight into muscle. Obviously, vigorous exercise must be paired with this supplement, or else "bad" weight gain is inevitable.
Best Supplements for Mass
If you want to boost your overall mass, try proven supplements like Pro Jym, ISO 100 by Dymatize, Now Sports Beta-Alanine, Transparent Labs Beta-Alanine or Optimum Nutrition's Gold Standard pre-workout, among others.
Pro Jym – This is a pure blend, without any additional fillers, amino acids or micronutrients; the pure protein blend has been praised for its effects on muscle mass and density within the first few weeks of regular use.
Now Sports – Beta-alanine may be a non-essential amino acid, but it can be very impactful for someone trying to carve out a great physique. This beta-alanine mixture can support your muscle endurance, allowing you to work out longer, while also helping in the recovery process of the muscles as they fill out and grow.
Transparent Labs – Another beta-alanine product, this bodybuilding supplement from Transparent Labs can help to block the acid that makes your muscles feel sore; the outcome is more reps and sets before you feel fatigued, meaning faster muscle development and more mass. [6]
ISO 100 – This product by Dymatize combines pure protein with essential amino acids, including good amounts of leucine, which will help to stimulate your body's use of protein and increase the rate at which muscle mass is gained.
Gold Standard Pre-workout – If you consume this particular supplement before going into the gym, the high level of vitamin B12, vitamin D, and various B vitamins, as well as the low level of calories, will give you the mass gains you are looking for (muscles), without packing on too many calories that run counter to your weight-loss goals. [7]