Good brandy should be savored on its own. Made from wines, it is a warm aromatic drink meant for cold nights. Brandy has a complex flavor that combines the richness of a good whiskey with the subtle tones of wine. A neat drink gives you the best of this liquor. But if you don't like your alcohol neat, there are also some classic and newer brandy cocktails. Its subtle fruity sweetness combines well with other flavors for blends with depth and character.
Best Brandy Cocktails
There are a number of blends to choose here and we picked the best of the lot for you. From the sophisticated Metropolitan to the fun and swingy Singapore Sling, these cocktails have a wide appeal. You will find them in moth-eaten men-only clubs, local pubs, as well as women-only club nights.
Corpse Reviver
The legendary corpse reviver has been around since the mid 19th century. It was meant to be a classic hangover cure, strong enough to revive a corpse (or getting you worse than the status quo). There are many versions of this cocktail, many lost over time. The most enduring are those associated with the famous bartender Harry Craddock of the American Bar at the Savoy Hotel. While the gin-based Corpse Reviver No. 2 is more popular, the original Corpse Reviver No. 1 is a cognac cocktail. It is made with two parts cognac, one part Italian vermouth, and Calvados or any apple brandy. According to Craddock, this was "to be taken before 11 a.m., or whenever steam and energy are needed". [1]
Sidecar
The origins of the sidecar are unclear, although it is believed to have come into existence during World War I. The name supposedly refers to the sidecar of a motorcycle that was used to ferry soldiers after they had one too many of this cocktail! It's arguably one of the best brandy sours. The sidecar has 1.5 oz of cognac or Armagnac with 3/4 oz Cointreau and 1/4 oz lemon juice on ice. There are later versions, including Side by Sidecar and Between the sheets. The former added pomegranate juice to the mix, while the latter has rum.
Brandy Alexander
The Brandy Alexander is the brandy version of the gin-based Alexander. It has its own dedicated fan base, most notable being John Lenon. He once described it as tasting "like milkshakes". The frothy drink does indeed look and tastes less potent than it actually is. It was reportedly what led to some of Lenon's antics during his 'lost weekend'. So, we'll advise a less reckless approach. To make, you take 1.5 oz of cognac, 1 oz each of crème de cacao and cream. Add these to a cocktail shaker and give it a good shake. Strain into cocktail glasses. [2]
Metropolitan
Although the vodka version has become more popular, the original classic metropolitan uses brandy. This is a fairly potent drink. So, we'll advise caution.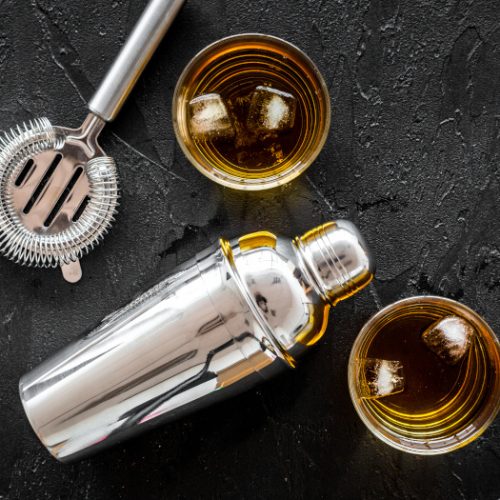 Classic Metropolitan Cocktail Recipe
The classic Metropolitan is an elegantly balanced cocktail. You can garnish your drink with a twist of lime or orange peel.
Print
Pin
Rate
Ingredients
2

oz

brandy

1

oz

sweet vermouth

1/2

tsp

sugar syrup

Angostura bitters

ice
Instructions
Measure out all the ingredients in a cocktail shaker and give it a good shake.

Alternatively, you can use a large glass for the same purpose. Add the ingredients and stir till well combined.

Strain the drink into a chilled cocktail glass and enjoy!

Notes
This is a largely alcohol-only cocktail and may exceed 29 percent ABV. This is why a single serving is 3 oz.
Singapore Sling
As the name suggests, the Singapore Sling originated in Singapore. One of the newer entrants to the block, it is actually a gin cocktail with the undertones of brandy. It has gone through many versions since it was first served in Raffles Hotel in the island nation. Indeed, you may just find 10 different recipes for the drink. The basic recipe asks for two parts gin, one part cherry brandy with pineapple juice. If you want it fruitier, add lime and orange juice. At some point in its evolution, bénédictine was added to the mix and is pretty standard in most Singapore Slings now.
Brandy Cobbler
The old-fashioned brandy cobbler still features fairly high in preferences because it is a great brandy sour. A take on the sherry-cobbler, it was later adopted for brandies and whiskies. There are recipes that call for 4 oz of alcohol, but that is a bit much for most drinkers. So, we'll recommend making it with 3 oz. The recipe itself is as simple as it can be. Just 3 oz of brandy with about 1/2 oz of simple sugar syrup. You can add club soda to fill your glass. And of course, what's a bandy cobbler without a garnish of seasonal fruits?
Vieux Carre
Invented in the 1930s, the Vieux Carre is perhaps one of the most fascinating and cosmopolitan cocktails in this list. It's a classic New Orleans recipe, a melting pot of cultures and sensibilities. Good old American rye whisky with Caribbean bitters, Italian vermouth, French brandy and liqueur.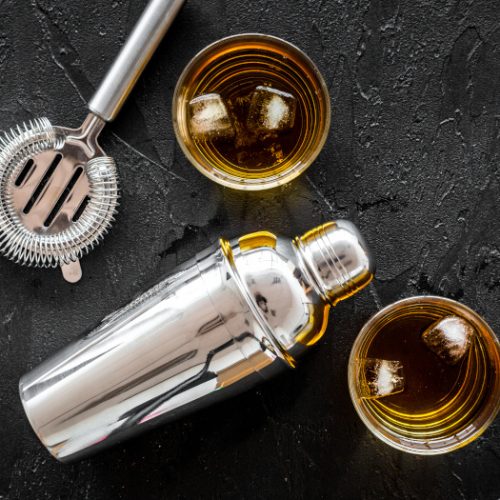 New Orleans Vieux Carre Recipe
Invented in the Big Easy, the Vieux Carre is a classic cocktail. Sweet and bitter with a lovely smoothness, this cocktail is meant to be savored slowly.
Print
Pin
Rate
Ingredients
3/4

oz

rye whiskey

3/4

oz

Cognac

3/4

oz

Sweet vermouth

1/2

oz

Bénédictine

4

dashes

aromatic bitters

Angostura & Peychaud's

maraschino cherry or lemon peel

for garnish

ice
Instructions
Measure out all the ingredients (apart from the garnish) in a pitcher.

Add the ice and stir briskly till blended.

Strain into a cocktail glass or an old-fashioned glass. Make a small vertical incision at the bottom of the cherry. Place it over the rim of the glass and serve!
Bacchanalian
With a name like that, you know that this will be about quality and not quantity! The Bacchanalian combines brandy with a fruity wine like a Merlot or Claret. It's a potent mix, only slightly lightened by adding a sweet syrup and lemon juice. Take 1 3/4 oz Cognac with 3/4 oz Merlot/Claret and add 1/2 oz each of lemon juice and simple syrup.
Word of Caution:
Some of these cocktails are quite potent, often exceeding a standard drink measurement. Brandy itself can contain up to 40 percent alcohol (or more). So, a 1.5 oz meets the standard measurement of 0.6 fluid oz of pure alcohol. Hence, we advise caution with these cocktails. [3]