Breast cancer is one of the most common forms of invasive cancer that affects women worldwide, being the second leading cause of death in the female population.
What is Breast Cancer?
Breast cancer is the malignant growth of tissues within the breast. The uncontrolled proliferation of cells can ultimately lead to the death of an individual if it becomes metastasized or if it is not removed by surgery.
Types
Breast cancer is categorized into 3 types based on the place of origin:
Ductal breast cancer: It originates in the ducts and is the most common type.
Lobular breast cancer: This type begins in the lobes of the breast.
Inflammatory breast cancer: It refers to those in which

breasts

are swollen, warm, and red.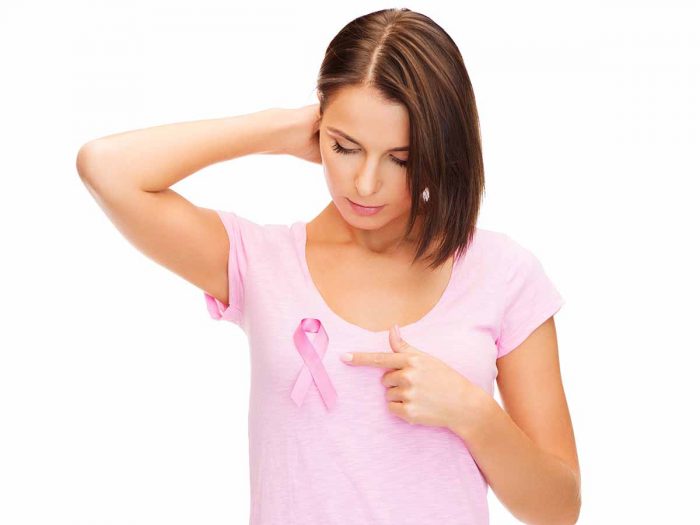 Causes
Recent research provides information on 'high-priority' chemicals that may cause breast cancer in women. It can be caused due to a number of factors like:
Consumption of

alcoholic

beverages

Old age
Changes or mutation in

circadian

rhythm (body's internal clock)
Radiation therapy of the breast
Intake of progesterone or

estrogen

First childbirth at an old age
Family history
Prior breast treatment with radiation therapy
Intake of

progesterone

and estrogen hormones
Other unspecified health factors and behavioral habits
Symptoms
Breast cancer is characterized by the following symptoms:
Lump in the

underarm

region or near the breast
Regular discharge from the breast
Nipples become inverted
Change in texture or morphology of breast like scaliness, unevenness,

swelling

, or reduction in size
Increased heat radiating from the breast
Pain is not felt even when pressure is applied