Given its sweet taste, many people wonder about the calories in pineapple. Depending on the type of pineapple, its nutritional profile may be different, but there are quite a few important nutrient facts that should be considered.
How Many Calories Are in Pineapple?
It may surprise you to know that in a single cup of fresh diced pineapple, there are only 82 calories. Given how much ripe pineapple tastes like candy, people think that it must be higher in calories, but that simply isn't true. An entire medium-sized pineapple, not that you should ever eat an entire pineapple in one sitting, only contains 450 calories!
With so few calories per serving, pineapple is an excellent fruit to add to a low-calorie diet, since its fiber content will help you feel full, without contributing significantly to your daily calorie intake.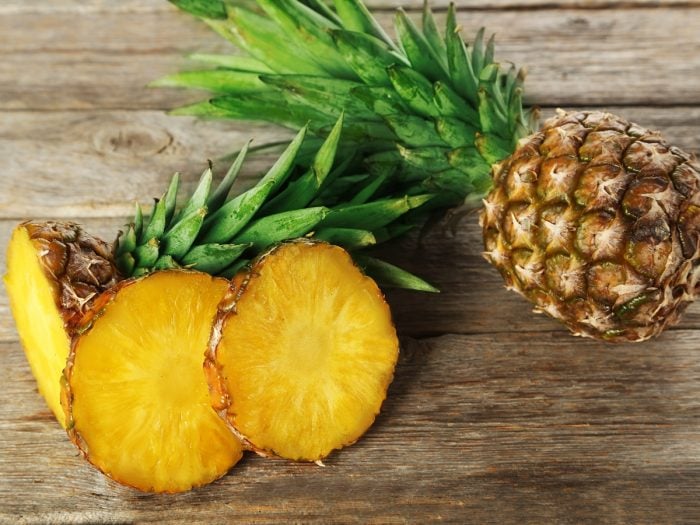 What's more, pineapples also do not possess any cholesterol or fat, which is also a nutritional boost. However, without fat or cholesterol, you know that most of the calories are coming from carbohydrates. There are approximately 16 grams of sugar in 1 cup of pineapple, which may explain the fruit's delectable sweetness. In terms of protein, an entire pineapple only has about 5 grams, which is approximately 1 gram of protein per diced cup.
Where pineapples truly shine, however, is in their other nutrients, such as their extremely high vitamin C content, as well as notable levels of vitamin B6, magnesium, and potassium. Pineapples also possess other active ingredients and antioxidants that can provide many health benefits. In other words, since they only provide 82 calories in pineapple per serving, you should never feel bad for adding this delicious fruit to your meals. One exception to this is if you are diabetic, in which case you must monitor your sugar intake more closely, and should likely avoid pineapple.