A casual search for falafel on the internet throws up some hilarious results but also sheds light on how so many of us still haven't experienced the traditional Middle Eastern vegan goodness. Falafels are crunchy balls of chickpeas or fava beans, whose rising popularity can be attributed to their taste and texture, as well as how easily can they be a part of any vegan feast. For those of us who haven't had a chance to experience these crunchy fritters, keep reading to find a simple recipe and answers to some common questions such as how to enjoy falafel.
What is Falafel?
Falafel is a deep-fried fritter, widely originating in the Middle East. The exact region of origin is disputed, but irrespective of that, it is now popular all around the world and available with tiny variations from region to region. But what is falafel made of?
Depending on what version you are trying, the fundamental ingredient of falafel is either chickpeas or fava beans, or in some cases, a combination of both. The recipe with fava beans is said to have origins in Egypt, while the chickpea or garbanzo bean variant is supposed to be Israeli.
All three types, in our opinion, have their own virtues. While one recipe gives a crumbly, grainy fritter, the other can create a melt-in-your-mouth texture. We suggest you give both a try and don't forget to tell us which one you like the best!
How to Eat Falafels?
Falafels offer their own unique taste and texture and can be enjoyed standalone. But its taste makes for a humble snack which can afford multiple accompaniments. On the other hand, falafel can also become a side dish in some cases.
The most basic way to enjoy falafel is by dipping these fried balls in traditional sauces or dips such as hummus. If you are concerned that a chickpea fritter with a chickpea-based dip is too much of chickpeas, the combination might easily dispel any such thought. Another traditional dip to serve with falafels is tahini, a rich sesame paste. Yogurt-based dips like tzatziki also work well. While baba ganoush is also becoming a popular choice, it might not be to everyone's taste.
If you want to make falafels into a mini-meal rather than a snack, sneak them into a slice of pita bread. Apart from falafels, stuff your pita with some pickled beetroot cuts, chopped cabbage and coriander, and a dash of hummus. This makes for a quick, yummy yet nutritious meal.
Another aspect of the rising popularity of this fritter is how it is at home in a vegan feast. You can easily make it your own by using it in burgers or sliders or pressing it into a waffle. Breaking it into a salad or as a sandwich filling is also a fun way to enjoy it.
How to Make Falafel?
If you already have a favorite Middle Eastern joint that serves falafels you like, go ahead and ask them if they use chickpea or fava beans. This way you can use what you like best in this recipe. And even if you cannot make a choice between the Egyptian and the Israeli version, we list both the ways in the recipe below.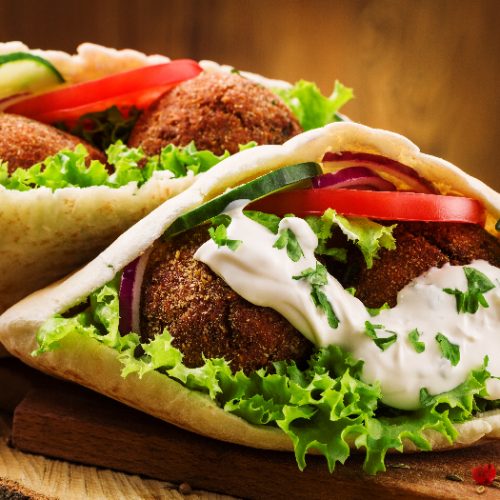 Classic Falafels: The Vegan, Fried Fritters
Falafel is a classic dish from the Middle East. Even with disputed origins and numerous variations, there is not a version that is not appreciated somewhere in the world. Here's the simple way of making these healthy, fried fritters which can be served in more ways than one.
Print
Pin
Rate
[1]
[2]
Ingredients
250

gm

chickpeas/garbanzo beans

soaked overnight

1

cup

onion

chopped

1

cup

coriander/cilantro

chopped

4

cloves

garlic

1

tbsp

tahini

paprika

cumin powder [3]

baking soda

oil

for frying

1/2

cup

mint

optional
Instructions
Prepping for the falafels takes the night, but it is worth the wait. Take dried chickpeas and soak them in lukewarm water overnight with a pinch of baking soda. There is the option of going for canned chickpeas, but we strongly suggest against it. We don't think that the results are close to each other.

Leave them for 6-9 hours and you will find that they have softened the next morning. Drain the water.

Start by patting the chickpeas dry. Add these to the blender and blend till you achieve a grainy breakdown of the beans. At this consistency, they will hold their shape while frying but not taste like a nutty paste.

Add this to a food processor with the other ingredients and blend them till they've mixed well. Use cumin, paprika, and salt as per your taste. If you like the sharpness of garlic, feel free to add a couple of cloves more. It blends well when roughly mashed.

With wet hands, bring this mixture together and start molding them into balls. While making each ball, make sure your hands are slightly wet. It helps the mixture hold shape. Also, if you are new to deep-frying or making fritters, stick to making golf ball-sized rounds.

Let these rest for ten minutes, while you prepare your oil for deep-frying.

Take a wok or a deep frying pan. Make sure it is dry. Place it on high heat for half a minute.

To this, add your frying oil. Use oil enough to cover the falafels while frying. We recommend a neutral oil, to begin with. Peanut, soybean, or vegetable oils work well, but you can also use your regular oil unless it has a low smoking point.

Let the oil heat. If you are sure your oil is hot enough, here's a test. Carefully drop a pinch of bread or the falafel dough, if leftover, into the pan. If it rises up and starts bubbling, and does not stick to the bottom or settle in, your oil is ready for frying.

Start by carefully dropping the fritters one-by-one in the oil. Ensure you do not drop them from a distance, otherwise, the oil will splatter out. Also, do not get your hand too close to the hot oil.

Do not overcrowd the pan. Once you see the oil around the individual fritters bubble, gently move them around the pan to ensure all sides have faced downwards.

Once the falafel has browned on all sides, take one out. Break it open to see if it has cooked through properly. If not, reduce the flame before you put it in the next batch. If you are not too sure about your frying skills, test this out with a single falafel first.

Once you have fried your falafels, let them rest for a couple of minutes.
Notes
If you are keen on trying out the fava beans version, swap out the garbanzo beans for the same amount of fava beans. However, the latter will not turn out into a mixture as grainy as the chickpeas. Instead, it will be quite creamy. The end result will also be a bit smoother and creamier than the Israeli version we're trying in the recipe.
You can also get the best of both worlds. Mix equal amounts of both beans for a surprising result.
There are several versions now involve either baking or air frying falafels. However, we don't recommend that, especially if you are trying falafels for the first time. Try the proper fried version first, before you turn to anything else.
Similarly, you might even be tempted to try the canned beans instead of taking the additional step of soaking them. We assure you the step is worth the 5 minutes of effort and planning.
Once you are more confident about the recipe, you can make variations like adding other herbs or coating the falafels with sesame before frying for some extra crunch.
If this is the first time you are trying falafels, we'd love to hear how you like it. And if you are a long-time falafel fryer, feel free to share which version you like, and what makes your falafels truly the best!