When the warmer months come around, fresh produce is almost everywhere. One trip to the farmers market and you are all inspired to conjure up an instant summer treat for your family and friends. It is also the time when fresh corn is available. The shining kernels skillfully transform into a salad, pancake, and fritters. But is there anything more amazing than a bowl of creamy corn soup? It is tasty and easy to prepare. You can have it on a weeknight for dinner or make it a part of your elaborate summer party.
Aside from being delicious, corn soup is also nourishing. Corn contains carbohydrates, fiber, and protein. The veggies and herbs you add to the soup help to increase the nutrition quotient as well. It is slightly higher in calories but regular basketball games, swimming, and other fun sports can surely take care of that. [1]
How to Make Corn Soup?
A bowl of hearty corn soup is easy to make. It's a combination of spices, herbs, vegetables, and of course, corn. You can use fresh or frozen corn kernels. We have used onions here, but you can add many more vegetables like leek, shallots, or carrots, as you please. While salt and pepper are enough, if you are craving for more flavors, add paprika, ground oregano, or powdered chili. To get a velvety texture, you can use regular/vegan milk, fork-tender potatoes, or just cream. If you cannot find basil or thyme, pick any fresh herbs from your kitchen garden to garnish the soup.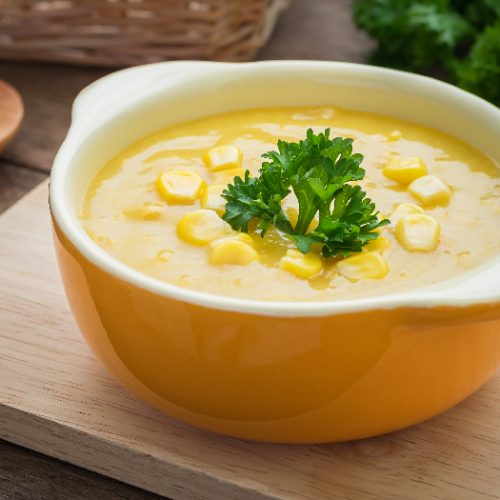 Corn Soup Recipe with Fresh Herbs
A soup so good, it's worthy of the hashtag foodporn!
Print
Pin
Rate
[2]
[3]
Ingredients
Instructions
To make the soup, bring a large saucepan to medium heat and add butter. Once the butter starts melting, add onions and garlic. Sauté them for 4-5 minutes till the onions start turning translucent.

Leaving aside ¼ cup of corn kernels, add the rest to the pan and stir properly. Now add vegetable stock and let it cook for about 15-20 minutes. Let it simmer.

Once done, remove the soup from heat and let it cool for about 5 minutes. Then, blend the soup with a stick or an immersion blender until you get a smooth consistency.

Add salt, pepper, milk and bring the soup to simmer again. Stir it well for about 5 minutes. Now remove it from heat. Your soup is ready.

Once done, keep a pan on medium heat and add the leftover corn to it. Cook the kernels on the dry pan till they become golden-brown and toasty. Keep flipping them to avoid them from burning.

Serve the soup in bowls and garnish with cream, toasted corn, fresh basil, and thyme leaves.
Notes
If you are using frozen corn, then remove it from the refrigerator about 10 minutes before you start cooking.
Skip blending if you like your soup to have corn chunks. Stir the soup for 5 extra minutes while it is simmering to mix everything well.
If you are using potatoes to make the soup creamy and thick, add them along with the corn and let them cook until they are fork-tender.
If there are any leftovers, store them in an airtight container and refrigerate. You can store the soup for as long as 2 months if you place it in a freezer-safe container.
Serving Tips
Corn soup, in itself, is a delight but if you want to pair it with other foods, here are some suggestions.
Serve a bowl of hot soup with crusty bread.
Roast vegetables like zucchini to go with the soup. Corn soup goes well with a plate of roasted vegetables.
How do you like your corn soup? Do you have your own special way of making it? Share the recipe with us here!