Créme de Menthe is not the most common type of alcohol behind your home bar, but it does play a key role in many famous cocktails.
What is Créme de Menthe?
Créme de Menthe is an alcoholic beverage that is flavored with mint and sugar. The term 'créme' refers to the alcohol's syrupy consistency from the added sugar. These alcohols do not contain cream and are transparent in color. There are three main ingredients in this liqueur: alcohol, sugar, and mint. Corsican mint or peppermint are two of the common varieties used. The taste of the alcohol gives a cooling sensation, even when drunk at room temperature. [1]
In this day and age, many people wonder whether créme de menthe is gluten-free, and the answer is yes! This popular alcohol is made by infusing neutral liquor (essentially vodka), which can be made from grains. Research indicates that all gluten properties are removed during distillation, although some people with severe celiac have reported negative reactions. There are two main types of créme de menthe, green and white, but the only difference is color. Green créme de menthe is usually dyed with food coloring. At 25% alcohol by volume (or 50 proof), this is a relatively low ABV liqueur. [2]
A capped bottle will stay safe to drink forever, but some alcohol may evaporate over time, which could alter the flavor a bit. Peppermint schnapps is similar to this liqueur, but it's less sweet and has a higher alcohol content. You can use either but may want to adjust your measurements to keep the cocktails tasting right. [3]
Nutrition Facts & Alcohol Content
This spirit is not a significant source of any vitamins or nutrients. It has 14 grams of sugar and approximately 125 calories per 1 ounce serving. While one brand can vary from another, it is usually bottled at 25 percent alcohol by volume (ABV, 50 proof) as mentioned earlier.
Substitutes
There are many substitutes of créme de menthe. Let us take a look.
Mint Italian Soda Syrup: This is a combination of sugar, water, and mint that you can substitute for réme de menthe in cooking or in "mocktails".
Non-alcoholic Peppermint Extract: Use 1 teaspoon per ⅓ cup créme de menthe called for. Just a dash in a cocktail will provide a huge flavor boost. Add simple syrup or liquid sweetener to replace the moisture and sugar.
Grapefruit Juice: For a more bitter, citrus flavor in your cocktail, try this replacement with some fresh muddled mint.
How to Make Crème de Menthe?
Let us take a look at the recipe below.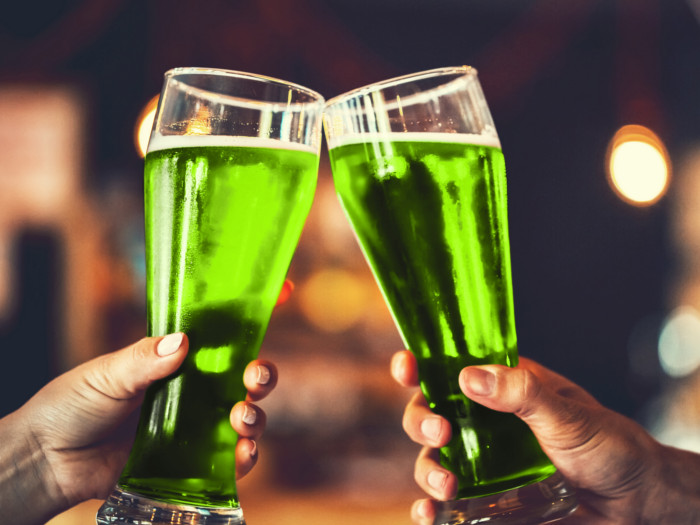 Homemade Créme de Menthe Recipe
Enjoy the fresh minty flavor of this greenish-yellow liqueur.
Print
Pin
Rate
Total Time:
22
hours
10
minutes
[4]
[5]
Ingredients
1

cup

mint leaves

torn

1

cup

water

1.5

cups

vodka

0.5

cup

sugar

0.5

cup

mint leaves

fresh
Instructions
To make Créme de Menthe, place 1 cup of torn mint leaves into 1.5 cups of vodka and steep overnight, then strain.

Make a simple syrup by boiling ½ cup of sugar with 1 cup of water. Allow the mixture to cool.

Combine infused vodka, simple syrup, and ½ cup of fresh mint leaves and steep overnight.

Strain completely, removing all particles. You can use it to make cocktails or in baking.
Notes
Créme de Menthe is a very sweet and strongly flavored liqueur that is best enjoyed in a mixed cocktail like a Grasshopper, Stinger, or a festive milkshake!
Adverse Risks Associated With Alcohol Consumption: There are several risks involved with excessive consumption of alcohol including violence, injuries as well as the incidence of chronic diseases. According to the Centers for Disease Control and Prevention, people who should not drink alcohol include women who are pregnant, individuals younger than 21 years of age, and people who are recovering from alcoholism or cannot control the amount they drink. Also, it should be avoided by people who are planning to drive or any other activity that required focus and skill. [6]
Connect With Us
If you have tried this recipe, we would love your feedback in the comments section below. And while we can't taste it, we would love to see how it turned out! You can connect with us on Facebook or Instagram and tag your picture with #organicfactsrecipes. [7] [8]
Do you wish to share your winning recipes with us? Please click here and fill in the details to get started.