Gallbladder disorders can be a cause for concern as they result in extreme pain and affect overall health because your body is no longer able to absorb nutrients. Let us see the function of the gallbladder, some common gallbladder conditions, and their causes and symptoms.
What are Gallbladder Disorders?
Gallbladder disorders is a term used to describe a number of different gallbladder issues, including gallstones, cholecystitis, and gallbladder infection, among others. The gallbladder is a small sac that is located just below the liver, and it stores bile, which is a fluid that helps you digest fats. A malfunction in this organ usually involves the blockage of bile flow, formation of gallstones, or infections.
Types
Gallstones: These are the most common of all gallbladder disorders. The stones can form because of

cholesterol

, bile, or excess calcium.
Cholecystitis: It is the medical name for inflammation of the gallbladder. Cholecystitis can give rise to additional troubles like gas formation, indigestion, and constipation.
Choledocholithiasis: This occurs when gallstones plug the neck of the gallbladder or the bile ducts, so bile can't exit. This causes the gallbladder to become inflamed or distended.
Acalculous gallbladder disease: A chronic illness or another serious medical condition may trigger the inflammation of the gallbladder.
Gallbladder polyps: These are growths, usually benign, that may cause pain if they become too large.
Biliary dyskinesia: Chronic inflammation of the gallbladder causes it to function at a lower rate.
Sclerosing cholangitis: This is when chronic inflammation and bile duct damage leads to scarring.
Gallbladder abscess: Those with gallstones can also develop pus.
Gallbladder cancer: Though relatively rare, the growth of

malignant

cells in the gallbladder can be non-benign.
Gangrene of the gallbladder: If there is not enough blood flow to the gallbladder, it can develop necrosis (tissue destruction) or gangrene.
Porcelain (calcified) gallbladder: This is when the walls of the gallbladder have deposition of calcium causing them to become bluish and brittle.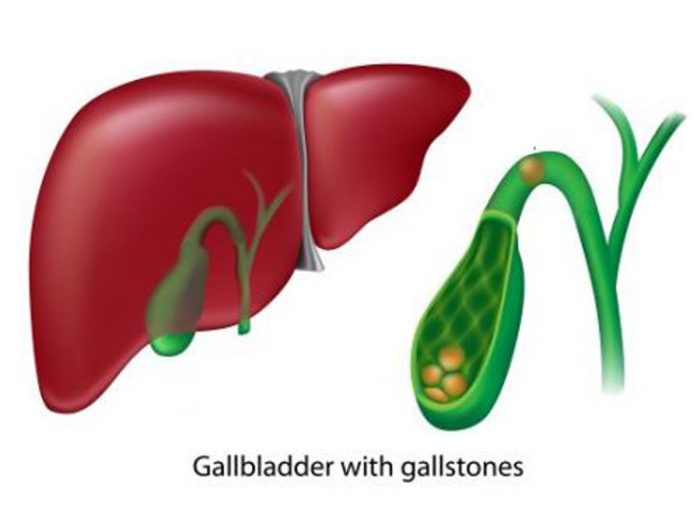 Causes
There can be several reasons for gallbladder disorders including:
Hereditary

factors
Age
Crash dieting
Celiac disease (gluten intolerance)
Lack of exercise

Pregnancy

(due to excess hormones)
Estrogen intake and birth control pills
Low stomach acid
Anabolic steroid intake
Chronic

heartburn
Symptoms
The symptoms of gallbladder disorders are:
Nausea
Vomiting
Irregular bowel movements
Dark urine