You likely know the benefits of garlic in your diet, but garlic tea is another important natural remedy that can provide a number of health benefits. However, before adding any powerful herbal tea to your health regimen, it is important to understand how to properly prepare it, as well as what potential benefits it holds.
What is Garlic Tea?
Garlic tea is a warm brew made with garlic cloves, and while that may not sound like the most palatable beverage, it can be very beneficial to your health. Garlic is scientifically known as Allium sativum and contains high levels of vitamins A, B and C, as well as sulfuric compounds, allicin, various antioxidants and other active ingredients. When you eat garlic cloves or include them in your diet, you benefit from these components, but the concentration is often quite low.
For thousands of years, garlic tea has been a trusted natural remedy, dating all the way back to the ancient Greeks. If you can get over the initially unpleasant flavor, you will be surprised by the additional energy and overall wellness that a daily cup of garlic tea can give.
There are some potential side effects that should be considered, such as heartburn, nausea, vomiting, general gastric distress, and a higher risk for bleeding disorders. These side effects are typically only experienced if you consume a large amount of garlic tea, or due to allergies. You should be able to avoid side effects if you practice moderation when drinking this specialty tea.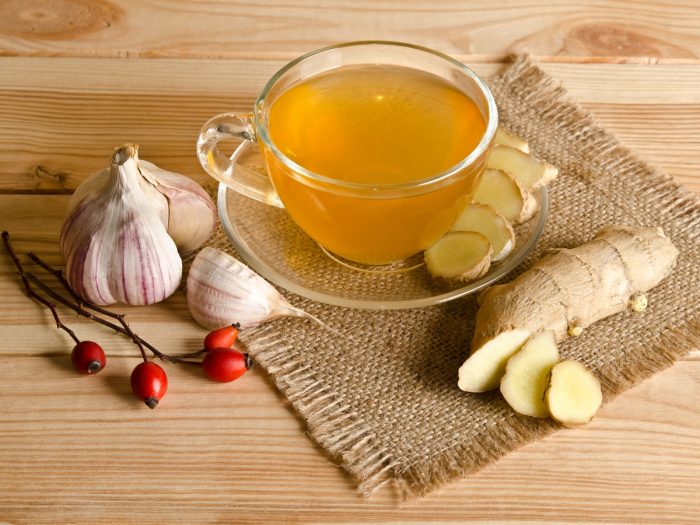 Garlic Tea Benefits
There are a number of notable benefits of garlic tea, such as aiding weight loss efforts, boosting immunity, soothing the respiratory system, lowering blood pressure, and increasing energy, among others.
Boosts Immunity
Packed with antibacterial and antifungal compounds, such as allicin, garlic tea can give your immune system a major boost by protecting against a wide range of infectious pathogens, particularly those that are ingested along with your food.
Regulates Blood Pressure
Studies have linked garlic's active ingredients with lower blood pressure, and garlic extract has also been shown to lower serum cholesterol levels. This can reduce your risk of atherosclerosis, heart attack, and stroke, as well as coronary heart diseases.
Improves Respiratory System
If you are suffering from a cough, cold, sore throat or sinus congestion, a single cup of this tea can help clear out congestion and reduce inflammation in your respiratory tracts. It also helps in speeding up healing and eliminating the underlying infection.
Weight Loss
Garlic tea is able to stimulate the metabolism, which can increase passive fat burning and aid in weight loss efforts, while also partially suppressing the appetite!
Provides Energy Boost
Drinking a cup of garlic tea every morning may not pack a caffeine boost, but it can increase overall energy levels at the start of the day.
How to Make Garlic Tea?
Making your own garlic tea at home is quite simple, and is much easier than finding a coffee shop that offers it on the menu! Follow the simple recipe below and you'll be sipping on this beneficial beverage before you know it!
Ingredients
Step 1 – Peel the cloves and remove any papery layers.
Step 2 – Add the cloves and water into a saucepan or pot.
Step 3 – Bring the water to boil, then turn off the heat.
Step 4 – Add honey and lemon to the tea and stir it well.
Step 5 – Strain the tea into a cup and enjoy 1-2 times per day.
Step 6 – Store extra garlic juice in the refrigerator and reheat for use within 2 days.