Before we begin our day, it is a morning routine for most of us to wake up and grab a cup of piping hot tea. The beverage acts as a mood enhancer, energy intensifier, and an immunity booster – something we need to begin our day on a good note. One such tea that meets all these criteria is definitely genmaicha tea. A Japanese green tea variant, genmaicha tea, has a strong and distinctly nutty flavor, which can be enjoyed both cold and hot. But how do you make this tea at home and how do you store it? Let us find out. [1]
What is Genmaicha Tea?
Genmaicha in Japanese collectively means 'brown rice tea'. The term gen in Japanese means dark, while mai translates to rice and cha to tea. The tea is also known as hyeonmi cha in Korean. Usually unpolished or unhulled rice is used to make this tea. It is made by combining medium-grade green tea like sencha or bancha with well-roasted brown rice. Apparently, the Japanese call it the popcorn tea, due to the popping sound that the rice makes while roasting it. The drink gets a wholesome, buttery and earthy flavor only due to the roasting of the rice. Genmaicha tea goes perfectly well with deep-fried food items. [2]
Benefits of Genmaicha Tea
The tea is a form of green tea, which is blended with roasted brown rice. Like any other green tea, it is rich in antioxidants and has numerous health benefits, which include boosting immunity, a likely reduction in the risk of cancer, a potential fall in cholesterol levels that eventually helps improve cardiac health, and so on. To know about its benefits in detail, read our article on, '11 Incredible Green Tea Benefits.' [3]
How to Make Genmaicha Tea?
Genmaicha tea may be a Japanese specialty, but you do not need to travel all the way to Tokyo to give this soothing beverage a try. It is possible to make this tea at home using only a few ingredients. Take a look at the detailed recipe given below.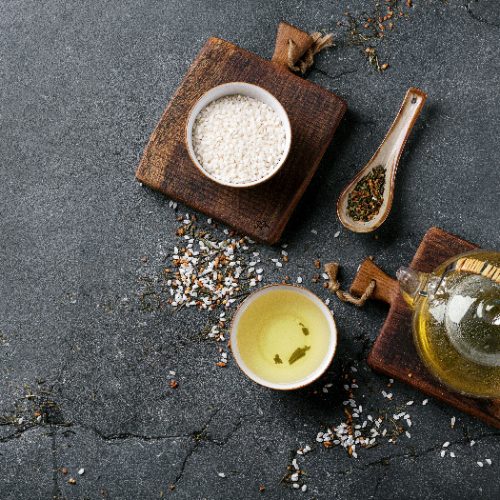 Genmaicha Or Brown Rice Tea Recipe
Enjoy this traditional Japanese preparation by adding the delicious flavor of toasted brown rice to green tea!
Print
Pin
Rate
Ingredients
4

tbsp

of brown rice

4

cups

of water

honey for taste

(optional)

4

tsp

preferred green tea leaves
Instructions
To make genmaicha tea, first, in a pan, spread a thin layer of brown rice and allow it to toast evenly.

Ensure that the heat is turned low, as you toast the rice. Keep stirring it, so that the rice evenly toasts. Once the rice takes a dark brown color and begins to give out a nutty, toasted aroma, switch off the stovetop burner. Although the toasting time can differ depending on the pan and the heating time, this should not take more than five minutes. Given that the rice can burn quickly, ensure that you do not leave it unattended.

When that is done, cool the rice on a plate and place it inside a container for storage. If you want, you can toast the rice some more. That entirely depends on your individual preference.

It is up to you how much genmaicha tea you want to brew. You can place the desired amount of rice and its equivalent quantity of green tea leaves in a tea sieve. Usually, the ratio of brown rice to green tea leaves is 1:1, which means a

tablespoon of toasted brown rice and a teaspoon of green tea leaves is necessary to brew a strong cup of tea. Given, we want four servings of the tea, the ratio has to be 4:4.

Meanwhile, in a nonreactive pot, heat water up to a temperature of 180 °F. Once ready, insert the tea sieve into the water. Allow it to steep for nearly three minutes. If you want a stronger brew, steep it for a longer duration.

Once done, remove the tea sieve and keep it aside. Pour the genmaicha tea into a cup and enjoy! You can add a teaspoon of honey or any other sweetener of your choice to enhance its taste.

You can also have the tea cold. All you'll need to do is allow the brew to cool down and then add ice cubes to it. You can also keep it in the refrigerator once it cools down a little.
Notes
If you don't want the brown rice grains to darken too quickly, remove the pan from the heat and gently keep swirling the grains in a circular motion. This will also help the rice to cool a little. However, once done return the pan to the heat and complete the toasting process.
Use chopsticks or a wooden spoon to stir the brown rice grains. This will ensure it to be roasted evenly.
If you want a stronger cup of genmaicha tea, steep the brown rice grains separately from the green tea leaves for a longer duration. To enable this, bring your tea water to a boil, following which, place the rice inside the pot. Turn off the heat and cover the pot with a lid. Meanwhile, allow this mixture to steep for a few minutes and then add the green tea leaves and let it soak for at least three minutes. Once you are done brewing, strain the resultant tea and serve hot. If this method doesn't work for you, use another tea sieve for the rice.
Do not use white rice for the preparation of this tea. Brown rice has bran layers, which lends the tea a unique, rich, nutty flavor.
If you hear the rice grains pop during the toasting process, do not fret. It is only normal for the grains to turn inside out while they are being toasted. This will only further enhance the flavor of the genmaicha tea.
How to Store Genmaicha Tea?
This tea is not meant to be stored for a long time. If you do, the freshness of the brew will dissipate. That is why it is best to consume the tea on the same day it is made. If you want, you can choose to refrigerate it overnight. It is also imperative that you have a good storage method in place for the green tea you use to prepare genmaicha tea. It is mandatory to keep green tea in an airtight container once it is opened. Keep the container away from direct sunlight or a place that is warm. Once opened, the tea leaves will generally stay fresh up to six weeks. You also get roasted brown rice in the market. If you are using that to make this tea, ensure it is kept in an airtight container as well, away from direct sunlight.