Home remedies like ginger garlic paste can be incredibly helpful for a number of ailments and can be consumed in various ways. Before you use this powerful substance, however, it is best to understand how to make it, as well as the potential benefits it may have.
What is Ginger Garlic Paste?
Ginger garlic paste is composed of two of the most powerful natural healing agents in the world – ginger and garlic. By blending these two ingredients with a bit of olive oil in a food processor, you can create a nutrient-dense paste that can be topically applied or consumed orally. Used for generations in traditional medical practices in China and India, ginger garlic paste is growing in popularity in other parts of the world, due to its wide range of potential health benefits. [1]
Ginger Garlic Paste Health Benefits
The most impressive effects of ginger garlic paste include its effects on inflammatory conditions, cancer risk, high cholesterol, poor digestion, high blood pressure, and nausea, among others.
Lowers Inflammation
Both ginger and garlic are directly linked to pain relief and lowered levels of inflammation, including symptoms originating from headaches, migraines, arthritis, stomach upset, injuries, and surgical recovery. [2]
Reduces LDL Cholesterol
Both of these ingredients have been shown to reduce serum cholesterol levels in the body, which can help to prevent atherosclerosis, heart attacks, and strokes, while also lowering your risk of coronary heart diseases. [3]
Aids Digestion
If you are experiencing indigestion, nausea, inflammation in your gut, acid reflux, cramping or bloating, the combination of these two powerhouse ingredients can quickly relieve your symptoms. This is also an effective remedy for nausea, primarily due to the effects of ginger. [4]
Anticancer Potential
A report published in the Egyptian Journal of Basic and Applied Sciences states that garlic and ginger both have powerful antioxidants as active ingredients that reduce the effects of free radicals and prevent oxidative stress, which could lower your risk for cancer, autoimmune diseases, heart diseases, and arthritis. [5]
Uses
There are quite a few different uses for garlic paste, including in your food, orally, or as a topical application.
Culinary Use
Ginger garlic paste is most commonly used in culinary applications, and can be added to desserts for a spicy, savory bite, used to brew a powerful tea, or added to stir-fries for a healthy boost. It is also a great addition to marinades for different meat dishes. [6]
Oral Consumption
Although the taste is extremely concentrated, some people choose to take small amounts of this paste and eat it directly, particularly for stomach upset and respiratory problems.
Topical Application
You can apply the ginger garlic paste to sore muscles and joints, especially if you suffer from joint disorders or osteoarthritis.
How to make Ginger Garlic Paste?
Making your own ginger garlic paste at home is easier than you might think, and only requires fresh ginger, fresh garlic, olive oil, and a food processor! So let's take a look at the recipe below.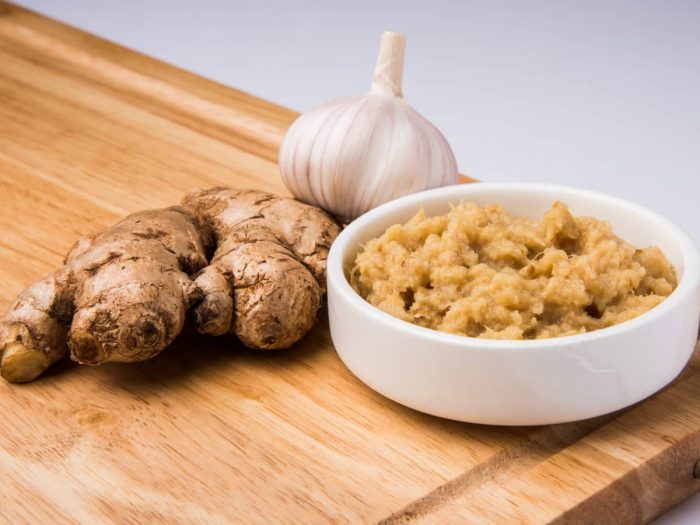 How to Make Ginger Garlic Paste: Easy Recipe
When it comes to cooking, one of the basic essentials is the ginger garlic taste. Not only does it add a certain aromatic flavor to the food, but it also makes the meat tender and aids in digestion. While the readymade version is available in departmental stores, it can also very easily be made at home. You can also make a lump sum of it, refrigerate it and used it at regular intervals. So let's take a look at the easy ginger garlic paste recipe below.
Print
Pin
Rate
Ingredients
250

grams

ginger

250

grams

garlic

3

tbsp

sunflower oil/peanut oil

2

tsp

rocksalt/salt
Instructions
Wash 250 grams of ginger, rinse the roots well and peel them. Wash 13-14 cloves (250 gms) garlic and peel them.

To the bowl containing the peeled garlic, add the chopped ginger. Thoroughly rinse them and drain all the water.

In a food processor, add rock salt and oil, which act as preservatives. These help in preserving the paste and don't allow them to turn dark. However, keep in mind that you put less salt in the dish you're preparing since the ginger garlic paste that you'll be adding already has some amount of salt.

Grind it all to a smooth paste, which you can later remove and keep in a clean jar. Refrigerate it, so that you can use it later as and when you require it.
How to store?
Once you make your own ginger garlic paste, it is important to store it somewhere safe where it will remain usable and potent for an extended period of time. Due to the possibility of both ginger and garlic going bad, be sure to store the paste in an airtight container, and place it in the coldest area of your refrigerator. Avoid storing it on the doors of the fridge, as this spot doesn't get as cold, and will reduce the time before the paste breaks down. [7]