Ginger honey tea combines the spiciness of ginger with the lovely sweetness of honey and is the perfect warm beverage for a cold night. This sharp-flavored herbal tea can help alleviate the symptoms of cold and cough, reduce stress in the body, and provide relief from nausea. We tell you more about its benefits and how to make it.
Health Benefits of Ginger Honey Tea
While we may not have many studies on ginger honey tea, there is plenty of research on the individual ingredients. Together they pack a powerhouse of health benefits. Let us have a look at the most important benefits of this herbal tea in detail.
Relieving Cold & Cough
Ginger honey tea is the traditional remedy for a cold and cough. The hot drink can soothe an inflamed throat and provide relief. Research shows there is a good reason this is not just folklore. Ginger contains gingerol which has analgesic and anti-inflammatory properties. Honey could help relieve cough. According to a study, a spoonful of honey at bedtime helps relieve cough in children. However, honey is not recommended for infants younger than a year. [1] [2]
Alleviate

Nausea

A cup of hot ginger honey tea could help alleviate nausea. A study comparing ginger to vitamin B6 (used to relieve nausea) found that its effects are similar. When given to pregnant women in their early pregnancy, it helped in providing relief from nausea, dry retching, and vomiting. [3]
Packed with Antioxidants
Ginger and honey are packed with antioxidants that help us to fight free radicals. This makes them critical in protecting against chronic diseases like cancer. When combined, their effect is further magnified. In an animal study published in BioMed Research International, researchers found that the combination of gelam honey and ginger contained more potent antioxidants than either of the ingredients alone. [4]
Aids Digestion
Ginger and honey have both been used by different traditional medicines to treat digestive issues. Ginger has antitumor, antiulcer, and anti-inflammatory properties. It was used as a remedy for gastrointestinal disorders in traditional Indian and Chinese medicines. Honey was similarly used in traditional medicine for gastrointestinal problems. It has an inhibitory effect on some species of bacteria, viruses, and fungi. It can also improve the microbial balance in the gut as an article in Food Quality and Safety reported.
[5] [6]
Boosts Heart Health
The combination of honey and ginger could be beneficial for the heart. A 2016 animal study published in Diabetes and Metabolism Journal found that ginger extract can reduce structural abnormalities in the heart. Honey also has a similar protective effect. The phenolic compounds in honey are associated with a reduced risk of heart diseases. So, a cup of ginger honey tea may help protect your heart against damage and diseases. [7]
How To Make Ginger Honey Tea?
The best way to take ginger and honey is with a hot cup of tea. The tea has the sharpness of ginger which when combined with the mellow sweetness of honey, makes for a very soothing drink. It's the perfect drink for cold days or whenever you want a little zing in your life.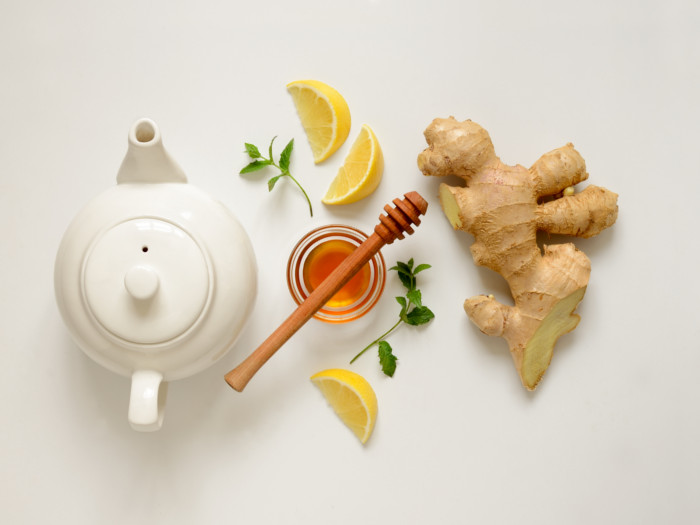 Healing Ginger Honey Tea Recipe
The spiciness of ginger is balanced by the sweetness of honey. You can add a dash of lemon to give it an extra zing.
Print
Pin
Rate
Ingredients
1

inch

fresh ginger root

washed and grated

1

cup

water

1

tbsp

honey

1

slice

lemon

optional
Instructions
Bring the water to a boil with the grated ginger.

Strain the ginger water into a cup and stir in the honey till it dissolves. You can add the lemon (if using) at this stage.

Your honey ginger tea is ready!
You can learn more about the benefits and how to take ginger and honey in our article Honey & Ginger: Benefits & Recipe Ideas.
Word of Caution: Honey is high in sugar. It should be taken in moderation, especially by people who are watching their sugar levels.