Drinking hawthorn berry tea is a great way to boost your skin and heart health and enjoy a unique herbal beverage without a caffeine burst.
What is Hawthorn Berry Tea?
Hawthorn berry tea is a warm beverage prepared with the berries of the hawthorn shrub and has been in use for more than 2,000 years. This plant grows throughout Asia and Europe and is known to have a very dense concentration of antioxidants, including quercetin, procyonid, malic acid, and citric acid, as well as various other flavonoids and minerals. [1]
The impressive nutrient composition of these berries makes the resulting tea a powerful health tonic when prepared properly. There are some who consider hawthorn berries a superfood, or at least one that can extend your lifespan, so occasionally drinking this tea is a very good idea.
Hawthorn Berry Tea Benefits
The primary benefits of hawthorn berry tea include the following:
Chest Pain
Experiencing chest pain at any point in life is frightening, but it can also be a symptom of other cardiovascular conditions, such as congestive heart failure, but this tea has been shown to remedy chest pain rapidly when taken as both a preventative measure and a treatment. [2]
High Blood Pressure & Cholesterol
The flavonoids and active ingredients in this tea are able to improve cardiovascular function and ease tension in blood vessels and arteries; it can also help prevent heart attacks and strokes by helping to balance overall cholesterol levels. [3]
Skin Care
The antioxidants found in this tea will be able to help neutralize free radicals throughout the body, including the skin cells, which will be protected from oxidative stress. This can reduce the appearance of wrinkles, age spots, and blemishes. [4]
Gut Health
Studies have identified hawthorn berry tea as an intestinal tonic, as it can reduce bloating and cramping, while also making the environment less tolerant of parasites, such as tapeworms, and other infections. [5]
Energy Levels
Some people drink this tea in the morning for a solid boost of energy, thanks to the diverse range of minerals and active ingredients, although caffeine is not present in this morning brew. [6]
Antioxidants
With various antioxidants, this tea prevents inflammation throughout the body, from arthritis to headaches.
How to Make Hawthorn Berry Tea?
Making your own hawthorn berry tea at home is a simple and delicious way to boost your health.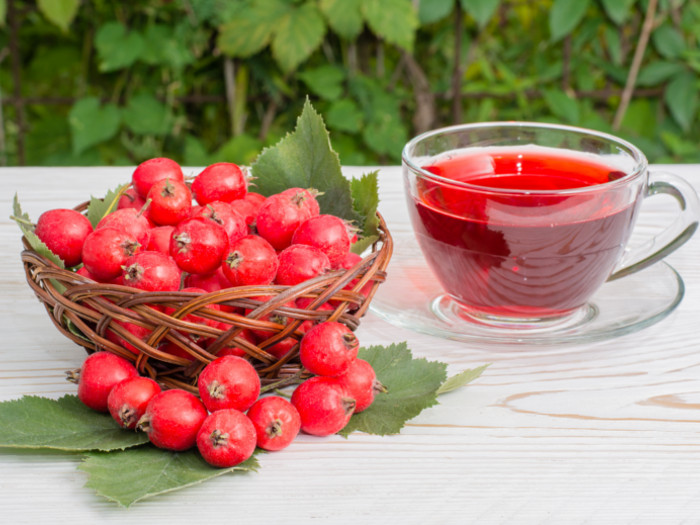 Healing Hawthorn Berry Tea Recipe
The soft and tart hawthorn berry makes strong and fruity tea that is also very delicious.
Print
Pin
Rate
Steeping Time:
10
minutes
[7]
[8]
Ingredients
1

tbsp

hawthorn berries

dried

1

cup

water

Honey

optional
Instructions
Bring a pot of water to boil on the stove.

Add dried hawthorn berries, roughly 1 tablespoon of berries per cup of water.

Let the mixture steep for 8-10 minutes (the longer it steeps, the stronger it will be).

Scoop out the berries from the tea and serve hot.

Add honey for flavor, if desired.
Hawthorn Berry Tea Side Effects
There are a few things to take into consideration before drinking this tea, such as its potential side effects in the gut and cardiovascular system, as well as its potential interactions with other medication.
Gut Health: Nausea and stomach upset are common if this tea is consumed in excess, and in some extreme cases, intestinal hemorrhaging has occurred.
Heart: This tea has many effects on cardiovascular health, but if consumed regularly, or in too high a concentration, it can actually increase chest pain and the occurrence of heart palpitations.
Drug Interactions: Some research has found that hawthorn berry tea can have negative interactions with medication to manage blood pressure and heart palpitations. Cardiovascular health can be delicate, so be sure to speak with your doctor before adding this tea to your diet.