The health benefits of edamame include a stronger immune system, improved bone, and cardiovascular health, weight management, and a healthy digestive system. It has the potential to inhibit tumor growth and may improve lung function in patients suffering from asthma. It also helps in managing age-related skin changes in postmenopausal women. Edamame is a good source of proteins, fiber, and other nutrients that are essential for the human body.
About Edamame
The use of soybeans is common in the preparation of food for vegetarians. Apart from the beans, there are different products that can be generated from them. Edamame is prepared by boiling immature soybeans with their pods and is commonly served as a side dish. It is a popular dish in Japanese cuisine and history suggests that it was first prepared in Japan. Although this type of soybean was originally common in Japan, it is slowly gaining fame in different parts of the world, including the United States. It is due to the fact that it has been proven to have properties that are beneficial to the body.
Nutritional Value of Edamame
According to the USDA National Nutrient Database, edamame contains energy, protein, fiber, carbohydrate, various amino acids, and low levels of fat and sugar. It is a good source of various minerals such as calcium, iron, magnesium, phosphorus, potassium, sodium, zinc, copper, and manganese. Vitamin C, riboflavin, thiamin, niacin, pantothenic acid, vitamin B6, folate, vitamin E, and tocopherol are some of the vitamins that are present in edamame.
Nutrition Facts

---

Edamame, frozen, prepared

Serving Size :
Nutrient
Value
Water

[g]

72.77
Energy

[kcal]

121
Protein

[g]

11.91
Total lipid (fat)

[g]

5.2
Carbohydrate, by difference

[g]

8.91
Fiber, total dietary

[g]

5.2
Sugars, total

[g]

2.18
Calcium, Ca

[mg]

63
Iron, Fe

[mg]

2.27
Magnesium, Mg

[mg]

64
Phosphorus, P

[mg]

169
Potassium, K

[mg]

436
Sodium, Na

[mg]

6
Zinc, Zn

[mg]

1.37
Vitamin C, total ascorbic acid

[mg]

6.1
Thiamin

[mg]

0.2
Riboflavin

[mg]

0.16
Niacin

[mg]

0.92
Vitamin B-6

[mg]

0.1
Folate, DFE

[µg]

311
Vitamin B-12

[µg]

0
Vitamin A, RAE

[µg]

15
Vitamin A, IU

[IU]

298
Vitamin E (alpha-tocopherol)

[mg]

0.68
Vitamin D (D2 + D3)

[µg]

0
Vitamin D

[IU]

0
Vitamin K (phylloquinone)

[µg]

26.7
Fatty acids, total saturated

[g]

0.62
Fatty acids, total monounsaturated

[g]

1.28
Fatty acids, total polyunsaturated

[g]

2.16
Fatty acids, total trans

[g]

0.01
Cholesterol

[mg]

0
Caffeine

[mg]

0

Sources include : USDA
Health Benefits of Edamame
These nutrients help in maintaining a healthy life and preventing various health risks. The health benefits are listed below.
Skin Care
Skin is one of the body's organs that is susceptible to damage due to external conditions, such as weather and medication, among others. Hence, it needs proper care. The intake of edamame, which contains antioxidants, helps in maintaining healthy skin and repairing damaged skin. According to a team of doctors, associated with the University of Messina, Italy, who carried out a study on rats, found that ovariectomy fastens age-related skin changes as adequate estrogen levels are required to manage structural coherence and functional capacity of the skin. A soy-derived isoflavone, known as genistein, has been found to show intriguing results on photoaging, skin elasticity, and skin cancer prevention. Moreover, edamame also consists of isoflavones that may be beneficial in managing age-related skin transitions in postmenopausal women.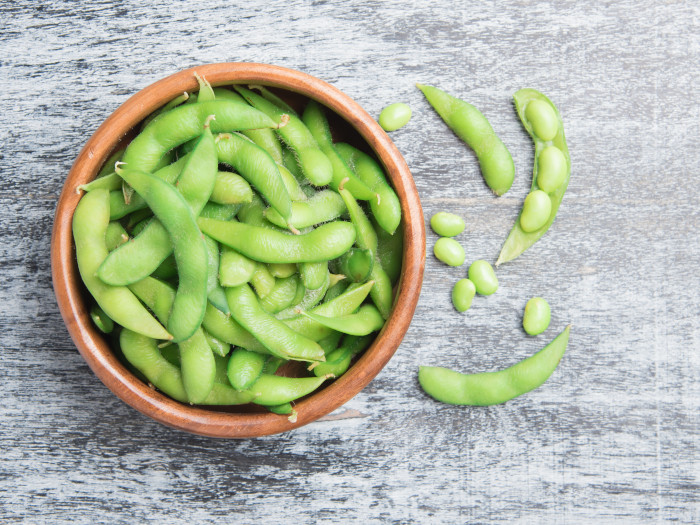 Stronger Immune System
Edamame, with its nutrients, vitamins, and antioxidants helps in strengthening the immune system. A healthy immune system is necessary for the body to protect itself against microorganisms that may cause various health ailments.
Healthy Bones
Edamame contains calcium, phosphorus, iron, vitamin E, and other nutrients that are required for maintaining healthy bones. Consumption of these beans and other soy products may provide the necessary nutrients and help in strengthening bones and maintaining bone density. As per a research study, done by Dr. Susan Reinwald of Purdue University, Indianapolis, it may reduce the risk of bone fractures, especially in postmenopausal women. Osteoporosis is another bone-related ailment that occurs in old age. Regular intake of edamame, which contains isoflavones and other nutrients, may help in preventing osteoporosis as well. It is also important to lead a healthy lifestyle in order to prevent any other bone-related diseases.
Better Lung Functioning
According to the studies undertaken by the researchers of Illinois University, USA, the American Lung Association and the Asthma Clinical Research Centers, the intake of genistein may improve the lung function in patients with severe breathing problems. Edamame contains genistein and thus may help in enhancing the lung function in those suffering from chronic respiratory issues.
Weight Management
According to the Self Nutrition Data, 155 grams, of cooked edamame provides around 18.5 grams of protein. Consumption of edamame may also be beneficial in managing weight. The intake of proper food plays a very important role in weight management. These beans have a high protein content and fewer calories, which make it an ideal snack for weight conscious people.
Improved Digestion
The health benefits of edamame include a healthy digestive system. It is a good source of fiber which facilitates digestion. Constipation and bloating that you are experiencing may also be prevented or reduced by consuming these beans. Apart from the benefits of the digestive system, fiber also plays an important role in ensuring that cholesterol is maintained at the right levels, thereby reducing the risk of stroke and heart attack.
Anticancer Potential
While early studies showed that intake of soy products, including edamame, fuelled the risk of breast cancer, recent research in the domain has been indicating otherwise.
It has been observed that isoflavones present in soybean might have the potential to prevent some forms of cancer. It has been a popular research topic and more studies about the anticancer potential of edamame are ongoing.
Maintains Cardiovascular Health
Soy foods like edamame may be beneficial in reducing the risk of cardiovascular diseases. A study conducted by Dr. Robert M Blair and published in the Nutritional Journal suggests that the consumption of soy foods may improve the control of insulin and blood glucose levels.
How to Select & Store Edamame?
Edamame is readily available in stores in many countries around the world. Fresh or frozen one can be picked and stored in cool places. One can also go to Japanese and Chinese restaurants that serve edamame.
How to Prepare Edamame?

This is one of the easiest meals to prepare as long as all the ingredients are available. To begin with, soybeans are not usually mature, making it easy to cook within a short period of time, unlike mature beans. It is better when boiled with the pods to ensure that all the nutrients remain intact because this is the main reason for consuming it.
Since the pods are tender, their removal is not necessary. After proper boiling, the beans are then removed by gently squeezing the pods. This is a better method than tearing the pods apart. Instead of the whole pod removal process, there are those who choose to have the beans together with the pods, which become tender after boiling.
For a fulfilling and delicious meal, the edamame can be fried first together with the spices for a few minutes before serving it as a main dish or salad. Make sure you do not overcook the beans.
If you enjoy cooking, try a combination of various ingredients with edamame. You never know, you could generate an amazingly delicious recipe from your imagination that everyone might want to try.