Raspberry leaf tea boasts a number of health benefits, as they are thought to boost the immune system, be cardio-protective, and anti-inflammatory, regulate hormones, and prevent nausea and other gastrointestinal issues.
While this tea serves many different purposes, it is most famous as an aid for women's health. Given the sensitive nature of herbal supplements for pregnant or breastfeeding women, it is unusual that this herbal tea is recommended by some practitioners for women at that time of life. That is the incredible power of raspberry leaf tea.
As the name suggests, this tea is made from the leaves of raspberries, after they are dried and crushed in the form of usual tea leaves. Interestingly, the tea doesn't have the sharp tang of a raspberry; instead, it tastes more like floral black tea and has an impressive collection of nutrients, vitamins, and antioxidants.
Watch Video: 7 Surprising Benefits Of Raspberry Leaf Tea
Health Benefits of Raspberry Leaf Tea
Drinking raspberry leaf tea is thought to be beneficial for expecting women, as well as people suffering from cold, flu, fertility issues, psoriasis, eczema, acne, obesity, indigestion, constipation, high blood pressure, aching joints, and general inflammation. Raspberry leaf tea is packed with potassium, iron, magnesium, vitamin C, vitamin B, and vitamin E, along with a number of powerful antioxidants and alkaloids that give the tea such a diverse range of health benefits.
Pregnancy Aid
This tea is mainly known for its ability to stimulate labor and ease childbirth, due to the effects it can have on the uterine wall. It can strengthen and tone the muscles, and make for a speedier and less painful time in the delivery room. For any woman who has had extended labor, this health benefit of raspberry leaf tea is particularly attractive. Although research on this is still ongoing, and no actual evidence has been found to support this, raspberry leaf tea has been used for thousands of years for this purpose. A particular alkaloid called fragine is believed to be the cause of this unique benefit.
Regulates Blood Pressure
The concentration of potassium in this tea makes it excellent for helping to reduce blood pressure and protect the cardiovascular system against atherosclerosis, heart attacks, and strokes.
Aids in Digestion
The anti-inflammatory properties of raspberry leaf tea help to soothe stomach aches and prevent constipation. It can also stimulate smooth muscle contraction, normalizing bowel movements, and easing bloating and cramping. In excess, however, these effects make this tea a laxative, so consume in moderation.
Boosts Immune System
Vitamin C in raspberry leaf tea helps to enhance the functioning of the immune system and stimulates the production of white blood cells in the body.
Stimulates Fertility
Traditionally, raspberry leaf tea has been used to stimulate fertility, both in men and women, primarily because it is thought to balance hormone levels. If males are experiencing too many estrogenic compounds, their reproductive ability will suffer, and vice versa. The compounds in this tea can curb those hormone imbalances in people.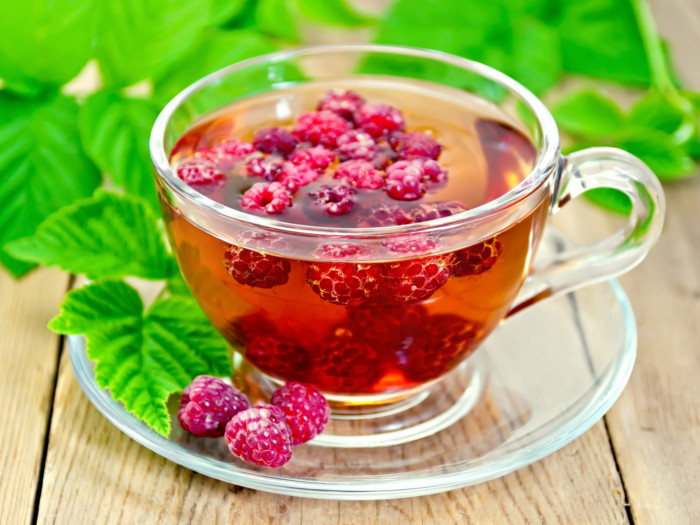 Reduces Inflammation
Raspberry leaf tea can help soothe symptoms of arthritis, gout, headaches, fever, and gastrointestinal distress due to the potent antioxidants and anti-inflammatory ingredients in the leaves.
Skin Care
People commonly use raspberry leaf tea to heal the irritation on the skin. Due to its high levels of vitamin E and C, as well as various antioxidants, it soothes inflammation caused by psoriasis, acne, and eczema, among others, and can be used topically or internally for this effect.
Weight Loss
Known widely as a low-calorie tea with a metabolism-stimulating characteristic, raspberry leaf tea is popular with people who are trying to lose weight. This tea can help make you feel full while delivering key nutrients and boosting your energy levels.
When to start drinking Raspberry Leaf Tea?
Most herbalists and women who have used raspberry leaf tea during pregnancy suggest adding the tea to your health regimen no later than week 32 – or even earlier. It takes a bit of time for the uterus wall to increase in strength, and by using the tea for a month before your expected delivery date, it has a much better chance of having the desired effect.
Generally speaking, you can begin drinking the tea as early as the second trimester, but some specialists do not advise drinking it beforehand. Some of the compounds in raspberry leaf tea can stimulate uterine contractions, which could potentially bring on a miscarriage. As with any herbal remedy, particularly one so directly linked to pregnancy and childbirth, speak to your doctor, midwife or doula about the healthiest option for you and your baby.
How Much Should I Drink to Induce Labor?
If you want to strengthen and tone the uterus before giving birth, experts recommend 2-3 cups of tea per day, starting in the third trimester. When starting out with raspberry leaf tea, it is best to start with 1 cup per day and see how your body reacts. If you don't experience any side effects, you can gradually start increasing that amount up to 2-3 cups daily. The active compounds will build up in your body, your uterine wall will be supported, and when you go into labor, it should be a quick process, with effective contractions and relatively short delivery time.
Side Effects of Raspberry Leaf Tea
Drinking raspberry leaf tea may not be a wise choice for those who have had unusual pregnancies or delivery experiences in the past, as the tea might exacerbate or complicate some of those issues.
Overdue Birth – If your baby is already overdue, the contractions during a vaginal birth will already be quite intense; making them even stronger with raspberry leaf tea could put a lot of stress on the baby.
Bleeding or Spotting – If you have experienced any sort of bleeding or spotting in the second or third trimester, stimulating the uterus with raspberry leaf tea may not be wise.
Cesarean – If you are planning to have a Cesarean birth, this tea is not recommended before the procedure, although it can help the uterine wall to recover after the delivery. If you have had a Cesarean in the past, but want to have a vaginal birth later in life, raspberry leaf tea may be helpful, but it is strongly recommended that you speak to your doctor first.
Finally, some people have reported laxative and diuretic effects of raspberry leaf tea, as well as the relaxing, sedative nature of the tea. If you are taking other anti-anxiety or sleeping medications, speak to a medical professional before adding this tea to your daily diet, as there could be complications.