If you love Mediterranean and Middle Eastern food, then you're definitely aware of the secret ingredient/ spice that makes these cuisines flavorful. Well, we are talking about za'atar- a spice mix that is known for its somewhat tangy, herbal, nutty, or toasty flavor. Not only does it enhance the taste of the food it is added to but is also known for its impressive health benefits.
The top benefits may include its potential ability to improve the immune system, boost skin health, reduce inflammation, increase circulation, clear out the respiratory tracts, boost energy, improve mood, and aid memory, among other things. But can you make it at home and how do you use it? Does it have any substitutes? Let us find out. [1]
What is Za'atar
Typically, za'atar (Origanum syriacum) is another name for wild thyme in the Arabic culture. It is also a Middle Eastern spice mix, which is made from thyme, sesame seeds, sumac, and salt. There are a number of different varieties, occasionally including marjoram or oregano, rather than thyme. These herbs and spices contain a wealth of powerful nutrients and organic compounds, including thymol, gallic acid, carvacrol, and quercetin. By taking in the best of numerous healthy herbs, this spice mix has been popularized throughout the Middle East and is beginning to spread to other parts of the world. [2]
How To Make Za'atar?
Za'atar is an aromatic mix of different spices as per the permutation and combination of your choice. However, typically it consists of a blend of several spices like thyme, oregano, marjoram, sumac, sesame seeds, and salt. However, we have our own recipe. Take note of the detailed recipe below.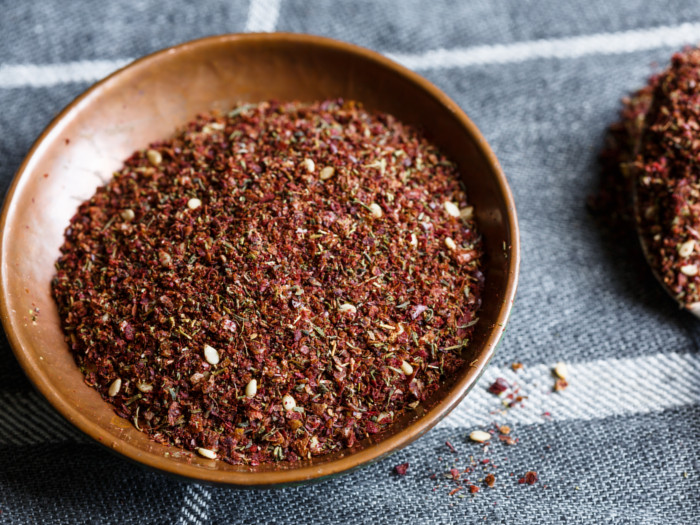 Instant Homemade Za'atar-Mix Recipe
The ubiquitous Middle Eastern spice mix that gives your salad, bread, dips and curries a delicious savory kick!
Print
Pin
Rate
[3]
[4]
Ingredients
1

tbsp

of dried thyme/oregano

crushed

1

tbsp

of ground cumin

1

tbsp

of ground coriander

1

tbsp

of toasted sesame seeds

1

tbsp

of sumac

½

tsp

kosher salt or salt

¼

tsp

of chili flakes
Instructions
To make za'atar spice mix, first toast cumin seeds, coriander seeds, and sesame seeds individually, till they give out their characteristic fragrance respectively. Once done, grind the cumin and coriander seeds separately to get their powdered form.

Mix all the ingredients in a bowl and mix well. Store it in an airtight container.
How To Use Za'atar?
The spice blend is used in a number of ways. It is a popular addition to salads, as well as seasonings for meat and vegetables. The flavor, depending on the particular combination, is often described as toasty, tangy, or nutty. You particularly see it with olive oil and bread, and in dips for vegetables. By combining flavonoids, minerals, and other key nutrients, this spicy seed mixture can do wonders for your overall health. Here are a few recipes to which you can include this spice mix if you want.
Substitutes of Za'atar
While zaatar may be another name for wild thyme in the Arabic culture, it is predominantly a spice mix. Dried wild thyme is just one of the herbs that are used in making the seasoning blend as seen above. You may not necessarily add dried wild thyme to the blend as this recipe can differ from person to person. You can add marjoram, fennel, or caraway seeds too as substitutes in the blend.
Health Benefits of Za'atar
As za'atar is made out of a combination of several spices, they each bring with them their own unique medicinal properties, making this spice mix a healthy addition to your food. Let us look at the benefits in detail below.
Possibly Rich in antioxidants
Sumac, a key ingredient in za'atar, with its healthy supply of quercetin, acts as an antioxidant protecting the body against free radicals that cause various health issues. [5]
Might Help Clear Respiratory Tracts
There are certain expectorant properties of thyme, particularly when it is brewed in a tea. Thyme can help to clear out the respiratory tracts, causing you to expectorate (a cough) out phlegm and mucus, so this potent spice mix can be added to food when you're feeling a cold coming on. [6]
May Help Boost Cognition
There are strong traditional beliefs about the cognitive impact of za'atar, which may include its possibility of improving memory. People used to sleep with za'atar beneath their pillow, due to the belief that the rich mineral content can boost brain power and stimulate neural activity. Having said that, there is a lack of scientific evidence supporting this benefit and hence more research is needed.
Might Soothe Inflammation
You can make za'atar into a paste or a salve, to put on inflamed areas of the skin, such as bug bites and aching joints. One thing that these herbs all have in common is minerals, and between the high concentration of iron, calcium, copper, and magnesium, za'atar can have a major impact on bone mineral density, says a report published in the Journal of Saudi Chemical Society. When the spice is consumed, it can have a similar anti-inflammatory effect, particularly if you suffer from arthritis, gout, or other inflammatory conditions in the stomach or respiratory system. However, additional scientific evidence is required to corroborate this benefit. [7]
May Improve Mood
Studies and traditional evidence have linked za'atar with improved mood and decreased rates of depression. The phenol that comes from thyme and oregano may have direct mood-boosting effects by impacting the hormones being released and regulated throughout the body. Carvacrol has been directly linked to increased energy and cognitive function as well. [8]
Possibly Rich in Iron
Za'atar can help improve the circulation of oxygenated blood throughout the body thanks to its impressive iron content. 1 tablespoon i.e. 10 grams of za'atar contains around 11 percent of iron. Iron is a key component of hemoglobin, which transports red blood cells throughout the body, ensuring that all organ systems get the oxygen they need. [9]
May Act As An Immune System Aid
Certain organic compounds found in za'atar spice mix, thanks to the inclusion of herbs like thyme and oregano, have antifungal, anti-microbial, and antiseptic properties, making this an all-around powerhouse for your immune system. [10]
Might Heal the Skin
The anti-inflammatory properties of this spice mix can be very useful for improving the appearance of the skin, speeding wound healing, and even reducing the appearance of age spots and blemishes, thanks to the rich mixture of antioxidants found in za'atar. [11]
Word of Caution: If you suffer from allergies to any component of za'atar, it can make for an unpleasant addition to the meal or medical treatment. Always be confident in what ingredients are making up your za'atar spice mix, or better yet, prepare it yourself and find the perfect health and flavor combination for you!