You can easily make a coconut oil face mask with virgin organic coconut oil, along with various other components, such as lemon juice, oatmeal, essential oils, yogurt, baking soda and honey, among others. This oil is one of the most beneficial substances you can use in a face mask, given its rich content of fatty acids, vitamins, minerals, polyphenolic compounds and other antioxidants.
Benefits of Coconut Oil Face Mask
Some of the top benefits of a coconut oil face mask include its ability to hydrate your skin, eliminate wrinkles and age marks, neutralize acne-causing bacteria, stimulate the regrowth of healthy new cells, boost elasticity of the skin, and soothe inflammation. These powerful properties have made coconut oil the primary base for many different face masks used by those interested in all-natural skin treatments.
Moisturizes the Skin
The medium-chain fatty acids found in coconut oil are able to quickly and easily penetrate the skin, due to their smaller size, delivering and retaining moisture to dehydrated skin, which prevents dry patches, discoloration, and irritation. Moisture is essential for an even and rosy glow to the skin, and also provides the soft, supple skin that most people are seeking.
Prevents Aging
As per USDA, coconut oil contains vitamin E which is associated with antiaging. It also contains other polyphenolic compounds that act as antioxidants, meaning that they can neutralize the effects of free radicals – the byproducts of cellular metabolism. These free radicals cause oxidative stress and the breakdown of healthy cells, speeding up the aging process and producing age spots and other blemishes. A coconut oil face mask can minimize these visible effects and not only leave your skin looking younger but also more capable of defending against free radical damage in the future.
Antibacterial Effects
As mentioned, this oil contains a high concentration of medium-chain fatty acids, which have natural antibacterial, antiviral and anti-fungal properties. For people suffering from acne, which is caused by Propionibacterium acnes, a coconut oil face mask can permeate the skin to expel grime, toxins, and oils where this bacterium can grow and thrive.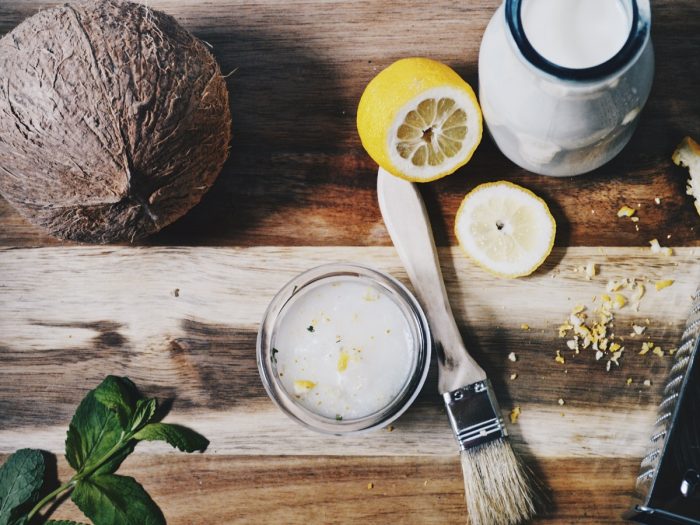 Protects Skin Elasticity
As we age, our skin begins to lose its elasticity, resulting in wrinkles and skin that is more easily damaged. Coconut oil can stimulate collagen cross-linking, strengthening the bonds of our dermal tissue and giving the skin a needed lift, improving the healthy appearance of your face.
Reduces Inflammation
Since the face is so often exposed to the elements and other environmental factors, such as pollutants, irritants and toxins, inflammation and breakouts are quite common. Coconut oil has natural anti-inflammatory effects that can stimulate blood flow to the skin to speed the healing process and increase your face's defenses against external effects.
Promotes Growth & Repair
The vitamin and antioxidant content of this oil can help stimulate the growth of new cells, which is essential in the case of damaged tissue or scarring (such as from acne). Coconut oil can help to exfoliate the skin, which sloughs off dead skin cells so that new, healthy cells can grow and replace them, so even blemishes and scars can benefit from the regular use of these face masks.
How to Make a Coconut Oil Face Mask?
You can make coconut oil face masks with a wide variety of ingredients, depending on the specific effects you are trying to achieve.
Coconut Oil Face Mask With Lemon and Yogurt
Ingredients:
1 tablespoon of virgin organic coconut oil
1 tablespoon of

lemon juice

2 tablespoons of yogurt
Put all three ingredients in a small bowl and mix thoroughly
Wash your face and lightly dry
Apply the mixture generously to your face and leave it on for 15 minutes
Rinse off the face mask with warm water and gently pat-dry your face
Coconut Oil Face Mask With Baking Soda
Ingredients:
1 tablespoon of virgin organic coconut oil
1 tablespoon of baking soda
Mix the two ingredients thoroughly to form a consistent paste
Apply to inflamed or irritated areas of the face (corners and bridge of the nose, chin, etc.)
Massage the paste into the skin in small circles for 5 minutes, then allow it to sit for another 5 minutes
Rinse the baking soda mask off with cold water, then gently pat the skin dry
Coconut Oil Face Mask With Honey
Ingredients:
1 tablespoon of virgin organic coconut oil
2 tablespoons of organic honey
2 tablespoons of freshly-squeezed lemon juice
1/2 green tea bag (remove the leaves, un-steeped)
Thoroughly mix all four ingredients in a bowl, ensuring that the coconut oil has not separated
Gently apply over your entire face with your finger or applicator (the face mask will be sticky)
Allow the face mask to sit for 15-20 minutes
Gently rinse off the mask with warm water and pat the skin dry, being careful not to rub or wipe.