Piles are commonly known as hemorrhoids or hemorrhoidal disease in medical terminology. Hemorrhoids are very common in both men and women.
What are Hemorrhoids or Piles?
Hemorrhoids or piles are caused due to the excessive swelling or inflammation of blood vessels in and around the anal canal, which helps in controlling stool excretion. Under normal conditions, hemorrhoids provide a cushioning effect and also help in the smooth passage of stool. Sometimes, the passing of bowel movements cause the vein walls to become stretched, thin, and irritated resulting in this condition.
Types and Symptoms
Pathological hemorrhoids are of two types: internal and external. Their symptoms include:
Internal hemorrhoids: Itching and rectal

bleeding

External hemorrhoids: Anal pain and inflammation
One may also experience pain during bowel movements and the stool may contain blood.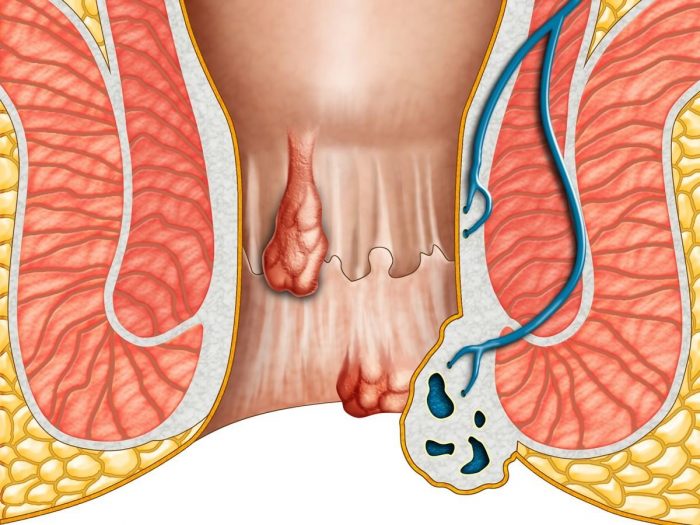 Causes
The main causes of piles include the following:
Irregular food and bowel habits: Irregular food habits are one of the common reasons for constipation and eventually hemorrhoids or piles. People who strain or push excessively during bowel movements are prone to piles.
Constipation or diarrhea:

Constipation

is another cause of piles in many cases. Constipation can be controlled with changes in diet and the use of natural laxatives. Sometimes one may also experience constipation due to depression or anxiety.
Lack of fiber in the diet: Fiber is the

undigested

bulk of the food that can absorb water in the

intestines

and ease the process of movement of undigested waste in the large intestine. Lack of fiber in the diet can affect bowel movements and may cause piles.
Amount of water in the body: Another important element that helps to ease bowel movement is drinking water – lots of it. The human body consists of almost 70% water and it is the main ingredient in our waste products as well. A lack of sufficient water in the system will make the waste harder and more difficult for bowel movements to take place.
Abuse of laxatives: Prescribed laxatives can be used while suffering from chronic constipation, but using them regularly over a period of time causes lazy colon syndrome. In some cases, side effects have also been noted, including damage of muscular function of the large intestine, as well as drainage of water, minerals, and vitamins from the body, formation of kidney stones, and possible kidney failure.
Pregnancy: During

pregnancy

, many women experience piles or hemorrhoids. Piles are caused due to the pressure of the fetus and

hormonal

changes. Mostly, the piles that are caused due to pregnancy disappear after childbirth.
Other causes: Obesity, remaining in a sitting posture for long periods of time, aging and

lifestyle

are some of the other causes of piles.