For people looking for a healthy alternative to cow's milk, hemp milk is an excellent option, as it delivers a wealth of nutrients and is becoming more readily available in many different parts of the world.
What is Hemp Milk?
Although not as popular as almond milk or soy milk, hemp milk is a vegan alternative to cow or goat's milk and is derived from crushing and soaking hemp seeds in water. Hemp seeds are often inaccurately associated with marijuana, so the idea of drinking hemp milk is unappealing to some people. However, there is no THC in hemp seeds, and in no way should this beverage be considered a drug or an illicit product.
This milk isn't available everywhere, but as more people discover what health benefits it can provide, it continues to gain popularity. Hemp milk is particularly praised by vegans and those with lactose intolerance, as it is a completely natural beverage and is known to be easier to digest than traditional milk.
Hemp Milk Nutrition Facts
Many people are surprised to learn that hemp milk possesses so many impressive nutrients, including nearly 1/2 of your calcium requirement per day in a single cup. This is in addition to a number of good fats, such as omega-3 and omega-6 fatty acids, B vitamins, vitamin A, vitamin E, and protein, as well as quite a few other minerals, such as potassium, iron, magnesium, and zinc. There is also no cholesterol and only 140 calories per glass – slightly higher than skim milk, but not as high as whole milk.
Hemp Milk Benefits
Hemp milk contains no sugar and cholesterol and is also gluten-free. It has fatty acids, vitamins, and nutrients that aid in skincare and improve cognition.
Skin Care
With significant levels of vitamin E and vitamin A, two antioxidant compounds that can do wonders for your diet, this milk is able to improve the health of the skin by reducing the amount of oxidative stress, which can lead to wrinkles, inflammation and other signs of aging.
Improves Cognition
The high levels of omega-3 and omega-6 fatty acids are important in this milk variety, as both of these compounds are linked to boosts in cognitive performance, concentration and memory, making this a popular beverage for older people who are at higher risk for neurodegenerative diseases.
Improves Heart Health
There is no cholesterol in hemp milk, but there is a good amount of potassium. This means that you will be at a lower risk of atherosclerosis and the build-up of plaque in the arteries, while also lowering blood pressure thanks to potassium's vasodilating abilities.
Boosts Immunity
Studies have found that people who regularly drink this milk do have a stronger immune system, likely due to the antioxidant relief and the wealth of critical minerals.
Improves Bone Density
There are many different minerals in this milk, including high levels of calcium, which are essential for improving bone mineral density and lowering your risk of osteoporosis, in addition to notable levels of magnesium, zinc, potassium, and iron.
Uses
Hemp milk can be used in a plethora of ways. Some of them are:
Used as a substitute for cow's milk and added to the diet in many ways
Since it is free of soy, gluten, and lactose, hemp milk is a good choice for those who avoid dairy or follow a vegan diet
It can be consumed on its own or added to a bowl of hot or cold cereals, baked goods, and smoothies
Hemp milk makes for excellent lattes, cappuccinos, and other coffee drinks due to its creamy consistency and protein content
It is ideal to remember – although hemp milk can be used as a cow's milk substitute, it has a very particular and nuttier flavor which might not be suitable for everybody
Hemp Milk Side Effects
There are very few side effects related to consuming this type of milk, but with flavored varieties, you should carefully note the amount of added sugar. More sugar means more calories, as well as a greater effect on your blood sugar levels. While drinking this milk in moderation should be fine, excessive consumption should be avoided to prevent obesity and diabetes.
How to Make Hemp Milk?
You can make your own hemp milk at home very easily; all you need is water, hemp seeds, and a blender. Take a look at the recipe below: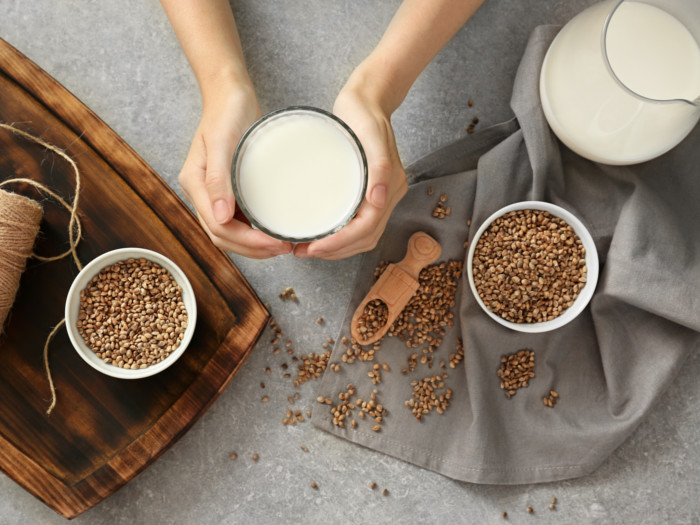 Homemade Hemp Milk Recipe
An easy-to-make, 2-ingredient recipe to make naturally sweet and creamy milk!
Print
Pin
Rate
Ingredients
1/2

cup

of hemp seeds

3-4

cups

of water
Instructions
To make hemp milk, mix 1/2 cup of hemp seeds and 4 cups of water in a blender.

Blend thoroughly for 1-2 minutes.

Strain the mixture through cheesecloth or thin strainer into a glass jar or container.

Store the hemp milk in the refrigerator; consume within 2-3 days for best results.
Notes
To get a thicker and creamier consistency of hemp milk, use less water. You can add dates or maple syrup and a pinch of salt to enhance the flavor of the milk. Additionally, you can add cocoa powder to get a chocolaty flavor. 
Connect with Us
If you have tried the recipe, we would love your feedback in the comments section below. And while we can't taste it, we would love to see how it turned out! You can connect with us on Facebook or Instagram and tag your picture with #organicfactsrecipes.