This sweet tasting beverage from the Cyclopia family, commonly known as honeybush tea, has many amazing benefits such as boosting immunity, detoxifying the body, preventing tumor growth, and improving metabolism. It also aids in treating inflammation and relieving menopausal and sunburn symptoms.
What is Honeybush Tea?
Honeybush tea is a South African herbal beverage made with the honeybush leaves. The leaves of this plant smell like honey, which is where this shrub gets its name from.
This tea is milder than black and green tea; somewhat floral and sweet, with a tinge of honey to it. The taste also depends on your brewing method and the variety of honeybush tea leaves you've used. It is caffeine free since its made from the part of honeybush leaves that do not contain caffeine.
Nutrition
Honeybush tea is known for its amazing antioxidant content, that specifically includes aspalathin and nothofagin. It also contains various minerals, such as potassium, copper, sodium, calcium, magnesium, zinc, iron, and manganese. This tea also provides a good supply of vitamin C, making it all the more beneficial for overall health.
Benefits
Let us discuss the benefits of honeybush tea in detail below.
Boosts Immunity
Honeybush tea, being rich in antioxidants such as phenols, and various other vitamins and minerals, helps in strengthening the immune system, thereby lowering the risk of infections and diseases.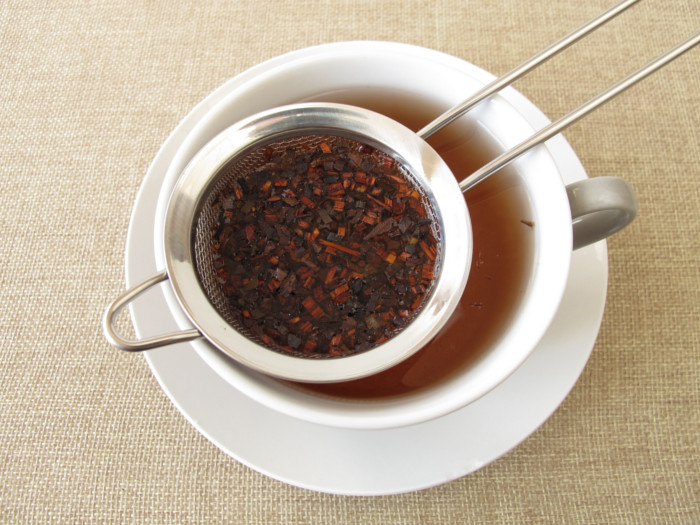 Improves Metabolism
By lowering the fat metabolism in the body, this tea helps to treat obesity and lets you shed those extra pounds quite easily.
Prevents Crohn's disease
The presence of phenolic compounds in this tea help in treating inflammation and thereby reducing the threat of chronic inflammatory diseases. This tea also reduces the risk of irritable bowel diseases (IBD) or Crohn's disease.
Menopausal Relief
The amazing phytoestrogenic properties in honeybush tea makes it a good aid to relieve menopausal symptoms including mood swings and cramps.
Anticancer Properties
An animal study conducted in 2010 by Lisa Sissing et al. showed the honeybush tea had the ability to reduce tumor growth. Furthermore, a 2016 study showed the proanthocyanidin-like compounds present in this herbal tea had a protective effect against cancer.
Treats Cough & Cold
The immunity boosting and antibacterial properties of honeybush tea help in preventing coughs and cold, soothing throat ache, and treating influenza. This tea also contains a type of modified sugar called pinitol that acts as an expectorant and provides relief from catarrh.
Regulates Diabetes
The presence of pinitol in honeybush helps in lowering the blood sugar levels in the body and helps regulate symptoms of diabetes.
Others
There are some other benefits of honeybush tea that include the following:
How to Make?
It's very easy to make honeybush tea at home with a few ingredients.
Ingredients
Honeybush tea leaves
Water
Honey
Method
Step 1: Put 6-8 ounce of water to boil in a pan
Step 2: After the water boils, let it sit for some 1-2 minutes
Step 3: Add one teaspoon of honeybush leaves to the water and let it steep or 6-7 minutes
Step 4: Pour the brewed tea into a cup and enjoy!
Note: You can also add a bit of honey to your tea for an enhanced flavor. If you want to drink iced honeybush tea, then you can keep it in the refrigerator for a while before drinking.
Word of Caution: Although there are no side effects of this tea, moderation is advised while consuming. It may interfere with other medications and so consult a medical professional before adding honeybush tea to your diet.