Using lemon verbena essential oil is a popular herbal remedy with a stimulating scent, and has a wide range of potential health benefits when used properly.
What is Lemon Verbena Essential Oil?
Lemon verbena essential oil is the steam-distilled oil from the stems and leaves of the lemon verbena plant, scientifically known as Aloysia citriodora Palau. The plant is native to South America but had spread to other parts of the world by the 1700s. The entire plant has a strong smell of lemons, as does the essential oil, which also bears a light-green color. Thanks to its rich concentration in antioxidants and volatile oils, including citral, geraniol, cineol, limonene, nerol, and linalool, among others, this oil can have an impressive range of effects on the body. [1]
Benefits
There are many excellent benefits of lemon verbena essential oil, including the following:
The anti-inflammatory properties, when this oil is topically applied, can reduce pain and discomfort of injuries and aching joints, and can be rubbed into the temples to reduce headaches. It is also an effective antibacterial and antimicrobial agent when applied to the skin to protect against infections. [2]
Studies have found that this oil can improve digestion and relieve respiratory distress when consumed in the form of tea, made with just a few drops of this oil. It can also help to relieve symptoms of hemorrhoids. Finally, it can be used as an insecticide to keep your home pest-free. [3] [4]
Uses
This oil can be used in many ways, such as cleaning, cooking, aromatherapy, physical massage, and the brewing of tea, as well as in the form of tinctures, tablets, and supplements.
How to Make?
If you want to make your lemon verbena essential oil, it is possible, although it might not be as effective as a professionally steam-distilled oil.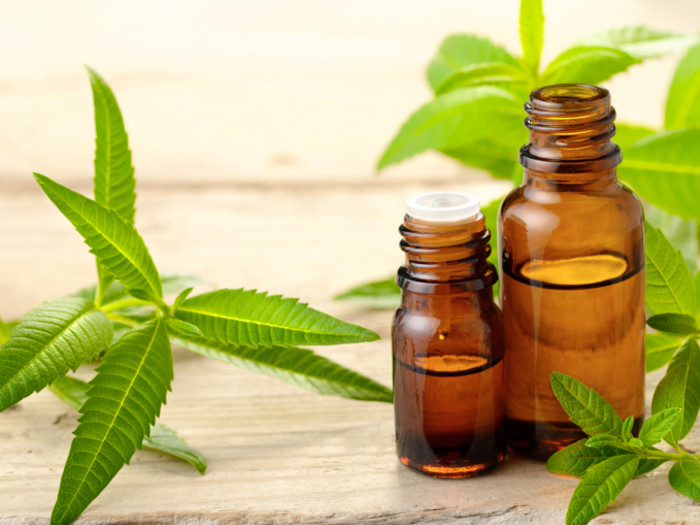 Make Lemon Verbena Essential Oil At Home: Easy Recipe
Lemon verbena oil is known to have a calming effect on the nervous system.
Print
Pin
Rate
Instructions
Dry two to three cups of lemon verbena stalks and leaves

Add the lemon verbena to a large mason jar.

Fill the mason jar halfway with olive oil or grapeseed oil.

Allow the mixture to steep for 2-3 weeks.

Strain out the leaves and stalks. Store the oil away from direct sunlight in a cool, dry place.
Side Effects
The known side effects of lemon verbena oil include the following:
Increased photosensitivity
Nausea
Allergic reactions
Pregnant women and children should not use lemon verbena oil, particularly internally, as it can be dangerous for the development of the baby. If you are taking blood pressure, diabetes or antidepressant medications, it could cause negative interactions, so speak with your doctor first. [5]
It is important to use lemon verbena essential oil safely and under the supervision of a doctor. Depending on certain medical conditions or prescribed medications, consumption of the oil may not be recommended. The oil is known to be a viable topical and internal remedy, but as with any herbal remedy, moderation is essential.