Alternatively known as rubeola, measles is a viral infection of the respiratory system. It can, by and large, be controlled through a vaccination, which has protected much of the world in recent decades, except perhaps developing areas like Africa and Asia. However, while it was previously able to, recently, developed countries like the United States of America, has been struggling to curb the accelerated outbreak of the virus in most parts of the country.
As per the recent data released by the Centres for Disease Control and Prevention (CDCP), not less than 555 cases of measles have been witnessed across 20 states in the county in 2019 so far. As per the World Health Organization's (WHO) recent surveillance report, there has been an over 300 percent increase in the case of measles globally in the first quarter of 2019 as compared to the same period in 2018. A fall in vaccination rates has been allegedly cited as one of the reasons for the outbreak.
What is Measles?
Caused by the measles virus, this infection manifests in the form of a large red rash, typically beginning on the face and spreading to the rest of the body. Measles predominantly occurs in unvaccinated children.
Causes of Measles
The challenge of the measles virus, and the reason that it remains such a serious issue in certain parts of the world, is that it can be transferred in two ways. You can be infected by the measles virus through an airborne agent, or through the transfer of saliva or bodily fluids. This makes measles so incredibly contagious.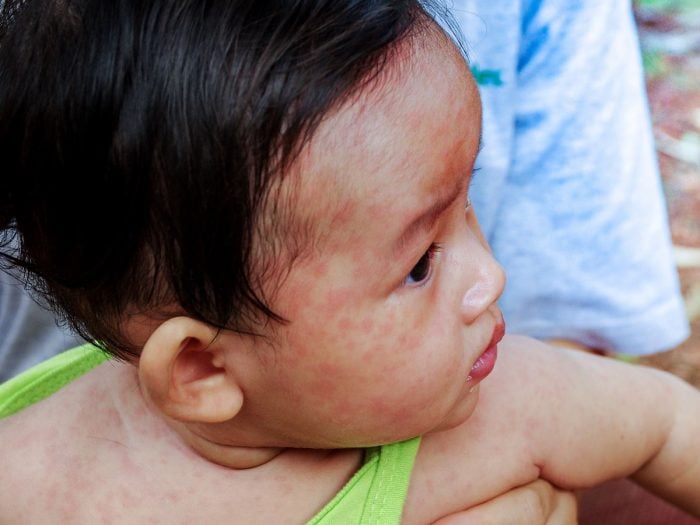 Symptoms of Measles
The first signs and symptoms tend to include a fever, runny nose or cough, which is why it is often misdiagnosed as the flu or a common cold. However, less than two weeks after exposure, the remaining symptoms appear, primarily the large rash, as well as diarrhea, inflammation, and pneumonia, in rare cases.
Many of those who die from this infection are infants or toddlers, making it particularly tragic. There are a number of remedies that people across the globe, particularly those who have not been vaccinated, can apply if they become infected. Apart from the usual timely vaccinations, these natural remedies according to popular belief, include the use of turmeric, garlic, lemon juice, neem leaves, fruit juice, barley, coconut water, and so on.
However, it is of the utmost importance to see a medical professional, if possible, if you believe you have contracted measles. At that point, many natural remedies can be complementary options to improve healing and future prevention.