Maple syrup disease can be quite a serious health condition especially for infants, if not treated on time. If left untreated, the infant could undergo seizures, go into a state of coma or even die. In the case of infants diagnosed with this disease, they may appear completely normal at birth, but the build-up of amino acids can potentially cause a permanent damage to the brain.
People diagnosed with maple syrup urine disease should monitor their diet for long-term management and treatment of the disease.
What is Maple Syrup Urine Disease?
Maple syrup urine disease (MSUD), is an autosomal recessive genetic disorder that makes it difficult for the body to process amino acids. In its most severe form, it is commonly found among newborn babies. The severity of the ailment reduces with age but if left untreated, it can also be fatal. The name is derived from the sweet smell of infants' urine.
MSUD prevents the body from breaking down certain amino acids like leucine, isoleucine, and valine, which play a crucial role in the child's growth and development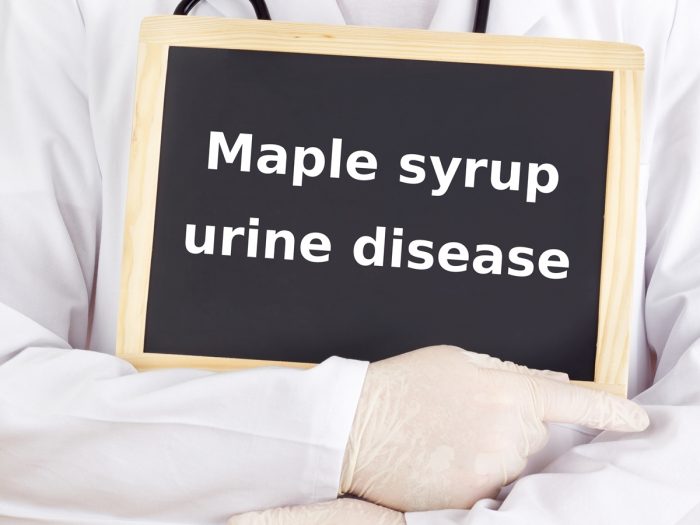 Causes
According to research, the primary cause of MSUD has been attributed to genetic mutation.
Infants usually get the disease from their parents when he/she receives a mutated gene from each parent.
Acute physical stress can also cause the ailment to emerge for the first time and then re-emerge among kids diagnosed with the disease.
Note: No environmental cause has been ascertained so far.
Symptoms
The most common symptoms of maple syrup urine disease are :
Poor

appetite

Lethargy

Weakness

Vomiting

Delayed development
Abnormal movements.
Irregular sleep patterns
Feeding difficulties

Earwax

that has a maple syrup odor
Poor growth
Learning and developmental disabilities
Constant crying
Types of MSUD
There are different variants of the disease such as Classic, Intermittent, Intermediate and Thiamine-responsive MSUD. Let us look at them in detail.
Classic MSUD: The enzymatic activity to break down certain amino acids in this form is less than 2% of the normal activity level.
Intermediate MSUD: This variety is not seen that often, but it can afflict any person at any age and not necessarily in their infancy. The enzyme levels are higher in this form – roughly 3-10% of normal activity
Intermittent MSUD: This is usually seen in kids between the age group of 1 and 2. Moreover, this is a milder form, with the enzyme activity often reaching 15%.
Thiamine-Responsive MSUD: This kind is receptive to high levels of

thiamine

that can counter the side effects and risks of this disease.
Diagnosis
A blood test at the time of birth is usually the most common way to diagnose MSUD. Furthermore, genetic testing of both parents is done to ascertain if they are carrying the recessive gene. Timely diagnosis is of prime importance. An infant who is diagnosed with it may have to undergo aggressive treatment to prevent any kind of long-lasting damage to the health
If the country you reside in doesn't have a comprehensive blood test at the time of birth, then a urine test analysis or a plasma amino acid tests are undertaken later in life to measure the levels of amino acids. For an older person getting diagnosed with it, a treatment strategy may be needed to keep the condition under control.