Muscadine grapes are a delicious and relatively common varietal of grapes that boast of a surprising number of health benefits thanks to their rich nutrient content.
What are Muscadine Grapes?
Muscadine grapes are a variety of grapevine native to North America. They are native to the southeastern states, from the Atlantic coast through Texas. The Native Americans cultivated muscadine grapes for juicing and drying, while early European settlers began to make wine out of the large, thick-skinned fruits. [1]
In the American South, the many colors and strains of muscadine grapes have become a regional delicacy, with vineyards making muscadine and scuppernong wine in many states. The grapes are also used to make artisanal jams and jellies. Scuppernong is a category that refers to muscadine grapes of the green and bronze-colored varieties.
Muscadine grapes have recently become popular again for a large number of polyphenols present in their tough skin and edible seeds. Polyphenols are compounds that are assumed in natural and traditional medicines to have powerful antioxidant effects. Several studies have found this variety of grapes to have particular metabolic and cardiovascular benefits, as well as antioxidant effects that can prevent chronic diseases and boost overall wellness. [2]
Nutrition Facts

---

Grapes, muscadine, raw

Serving Size :
Nutrient
Value
Water

[g]

84.29
Energy
57
Energy

[kJ]

238
Protein

[g]

0.81
Total lipid (fat)

[g]

0.47
Ash

[g]

0.5
Carbohydrate, by difference

[g]

13.93
Fiber, total dietary

[g]

3.9
Sucrose

[g]

0.57
Glucose (dextrose)

[g]

3.67
Fructose

[g]

3.92
Calcium, Ca

[mg]

37
Iron, Fe

[mg]

0.26
Magnesium, Mg

[mg]

14
Phosphorus, P

[mg]

24
Potassium, K

[mg]

203
Sodium, Na

[mg]

1
Zinc, Zn

[mg]

0.11
Copper, Cu

[mg]

0.12
Manganese, Mn

[mg]

1.97
Vitamin C, total ascorbic acid

[mg]

6.5
Riboflavin

[mg]

1.5
Folate, total

[µg]

2
Folate, food

[µg]

2
Vitamin A, RAE

[µg]

3
Carotene, beta

[µg]

39
Carotene, alpha

[µg]

1
Cryptoxanthin, beta

[µg]

1
Vitamin A, IU

[IU]

67
Lutein + zeaxanthin

[µg]

64

Sources include : USDA [3]
Nutrition
A single 4oz serving of muscadine grapes has 4.5 grams of fiber and roughly 65 calories. It has 15 grams of carbohydrates and less than 1 gram of protein. It also contains 2.3mg of manganese and 23% of the daily recommended dose of vitamin C as per the USDA. [4]
Benefits of Muscadine Grapes
There are many health benefits of muscadine grapes, including the following.
Digestion
Muscadine grapes have one of the highest-fiber contents of any grape, with almost five times the fiber of an ordinary seedless grape. This is due in large part to the high amount of insoluble fiber in the skins and seeds of the grape. Insoluble fiber is excellent at promoting bowel regularity, as well as preventing constipation or digestive issues. Many people choose not to eat the skins of muscadines because they can be hard to chew and lend a slightly bitter taste to the grape, but not eating the skin means you lose several benefits of the fruit. [5]
Weight Control
All fruits are excellent dessert alternatives for people struggling to control their weight, but muscadines are a particularly good choice because of that high dietary fiber content, which keeps you feeling full for longer in the day. However, other than the fiber, these grapes are mostly composed of water, making them a great way to avoid added sugars and fats, while still alleviating an afternoon craving for sweets.
Antioxidant
One of the potentially strongest antioxidants on the planet, resveratrol, comes from the skin of dark berries and grapes. It has become known as the red wine antioxidant and is being extensively studied for its beneficial effects on several diseases, including cancer, Alzheimer's, cardiovascular disease, high blood pressure, Crohn's, and Parkinson's.
Muscadines also contain ellagic acid, another antioxidant that was shown in a 2006 study, authored by Mertens-Talcott SU et al. through the University of Florida, to inhibit the growth of colon cancer cells. [6]
Cardiovascular Care
Resveratrol has been shown to decrease LDL, or "bad," cholesterol, and also increase some vascular functions. It decreases oxidative cell stress, which can fight chronic inflammation. It also makes it harder for blood clots to form, reducing the risk of heart attack and stroke. [7] [8]
How to Make Muscadine Wine?
The best way to enjoy muscadine grapes is to put one into your mouth and spit out the seeds! If you have a large harvest on hand, you can make easily make muscadine wine at home. Here is a simple recipe.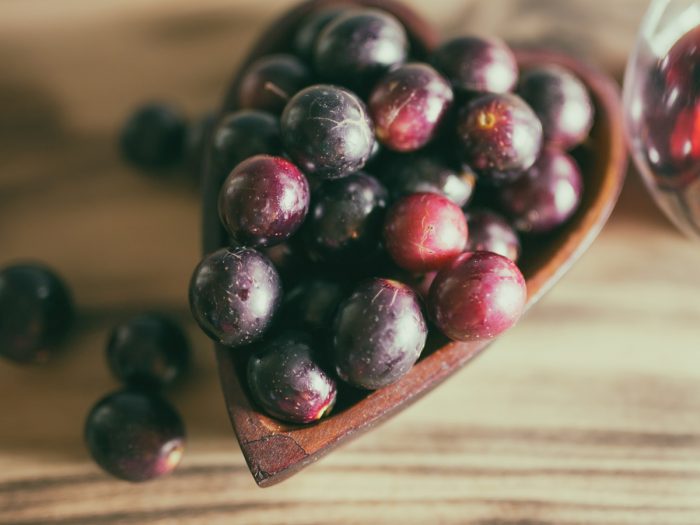 Traditional Muscadine Grape Wine Recipe
Here's an easy recipe to make a sweet, old-fashioned wine at home.
Print
Pin
Rate
Ingredients
6

cups

of sugar

3

quarts

of water

4

cups

of muscadine grapes

1

packet

of active dry yeast
Instructions
To make muscadine wine, first and foremost, wash and sanitize a 1-gallon glass jug.

In the clean jug, dissolve 6 cups of sugar into 3 quarts of filtered water.

Mash 4 cups of muscadine grapes and add it to the sugar water.

Sprinkle active dry yeast on top of the mash, but do not stir.

The next day, stir the mash and continue to stir it once a day for a week.

After a week, strain all the liquid, and put the liquid in another sanitized glass jug, one with an airlock cap.

Fill with water to the top of the jug, then let the mixture sit to ferment for six weeks.

Then, strain the mixture again into another clean jug, cap loosely, and allow it to sit in a cool, dry place for three days before drinking.
Word of Caution: According to The 2015-2020 Dietary Guidelines for Americans, if alcohol is consumed, it should be done in moderation. The guidelines define moderate drinking as up to 1 drink per day for women and up to 2 drinks per day for men, which applies to adults of legal drinking age. The quantity of the drink is dependant on its alcohol content. [9] [10]