A trend that has been making a buzz in the recent past is one of replacing alcohol with non-alcoholic drinks. What only started as a health-conscious lifestyle trend is now gaining actual momentum with reports showing a steady decline in the market for alcohol. National Association of Convenience Stores (NACS) [1]published a report shedding light on the International Wine and Spirits Record (IWSR) data that revealed a declining trend in alcohol consumption. The decline is reported to be increasing every year.
Basis of the data-driven reports and surveys, Whole Foods expects this trend to continue in the coming year(s) too. There is huge speculation about brands coming up with non-alcohol or low-alcohol substitutes or duplicates for vintage cocktails. They suggest a market for faux-spirits, alt-gin, and other mixers like hops-infused sparkling water, zero-proof aperitifs among others. [2]
Rise in Non-alcoholic Drinks
With all the evidence hinting towards the growing popularity of non-alcoholic drinks, it brings us to the very next question of 'how'? There are alcohol-free bars opening everywhere, new hashtags, such as 'sober curious' coming up, campaigns like 'Dry January' being practiced and so much more.
This rising trend of non-alcoholic drinks is linked with the growing number of millennials moving towards a health-conscious lifestyle – one that not only caters to their demands but also takes care of their overall well-being.
This new breed of consumer who wants to drink less is more inclined towards options that are either low or zero alcohol by volume (ABV). A summit held in London recently showed that these rising reports of low alcohol consumption have made the marketers and brands shift towards options offering both taste and value but at a much lower ABV. They are ready to experiment with new ideas and plan on launching new products to meet the changing market demands.
What are the Options for Non-alcoholic Drinks?
According to Forbes, "Online searches for the word 'mocktail', for example, are up 42% over the past year, while the phrase 'non-alcoholic' is up 81% across global searches over the past year, according to Google Trends." This brings us to the very next topic of what can we do. Well, we are here to save the day by bringing you some amazing non-alcoholic drinks available out there. Let's take a look at them below. [5]
Alcohol-free or Fruit Beer
With a very small market cover at present, fruit beer or alcohol-free suds are the first to make their presence into the consumer's hearts. While many people don't swear by these alternate beer options already, they don't mind trying them out either. There are also reports suggesting more acceptance of non-alcoholic beers in social circles. What increases their potential to take over the market soon is the rising success of craft beer, which allows the brewer to experiment more with the flavor and alcohol content.
A company named Big Drop was launched in 2016 by Rob Fink and James Kindred, with the idea of brewing only alcohol-free beer. The inspiration came from the changes they embraced through fatherhood or the sheer frustration of not having any decent low alcohol craft beer options. Today, they have won many awards for their innovative drinks. Not just that but they also report a steady increase in demand for their no-alcohol drinks. [6]
Big Drop is just one of the many other such companies that are coming up with low ABV options and the stats show that they can expect a lot of growth. Even Asahi is heard to be launching their alcohol-free version of Peroni soon and Heineken has already joined the race with their Heineken Zeroes.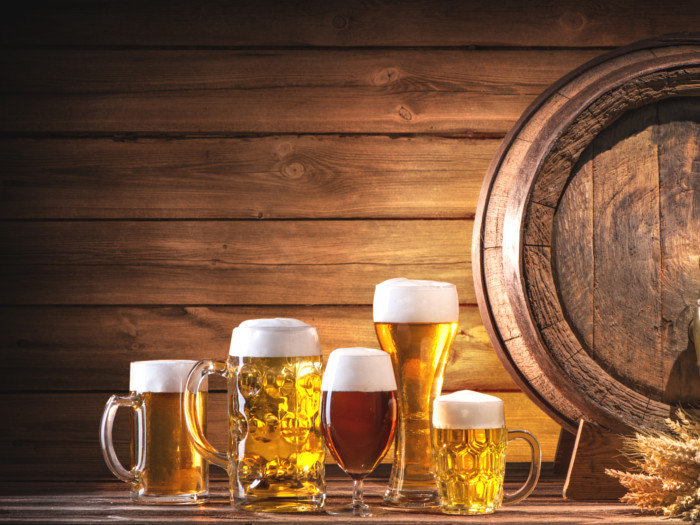 Kombucha
Another favorite in the no alcohol market is kombucha. With its slightly sweet and tart flavor, kombucha makes for a good alternative to wine. It contains a very small amount of alcohol and can have a fruity or spicy taste to it, depending on your choice of flavor.
Not Gin
A new contender in the market is the alcohol-free gin, while at this point not all of them are as good as they can be – some of them still make the cut. One such brand offering alt-gin is Strykk – made from distilled coriander, sage, basil, and juniper – this gin tastes delicious and contains zero sugar, no fat, no carbs, and no artificial flavors. Their website also offers some interesting recipes with this alt gin. [7]
Other brands offering non-alcoholic gins include Ceder's, Square Root London Gin & Tonic, Seedlip and more. This gin is made with steam-distilled botanicals and for the tonic water, they use lemon peel and natural quinine to give it a citrusy flavor. Some brands suggest using a higher spirit to tonic water ratio for this drink, for a better and more spot-on taste.
Haute Cocktails Without Alcohol
To keep up with the vogue of teetotalism, cocktail experts are coming up with equally interesting cocktail ideas sans alcohol. A few of them include the following:
Sea Cucumber: Made with half an ounce of fresh lemons, three-fourth ounce simple syrup, one and half-ounce filtered water, and salted cucumber juice (as a topping) – this drink makes its smooth way into the cocktail circle. All the ingredients are shaken into a single glass. For the cucumber juice, salted cucumbers are blended for about a minute till they turn liquidy and then the juice is strained out. The earlier prepared mixture is then topped off with cucumber juice and ready to be enjoyed!
Coco Squash: Made with two ounces of Seedlip Spice, an ounce of butternut squash juice, three-fourth ounce coconut creme, three-fourth ounce fresh orange juice, and one-fourth ounce of fresh lime juice – this cocktail is very simple to make. All you need to do is mix all of the ingredients with ice. You can also garnish it with coconut flakes.
Cloud Tokyo: Prepared with five ounces of chilled green tea, half an ounce of coconut milk, and five ounces of chilled coconut soda – this beverage is a take on the popular 'White Russian' cocktail – without the vodka. You just need to mix the chilled tea with milk in a Highball glass and then top it off with soda.
There are many more such interesting refurbished cocktail drinks without alcohol being served in bars these days. And each day cocktail experts are coming up with more and more such options for us to explore.
Other options in the list of alcohol-free drinks include botanical infused faux spirits and kvass (made from rye bread) among others. While some of these have zero alcohol, others fall fairly low on the ABV scale.
Word of Caution
Not all drinks claimed to be alcohol-free or considered low-alcohol options are good for health. Sometimes, companies selling herbs aren't regulated or certified to do so. Therefore, any claims or guarantees made by them do not hold any value. Before you pick any of these drinks, make sure you do your research and then decide. You can also talk to your doctor or health care professional whether the given product will suit you or not – and that it shouldn't interact with any medication you are taking. Caution in terms of selection of beverages or any other consumables is always advised.