Over 53000 people are estimated to be diagnosed with oral cancer in 2019 in the United States alone. The fact that more than 20 percent of these patients will be nearly facing death, makes it extremely important to take necessary actions to know how oral cancer happens and prevent it from occurring.
What is Oral Cancer?
Oral cancer, also widely known as mouth cancer, is a type of head and neck cancer. It can start in the cells of any part of the mouth and cause damage to the tissue. The various parts of your mouth that can get affected by cancer are:
Tongue
Lips
Gums
Cheeks (inner lining)
Hard and soft palate
Under the tongue
Sinuses
Throat

Stages of Oral Cancer
Oral cancer is divided into 4 stages on the basis of the size of the tumor.
Stage 1: The tumor size is less than 2 centimeters and it has not yet reached near the lymph nodes.
Stage 2: The tumor size is between 2-4 centimeters but has not reached near the lymph nodes.
Stage 3: The tumor size is over 4 centimeters and has/has not spread to a nearby lymph node towards the same side of the neck as cancer. It is smaller than 3 centimeters across the lymph node.
Stage 4: The tumor has spread to other parts of the mouth like lips and oral cavity or other parts of the body. Alternatively, it could have possibly affected one or both lymph nodes.
Symptoms of Oral Cancer
The most common signs and symptoms of oral cancer are:
Sores or ulcers in the mouth that are not healing
Red or white patches on the lining of the mouth

Swelling

or lump on the inside of the mouth
A feeling of something being stuck in the throat
Unexplained

bleeding

in the mouth
Difficulty in swallowing food
Abnormal voice (hoarseness)
Mouth or jaw pain
Ear and neck pain
Loose teeth
Persistent weight loss
Causes of Oral Cancer
There are various causes and risk factors that increase your chances of cancer. As per the data from the American Cancer Society, tobacco use and alcohol are the two most prominent causes of cancer. Tobacco chewing or smoking in the form of pipe, cigars, cigarettes, etc. can elevate your risk of cancer even more. Research also reveals that 7 out of 10 oral cancer patients are most likely heavy drinkers.
There are other many other risk factors aside from tobacco and alcohol that are also found to cause cancer. They are:
Excessive exposure to

ultraviolet

rays

Sexually

transmitted human papillomavirus (HPV)

infection

Poor nutrition and weak

immunity

Graft-versus-host disease
Inherited defects in the genes
Bad dental hygiene practice
How Fast Does Oral Cancer Spread?
If oral cancer is found at its initial stage, nine out of ten people will be cured. However, only half of the oral cancer cases are diagnosed early on.
A report from MedlinePlus suggests that people with less than 10 years of smoking history may show better results. But if a person keeps using alcohol and tobacco even after treatment, cancer can recur.
How To Prevent Oral Cancer?
There are simple ways to protect yourself and your family from oral cancer.
Try to avoid using tobacco as much as possible.
Limit your alcohol consumption.
Practice safe sex to avoid HPV infection.
Use a

sunscreen

if you stay out during the middle of the day.
Make sure to get your dental problems treated.
Eat a wholesome diet.
Follow good oral hygiene.
See your

dentist

regularly.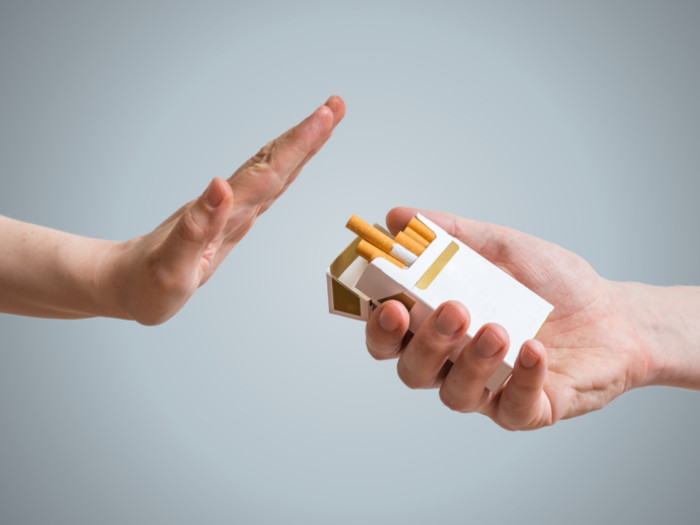 Moreover, there are timely reminders in the form of campaigns like Oral Cancer Awareness Month, which takes place in April every year to ensure good oral health.
Ultimately, the best you can do is look at this condition holistically and take imperative measures. As precisely said by Rengaswamy Sankaranarayanan, MD, in his book Disease Control Priorities, "A multifaceted approach that integrates health education, tobacco and alcohol control, early detection, and early treatment is needed to reduce the burden of this eminently preventable cancer."