Drinking orange tea is an excellent morning beverage, one that includes a burst of caffeine as well as the impressive nutrients of oranges.
What is Orange Tea?
Orange tea is a variety of tea that is made either with orange juice, concentrate or orange peels. That is not the only ingredient, however, as those citrus substances are combined with green, white or black tea to make a unique and nutrient-packed drink. Oranges, like many other citrus fruits, are famed for their vitamin C and antioxidant content, while tea is similarly praised for its effects on inflammation and chronic disease. When these two ingredients are brought together, it can make either a warm or cold beverage that provides an energetic and nutritious boost.
Orange Tea Benefits
The top benefits of orange tea include the following:
Aiding weight loss efforts
Boosting skin appearance
Strengthening the immune system
The nutrient density helps you feel full, which aids in creating a calorie deficit. Aside from that, the polyphenolic compounds, antioxidants, vitamin C, and catechins will help to prevent chronic diseases and also strengthen the efficacy of the immune system. When you brew orange tea with caffeinated tea, you will also enjoy the energy boost of caffeine, and improved metabolism. Regular use can also improve skin appearance and conditions like acne, eczema, and psoriasis.
How to Make Orange Tea?
There are a few different ways to make this tea; the most common method involves adding either orange juice or orange juice concentrate to a brewed pot of tea. However, other people enjoy steeping orange peels in hot water, without green or black tea, to derive the benefits of oranges in a less overpowering way. Let's take a look at how to make orange tea below :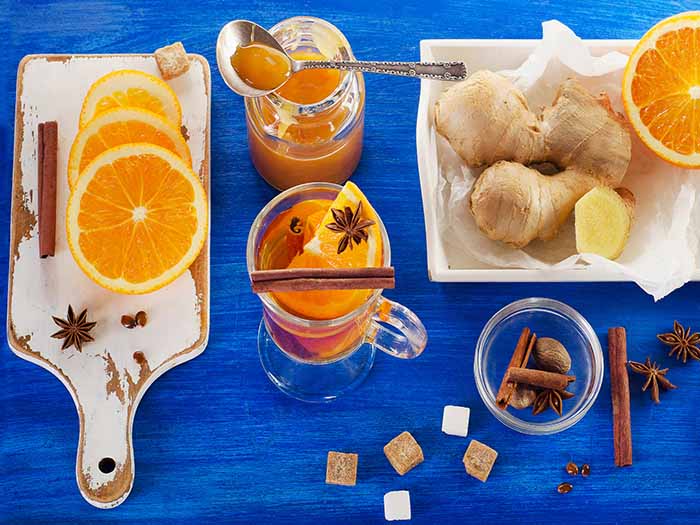 How to Make Orange Tea
Orange peel not only has a very aromatic taste but is also extremely healthy. It is used in cakes, desserts, soups, salads or stews to give it a fresh and zesty flavor. In order to make orange peel tea, you will need dry peels. Let's take a look at a simple step-by-step recipe to make orange tea at home using the peels.
Print
Pin
Rate
Ingredients
1

tsp

dried orange peel

cinnamon sticks/cinnamon powder

optional

honey or sweetner of choice

8

oz

water
Instructions
To make orange peel tea using fresh oranges, chop their peels into 1/4th sized pieces

Leave these oranges to dry, ideally in a cool and dry place. Fasten the process by roasting the peels in an oven until they turn slightly crispy.

Crush these peels using a mortar and pestle until they turn into a powder.

Now take a stainless pot with a lid on it and place the crushed and chopped oranges in it. Note that you can also use glass and enamel pots instead of steel.

Bring the water to a boil. If you wish to add cinnamon powder to the tea to enhance the flavor, feel free to add it in this stage.

Let the orange peels steep in the water for 15 minutes.

Use a strainer to pour the tea into a teacup. Add honey or any other sweetener of your choice. Serve the tea hot and enjoy!
Orange Tea Side Effects
There are very few side effects of orange tea, but before taking any herbal tea, particularly one that includes caffeine, it is important to speak with your doctor. Furthermore, since there is caffeine in some forms of orange tea, excess consumption of this can cause the following side effects:
Nervous disorders

Sleeplessness

Gastrointestinal

distress
Use in moderation, and discuss the decision with your doctor.