If you are all set to wow your family and guests with a golden-brown, oven-roasted turkey this Thanksgiving, we have a fool-proof guide for you. Follow our step-by-step guide on how to select, buy, thaw, season, and cook the turkey to ensure the perfect centerpiece on your Thanksgiving table. Let's get straight to it!
How To Cook A Turkey For Thanksgiving?
We have a simple, no-fuss recipe for oven-roasted turkey that would make any Thanksgiving table spread look stellar. But first, there is a list of do's and don'ts that need to be followed before you cook the turkey.
How To Thaw Turkey?
You need to choose between a fresh turkey or a frozen one. Both are available online as well as in supermarkets. If you have decided on a frozen bird, you need to be prepared to give yourself enough time to thaw it safely in the refrigerator. You need to count a day for every 5 pounds of turkey. A 12-pound bird will take 2 and a half days to thaw properly in the refrigerator. To save yourself from a frozen turkey disaster on Thanksgiving, it is best to give yourself an extra day to let the turkey thaw well. If you have chosen to cook a fresh turkey, keep it in the refrigerator and remove it an hour before you plan to roast it.
How Big A Turkey Should I Buy?
A 12-pound turkey will safely feed 8 people. If you are expecting more people, you can use the following serving table:
15-pound turkey for 10 people
18-pound turkey for 12 people
20-pound turkey for 14 people
Should I Brine My Turkey?
Most high-quality turkeys that are available in the market do not require a brine. Always check the ingredients on the turkey to see if salt has already been added. However, if you must brine the turkey, you can follow these simple tips given by the USDA to brine a turkey safely: Brining Safely Will Bring Tender, Flavorful Meat to the Thanksgiving Table. [1]
Should I Baste My Turkey?
You may think that basting a turkey from time to time with butter may help give it a golden brown color. But this is not true. Basting a turkey regularly while in the oven involves opening the oven many times. This causes the oven to lose heat and the turkey to take a longer time to cook. This could leave you with a dry turkey. Instead, baste the turkey once all over with herb butter and this will ensure a perfectly roasted, juicy turkey.
Best Stuffing For Turkey
It is advisable not to cook the stuffing inside the turkey as there is no guarantee that it may cook enough inside the cavity to kill all the bacteria. To be on the safe side, stuff the turkey with aromatics, herbs, apple, and onions to make the turkey meat flavorful, and make a stuffing casserole instead. For a simple and flavorful stuffing, pan-fry cubed dried bread, chopped onions, celery, minced garlic, sausages, cubed apple, poultry seasoning, salt, and pepper. Add to a baking casserole and fold in pecans and cranberries. Moisten the mixture with chicken broth and cover with foil. Put it in an oven at 350° F and bake for 10 minutes. This could be one of those dishes that your guests fight over.
The Best Oven-Roasted Turkey Recipe
Now that you know how to buy and thaw your turkey, let's get to the main thing – cooking the turkey! Here is a step-by-step guide to oven-roasted turkey.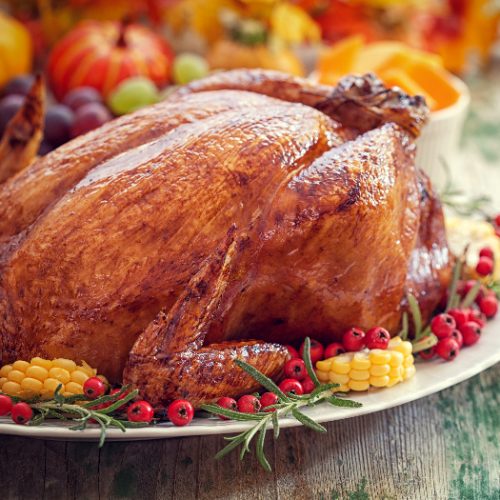 Easy, No-Fuss Thanksgiving Roasted Turkey Recipe
This is one of the simplest ways to make a Thanksgiving turkey that is juicy, tender, perfectly roasted, and flavorful.
Print
Pin
Rate
Total Time:
3
hours
30
minutes
Ingredients
1

12-20 lb

whole turkey

1

onion

quartered

1

lemon

quartered

1

stalk

celery

chopped

1

apple

quartered

0.75

oz

sage leaves

0.75

oz

fresh rosemary

0.75

oz

fresh thyme
Herb Butter
1

cup

unsalted butter

softened

1

tsp

salt

1/2

tsp

black pepper

freshly ground

6-8

garlic cloves

minced

fresh chopped herbs
Instructions
First, remove the thawed turkey from the refrigerator and let it come to room temperature.

Pre-heat the oven at 325° F. Make space for the turkey so that it can be placed on the oven rack in the center of the oven.

Meanwhile, make the herb butter by combining softened butter, minced garlic, salt, and pepper. Chop 1 tablespoon of rosemary, sage, and thyme each and add to the butter and blend well.

Remove the turkey from the packaging. The neck and giblets will usually be in the inside of the cavities of the bird. You can either discard them or keep it aside to make the gravy.

Place the turkey on a roasting pan. Make sure you tuck the wings under the bird to prevent them from burning. You can add the vegetables of your choice in the roasting pan such as onion, corn, potatoes, and carrots.

Pat the turkey dry with paper towels so that the herb butter can be applied evenly. If the turkey skin is damp, the butter will slide right off in the oven.

Season the inner cavities with salt and pepper. Stuff the turkey with onions, lemon wedges, apples, and the remaining chopped herbs. Tie the turkey legs with twine.

Loosen the skin on the turkey breast (top) and apply a couple of tablespoons of the herb butter. Melt the rest of the herb butter and with the help of a basting brush, apply it evenly all over the turkey, including the legs and wings.

The turkey is now ready to be roasted in the oven. It takes about 15 minutes for every pound of turkey. So a 12-lb turkey would take about three hours. It is important to use a meat thermometer to check the temperature of the roasted turkey. The thermometer inserted into the thickest part of the thigh, near the bone should read 165° F.

To prevent overcooking turkey breast, make a tinfoil tent and cover it once it turns golden brown. This is ideally about halfway through roasting the turkey.

When the roast turkey is cooked well and reaches a nice golden brown color, let it rest for 20 to 30 minutes. You can now carve the turkey. Happy Thanksgiving!
Connect With Us
If you have tried this recipe, we would love your feedback in the comments section below. And while we can't taste it, we would love to see how it turned out! You can connect with us on Facebook or Instagram and tag your picture with #organicfactsrecipes. [2] [3]
Do you wish to share your winning recipes with us? Please click here and fill in the details to get started.
Have a lovely Thanksgiving dinner and do remember to use the turkey leftovers for sandwiches the next day!