Do you like gorging on peanut butter cups? We bet that's a 'yes.' These candies are an important part of so many festivities like Halloween, Christmas, and Easter. But what if you are following a keto diet? You need not give away your sweet tooth and ditch your favorite treat. Instead, give it a makeover by substituting sugar! Also, unlike those sugar-loaded energy bars, peanut butter is a high-fat, low-carb option that helps to keep your energy levels boosted. It is known as a fat bomb for this very reason.
So are you ready for a delicious keto-friendly indulgence?
How to Make Keto Peanut Butter Cups?
A decadent layer of chocolate on creamy peanut butter is all you need sometimes. It is an easy way to fulfill your sweet cravings. With these tips and the fool-proof recipe, you will find yourself enjoying a peanut butter cup in no time.
Tips to Remember
Making peanut butter cups is fairly simple. Although the taste can never go wrong, consistency and appearance can. So here are a few tips for you to create a cup you can marvel at.
Sweetener: The traditional recipe for peanut butter cups includes sugar. Here, we are making a ketogenic version so use sugar-free alternatives like xylitol, yacon syrup, sucralose, stevia, and erythritol. You can skip using a sweetener altogether if you like.
Chocolate: Select sugar-free dark chocolate for your recipe. Alternatively, if you are making these for your family or friends who are not on a keto diet, feel free to use a combination of regular milk and dark chocolate.
Peanut butter: A creamy peanut butter works best but if you are a fan of the chunky version, go ahead and use it.
Butter/Oil: Make sure to bring your butter and oil to room temperature before you use it.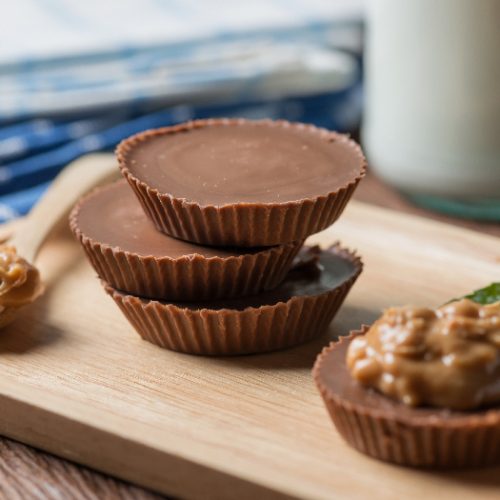 Keto Peanut Butter Cups Recipe
Peanut butter and chocolate is a winning combo, isn't it?
Print
Pin
Rate
Total Time:
1
hour
5
minutes
[1]
[2]
Ingredients
Chocolate Layers
2

tbsp

coconut oil

10

ounces

sugar-free dark chocolate

chopped

1/4

tsp

vanilla extract [3]

optional
Instructions
To start with, line a muffin tray with paper candy cups or cupcake liners.

Now, melt the chocolate by using a double boiler method. For this, put a pot half-filled with water on the stove and keep a bowl on it. Make sure the bowl is large enough so that it does not touch the surface of the water.

Once done, add chocolate, coconut oil, and vanilla extract to the bowl and start stirring. The heat from the boiling water in the pot will dissolve your chocolate.

Fill the paper cups with 2 tsp chocolate each to make the bottom layer of your candy. After you are done, tap the tray against the kitchen counter for the chocolate to settle. Refrigerate the cups for about 10 mins.

Meanwhile, prepare the peanut butter filling the same way you prepared chocolate. Add peanut butter, coconut oil, salt, erythritol, and vanilla extract to a bowl and stir until it melts. The consistency should be like that of condensed milk.

Now, remove the muffin tray from the refrigerator and fill the cups with 1 tsp of the peanut butter mixture. It will spread on the chocolate but will not reach the edges. Keep the cups in the refrigerator for 10 minutes to let the peanut butter become firm.

To top the cups with the last layer, reheat the chocolate using the double boiler method. Take it off the pan once it has melted.

Check on the muffin tray and remove it to add the second layer of chocolate. Fill the cups with two tsp chocolate to cover the peanut butter layer.

Refrigerate the cups for about 30 minutes to 1 hour and your peanut butter cups will be ready. Peel the wrapper before eating and enjoy the candy melting in your mouth!
Notes
These candies last for up to a month. Keep them in a container with the paper cups on. If you want to make a candy where the peanut butter layer is also visible, add 2 tsp of peanut butter instead of 1 and spread it evenly till the edges.
Serving Suggestions
Peanut butter cups are a divine delight on their own but you can do a lot more with them. Take a look at the suggestions below.
After you fill the cups with the last layer, toss some colorful sprinkles on the chocolate. This will give your peanut butter cups a vivid look and make for a great treat on birthdays and festivals.
Using a tart base, make a giant peanut butter cup. Top it with fruits like strawberries, cherries, kiwi, and pineapple. Now slice and serve it like a pie or a cake!
Add more layers to your cup by filling it with extra levels of milk chocolate, dark chocolate, almond butter, or even oreo cookies.
Have you tried making these candies at home? If you have, do share your experience in the comments below. And. if you have your own candy recipe, do share it with us here!