Grab a spoon and dig into your nearest jar of nutty, buttery goodness. Feel it sticking and melting in your mouth, all in the same bite. Let your palate recognize the familiar flavor of peanut, evolved with the soft and creamy texture. Now, is peanut butter good for you? Do you really need to worry about it, or feel guilty? Overall, peanut butter is considered to be a nourishing, healthy option. But as with everything good, there are a few things which you should be aware of.
Is Peanut Butter Good for You?
Peanuts are a natural source of protein. According to the National Peanut Board, these are the richest source of protein amongst nuts, with seven grams per ounce protein content. If that wasn't convincing, it is also a source of fats, the good, unsaturated kind.
Every two tablespoons, or approximately 32 grams of smooth peanut butter, contains about 188 calories and 0% cholesterol. For the same amount, the total carbohydrate content is 8 grams.
Apart from that, it is full of phytosterols, resveratrol, magnesium, copper, phosphorus, and even fiber. Not only do peanuts keep you full, but they also help keep your heart healthy, fight diseases, and leave your taste buds feeling satisfied.
Nutrition Facts

---

Peanut butter, smooth style, without salt

Serving Size :
Nutrient
Value
Water [g]
1.23
Energy [kcal]
598
Protein [g]
22.21
Total lipid (fat) [g]
51.36
Carbohydrate, by difference [g]
22.31
Fiber, total dietary [g]
5
Sugars, total [g]
10.49
Calcium, Ca [mg]
49
Iron, Fe [mg]
1.74
Magnesium, Mg [mg]
168
Phosphorus, P [mg]
335
Potassium, K [mg]
558
Sodium, Na [mg]
17
Zinc, Zn [mg]
2.51
Vitamin C, total ascorbic acid [mg]
0
Thiamin [mg]
0.15
Riboflavin [mg]
0.19
Niacin [mg]
13.11
Vitamin B-6 [mg]
0.44
Folate, DFE [µg]
87
Vitamin B-12 [µg]
0
Vitamin A, RAE [µg]
0
Vitamin A, IU [IU]
0
Vitamin E (alpha-tocopherol) [mg]
9.1
Vitamin D (D2 + D3) [µg]
0
Vitamin D [IU]
0
Vitamin K (phylloquinone) [µg]
0.3
Fatty acids, total saturated [g]
10.33
Fatty acids, total monounsaturated [g]
25.94
Fatty acids, total polyunsaturated [g]
12.54
Fatty acids, total trans [g]
0.08
Cholesterol [mg]
0
Caffeine [mg]
0
Sources include : USDA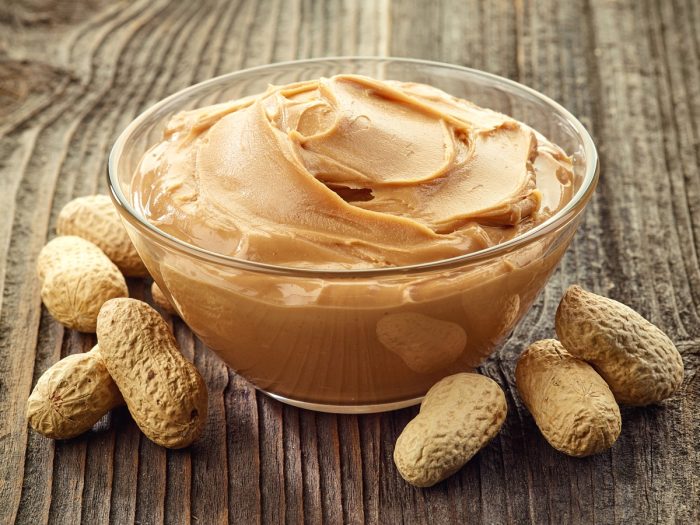 Why Should You Eat Peanut Butter?
Legally, in the United States, any product labeled 'peanut butter' has to be at least 90% peanuts. So, it should be peanut paste with a few additional ingredients. Since it is a ground version of peanuts, there is usually no additional processing and thus negligible nutrient loss. Peanut butter is also touted to be a keto-friendly option, which can come in handy if you are watching your weight, are a conscious eater, or are simply on a ketogenic diet.
Moreover, peanut butter goes with well with so many ingredients. It can be spread on bread or crepes, or can be paired with celery sticks, apples, bananas, bacon, pretzels, and crackers. You can also mix it into your cookie batter, melt it onto your popcorn, mix it into the sauce of your Asian recipes, or put a spoonful into your oatmeal. You can also blend it in a smoothie. Essentially, it is a versatile ingredient which can fit into sweet as well as savory dishes, and it is a good idea to include it in your diet.
Why Should You Avoid Peanut Butter?
As healthy as peanut butter is, there are a couple of things you should consider before getting comfortable with that jar of peanut butter.
Allergies: People who are allergic to peanuts, or nuts in general, should stay away from peanut butter. The American College of Allergy, Asthma, and Immunology suggests that this is one of the most common food allergies in American children. However, it is also possible to outgrow this

allergy

.
Preservatives & Additives: Store-bought varieties could have preservatives and other ingredients such as oils. While this is not the case for all brands of this nut butter, it is best to read labels and is even better to make your own.
Weight Gain: As good as peanut butter is for almost everyone, it is crucial that you do not overindulge. Peanut butter, especially pre-packed ones, might have additionally added sugar which adds to your weight rather than to your health.
Takeaway
Peanut butter is basically peanut paste. It is nutritionally rich and good in moderate amounts. It is even better without any added preservatives or oils. It can be made at home, with varying healthy additions. It can be added to numerous meals which only adds to their taste. Overall, is peanut butter good for you? Yes. What should you do if you have allergies? It is best to avoid consuming any peanut products and consult a doctor about the allergies.