While many people recognize the flavor of peppermint, there are also a number of health benefits associated with this plant.
What is Peppermint?
Peppermint is a type of hybrid mint, bred through a combination of spearmint and watermint. Scientifically known as Mentha x Piperita, this plant is found throughout the world. Peppermint grows particularly well in moist and shady areas. It has a spicy refreshing flavor that makes it a popular ingredient in many different foods, candies, and desserts, among others. The leaves of this plant are the primary parts that are used, due to the presence of the essential oil, which contains high levels of menthone, menthol, limonene, and various other acids, compounds, and antioxidants. While many people use the terms mint and peppermint interchangeably, mint may refer to different types of mint, whereas the latter is a specific variety.
While the plant is native to Europe and the Middle East, it is now considered invasive species in many other parts of the world, including United States, Australia, New Zealand, and the Galapagos Islands, among others. These aromatic plants prefer to grow in moist and damp areas and grows by putting out runners, rather than reproducing via seed dispersal.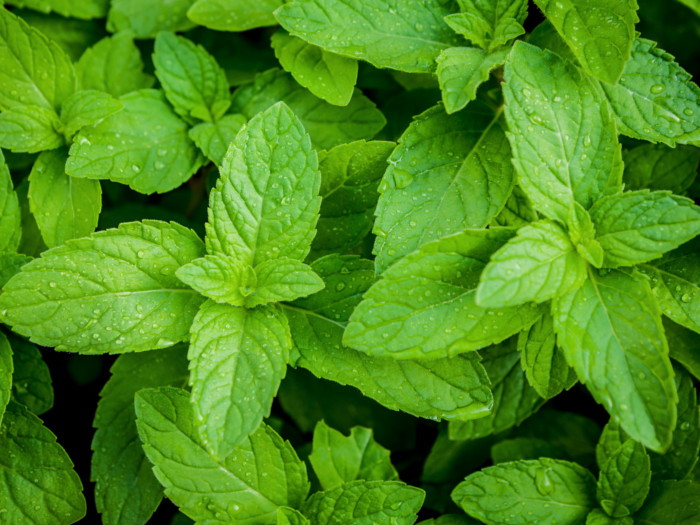 Peppermint Benefits
There is a wide range of health effects associated with peppermint including its ability to relieve hay fever symptoms, prevent nausea, vomiting, and improve memory and cognitive performance, among many others.
Relieving the common cold and

respiratory

conditions
Easing menstrual symptoms
Healing chronic wounds
Treating spasms
Treating infantile colic
Reducing shingles-associated pain
Clearing out the sinuses
Treating allergic rhinitis (hay fever)
Soothing symptoms of irritable bowel syndrome (IBS)
Relieving pain
Improving the health of the skin
Boosting energy levels
Preventing nausea and vomiting
Lessening the severity of

heartburn

Improving memory problems and preventing

Alzheimer

's disease
Increasing hair health and strength
Preventing tuberculosis
Treating dyspepsia
Lowering your risk of cancer
Protecting against dental cavities and bad breath
Uses
Peppermint has a number of uses both medicinal and culinary, including being used as the following:
Different parts of this plant, including seeds and leaves, are used differently.
Side Effects
Although there are many positive effects of peppermint, there are also a number of negative side effects associated.
Pregnant or Breastfeeding: If you're pregnant or breastfeeding, it is best to avoid peppermint oil and extract, as the

concentration

of active ingredients could be dangerous for the baby.
Contact Dermatitis: Many people are allergic to this plant and will experience contact dermatitis when touching any of these substances.