One of the basic defenses against an epidemic is a face mask. What was once seen as the most basic of protective gear for frontline healthcare workers, became common during the SARS outbreak in China in 2002. It revived recently when the COVID-19 outbreak reached pandemic levels. While it may not be as effective as a surgical or N95 mask, the simple cloth face mask is more widely available. In fact, we are now seeing homemade face masks, fashioned out of T-shirts, bandanas, scarves, or any other substantial piece of cloth one can find.
But before you start on your own face mask, it is important to understand what makes an effective mask and what does not. So, here is a guide for making a homemade face mask.
Why Use a Homemade Face Mask?
The use of a face mask in preventing or limiting the spread of infectious diseases has been somewhat contentious. A 2013 research, published in the Disaster Medicine and Public Health Preparedness, examined the efficacy of a homemade mask when compared to a commercial mask. The authors concluded that it should be considered as a last resort in preventing droplet transmission, adding that it was better than no protection. [1]
The position of various health authorities on this subject has seen some flip-flops in the immediate aftermath of the COVID-19 outbreak. An article published in March 2020 in The Lancet Respiratory Medicine tracked the recommended use of face masks by various health authorities. While some countries like China, Japan, and Singapore issued advisories on wearing a mask when in public, countries like the US, UK, and Germany were seen as less encouraging. The WHO recommended wearing a mask only when caring for a sick person. [2]
But even countries who were less than encouraging changed their position later. The Center for Disease Control and Prevention or CDC in the US advised the use of a mask to slow the spread of COVID-19. Since the effective surgical masks are not readily available, CDC advised people to at least take the protection of a simple cloth mask. The Lancet article pointed out that societal and cultural practices may have caused the initial hesitation in the Western world. [3]
With all health authorities now unanimous in recommending face masks, it is important that we learn how to make an effective mask at home. Homemade face masks are easy to make, economical, and more importantly, not affected by any supply chain hiccups. It also ensures that there are no shortages of masks for healthcare workers who have a more urgent need for masks.
What Makes a Good Face Mask?
While the CDC has okayed masks that are not surgical or N95, not everything is kosher in the mask world. The Canadian government has laid down rules on what should and should not make a good homemade face mask. [4]
It should
be made of at least 2 layers of tightly-woven fabric, such as cotton and linen.
be snugly fit against the face and fit securely with loops or ties around the ear.
be large enough to cover the nose and mouth without leaving any gaps.
allow for easy breathing.
be changed if dirty and maintain its shape on washing.
It shouldn't
be put on a child less than 2 years.
be made of non-breathable material like plastic.
be placed on someone who cannot remove it on his/her own.
be placed on someone who finds it difficult to breathe in it.
fall apart easily or made of materials that disintegrate easily, such as tissue.
be secured by inappropriate materials like tape
impair one's vision when worn.
be shared with others.
To make this easy, the CDC has issued detailed guidelines on how to make sewed and no-sew masks.
DIY Sewed Face Mask
To make a face mask you need rudimentary skills with the sewing machine. Even a hand-sewn mask will do, provided you make the stitching close and tight.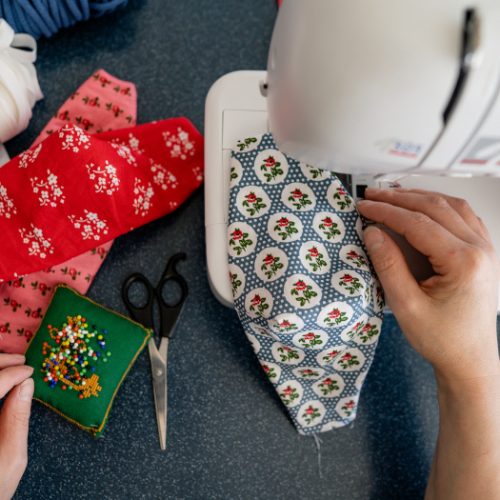 Ingredients
2

10" X 16"

rectangular pieces of cotton fabric

2

6"

pieces of elastic

or rubber band, hair ties, or string

Needle and thread

or bobby pins

Scissors
Instructions
Stack both the pieces of fabric on top of each other. Fold over the long side by 1/4" and hem. Similarly, fold over the shorter side by 1/2" and hem.

You should now have a double-layered stitched rectangular piece that is open at the top and the bottom on the shorter side. Use a large needle or bobby pin to insert the elastic through the open ends at the shorter side. If you don't have elastic, use a rubber band or hair tie.

Knot at the ends of the elastic to make a loop, which will fit around your ears. Alternatively, you can use a string. In that case, tie the string behind your head. Make sure that the elastic loops are snug and the mask fits your face closely.
DIY No-Sew Face Mask
Don't worry if you don't have access to a sewing machine. You can still make a serviceable face mask with an old T-shirt or a bandana.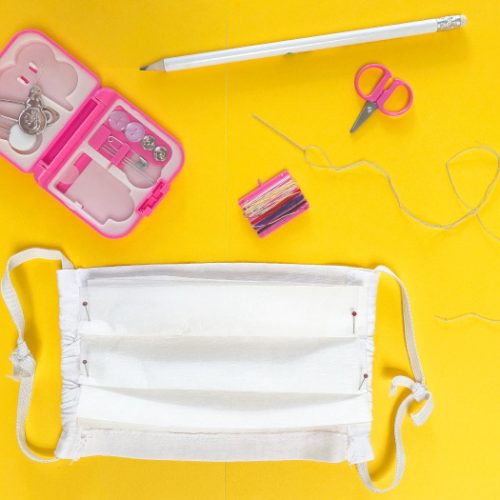 DIY No-Sew Face Mask
All you need is a T-shirt or a bandana and you can make a face mask for yourself.
Print
Pin
Rate
Ingredients
1

T-shirt

or

1

bandana

1

pair of scissors

2

rubber bands or hair ties
Instructions
From T-shirt
Cut the bottom part of the T-shirt, about 7-8" from the hem. Now cut a rectangle about 6-7" in breadth on the right side of the T-shirt. Make sure that you have about an inch of cloth above and below the cut.

You should have an intact left side and two strings on the right.

Now snip the strings in the middle. You will have a mask with strings. Tie the strings at the back of your head and at the neck for a snug-fitting mask.
From Bandana
Fold the bandana in half. Now fold the top and the bottom so that you have a band of at least 5" in breadth. Take this band through the rubber bands or hair ties.

Place the bands/ties 6" apart. Take the ends of the band and fold them in, making sure that the bands/ties are now at the two ends of the folded bandana band. Tuck one end of the bandana inside the other.

You should have at least a 5" wide band with band/ties on each end. These bands or ties will loop around your ears.
Notes
Make sure that the T-shirt is of thick cotton material. Thin and flimsy material will not work, especially since you can get only one layer of cloth for the mask. Make sure that the bandana and the T-shirt cover your nose and mouth.
FAQs
How to wear a mask?
When wearing the mask, it is important to remember that it is a protective gear, which is meant to cover your nose and mouth. So, make sure that the mask covers these areas. It should fit snug enough to stay in place, but not so tight that you are uncomfortable or unable to breathe.
Why use only cotton or linen?
We recommend using only cotton or linen because these fabrics are 'breathable', that is, they allow for the passage of air, which lets you breathe. In contrast, a synthetic material will not be as suitable. The material should also be hardy enough to sustain frequent use, sweat, and regular washing. Cotton and linen meet all these criteria. Both the CDC and the Canadian government website advises using cotton or linen.
Should you wash your cloth mask regularly? If yes, how regularly?
Yes, you should wash your mask regularly. The frequency of washing will depend on the frequency of use. You can wash it along with your regular laundry.
How to take off the mask?
When taking off the mask, be careful to not touch your eyes, nose, and mouth. Wash your hands immediately afterward.
For the latest updates on COVID-19, please visit the CDC link and the NIH link. [5] [6]