According to NIH, approximately 16 out of 100 adults in the United States suffer from symptoms of constipation. If you are someone who experiences irregular bowel movements or constipation, it may be time you look for a way to relieve it. Prune juice is one such option that is often considered a natural remedy for this condition. In this article, let us explore what research suggests.
Prune Juice for Constipation Relief
Constipation is a condition that disrupts the digestive process and leads to irregular bowel movements.
At such times, laxatives like prunes and prune juice can help in alleviating constipation. Research published in the Critical Reviews in Food Science and Nutrition journal suggests that prunes and related products like prune juice and dried plum powder contain multiple nutrients. These include sorbitol, quinic acid, chlorogenic acids, vitamin K1, boron, copper, fiber, and potassium. [1]
The study mentions that on regular consumption, dried plums may aid in the prevention of constipation and possibly colon cancer. They contain phenolic compounds, which have antibacterial properties, helping protect your gastrointestinal health. [2]
Another study shows that in comparison to psyllium, prune juice works better to improve your stool frequency and consistency. [3] [4]
How to Use?
Many sources on the internet suggest having 2 to 4 ounces of prune juice at a time. However, there is a lack of definite research to back this claim.
A 2007 study conducted on 54 volunteers shows that consuming 125 ml of prune juice, twice a day, may help in relieving mild constipation. This research, however, was not conducted on healthy adults, who did not have constipation. So, more research is required to know if prune juice can help prevent constipation. [5] [6]
John Hopkin's Women's Center for Pelvic Health has suggested an easy prune juice recipe if you are suffering from bowel irregularity. Let's take a look at it below. [7]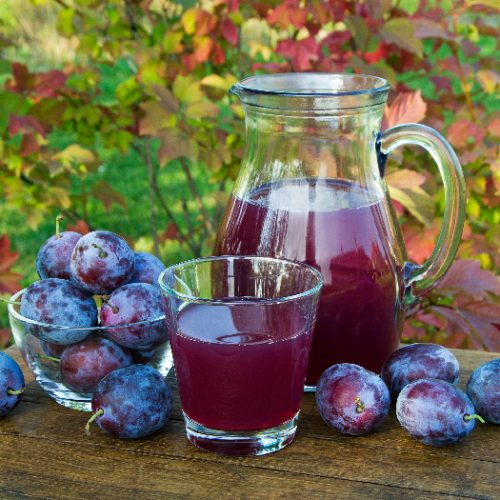 Prune Juice Recipe for Constipation Relief
This is an easy-to-make home remedy for setting your stomach health straight!
Print
Pin
Rate
[8]
[9]
Ingredients
1

cup

prune juice

1

cup

apple sauce

1

cup

unprocessed wheat bran or oat bran
Instructions
Mix all three ingredients together in a jar.

Once you have the mixture ready, store it in a glass bottle in the refrigerator.

To consume the juice for stomach problems, take about 2 tablespoons of the mixture and have it alone or with a glass of water.

You can also store the excess juice in ice trays and thaw as and when you need it.
Notes
To make the most of this home remedy, you should start with having 1-2 tablespoons every evening. You can pair it with water or a juice of your choice. If you are having the mixture by itself then drink some water after you have it.
While prune juice may provide relief, it should be complemented with other things like exercise and proper hydration.
Risks Involved
Many people use prune juice for constipation, but there are certain side effects that you should know before consuming it.
Many people experience flatulence or gas after having prune juice.
If you are consuming canned juice, it may increase your sugar and calorie intake.
If you are not sure about using this remedy, do consult with an expert beforehand. Also, if you are suffering from chronic constipation or if you cannot see any positive effect of this remedy, do talk to your doctor.