Nowadays, it is a usual sight for a health-conscious individual to include quinoa or quinoa flour in their diet plan to shed those kilos quickly. It is a famous grain crop known for its edible seeds, which possess high levels of protein content. Moreover, it has a plethora of additional benefits which include detoxification of the body, better heart health, and improved digestive health. Moreover, it helps in managing diabetes and reducing gallstones. So, let us dig a little deeper into all that you need to know about quinoa flour and how to make it in the comfort of your kitchen!
What is Quinoa Flour?
Quinoa flour is made by the grinding of the quinoa grains into minute particles to get the flour. Appearance-wise, it is slightly yellow to creamy white and has a distinctive earthy, nutty flavor. Interestingly, there are three types of this flour available – red quinoa, black quinoa, and white quinoa. White quinoa is popular as it has a relatively delicate taste and is a bit fluffier when cooked. Since this flour is pricey, people prefer buying whole quinoa in bulk and process it into fine flour by using a grain mill, a clean coffee or spice grinder, as per the requirement.
Quinoa (Chenopodium quinoa Willd) is a plant of the Chenopodiaceae family that comes from the Andean regions and is adaptable to different types of soils and climatic conditions. Its composition attracts the attention of scientific researches for its high nutritional value. More so for being rich in proteins, lipids, fibers, and minerals. [1]
Quinoa is legitimately everywhere. It's on an endless number of websites, blogs, restaurant menus, and now also included in-flight menus (the elite ones). For a good reason, recipes made from quinoa flour are incredible superfoods packed with fiber, protein, vitamins, and minerals. It is one of the few plant-based foods that is concentrated with adequate amounts of all the nine essential amino acids.
How to Make Quinoa Flour?
Just like any other whole grain flour, quinoa can be transformed into fine flour too. It is not only fabulous for baking but also easy to make and work with because you are grabbing all the nutrients you usually would with the whole seed.
Now, guess what, we are going to tell you a hack – you can try making this flour at home too! Let's find out how.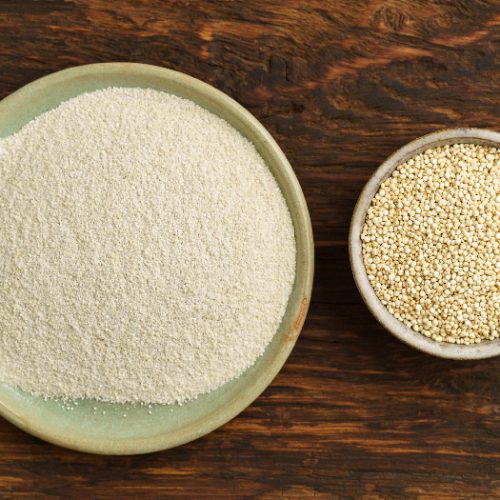 Easy-to-Make Quinoa Flour Recipe
An easy DIY recipe, quinoa flour is great for people who are looking for a gluten-free substitute and love incorporating quinoa in their baked foods and more!
Print
Pin
Rate
Instructions
Add the raw, uncooked quinoa to a skillet and medium toast it until it turns brownish and begins to pop. You will get a distinct nutty smell. Keep an eye as quinoa can burn quite easily. This step can be optional, however, it lends a good flavor to the flour.


Once it is toasted, empty the quinoa seeds into either a grinder or a high-powered blender. Grind/blend the quinoa seeds on a high for a minute until it is crushed into a fine powder.

Keep a mesh strainer on a bowl and put the powdered mixture. Sift until only large lumps remain.

If it is toasted quinoa, give it time to cool before storing it. If that's not the case, transfer the flour to an airtight container and preserve it until you are ready to use it for your next quinoa flour recipes!
With this how-to-make hack, go ahead and put your culinary skills to use. Give birth to those perfect recipes as quinoa flour for baking is a must-try for every diet conscious person who wants to lose that stubborn weight easily.
Nutrition
One cup of cooked quinoa (185 grams) comprises 222 calories.
According to a study in the International Journal of Food Sciences, minerals content in 30% quinoa flour blend consisting of sodium, potassium, magnesium, calcium, iron, copper, manganese, and zinc) were higher, which is very important for treatment of malnutrition. [2]
A 510 gm packet of Bob's Red Mill organic quinoa flour contains: [3]
Total Fat: 1g
Total Carbohydrate: 19g – carb
Dietary Fiber: 3g
Total Sugars: 1g
Protein: 4g
Quinoa has a high concoction of the following, per 100 g samples: [4]
D-xylose

Maltose

Low content of glucose

Fructose
Quinoa flour is also gluten-free, which is a characteristic enabled for use by celiac patients. Compared to other gluten-free flours, there is no requirement of xanthan gum or guar gum to make this flour "essential" in baking recipes.
Storage
To keep the flour fresh and devoid of moisture and insects, the flour should be stored in an airtight container in a cool, dark place. Once cooked, it stays fresh in the refrigerator for five to seven days. You can also cook it in batches and preserve it in the freezer in serving-size quantities.
To extend its shelf life, store the flour in the freezer. Quinoa flakes last in the refrigerator for up to 12 months.
Fun fact: Nowadays, most people remain stumped on the correct pronunciation of this complicated word, so let us help you with that. It is no rocket science. Quinoa is rightly pronounced as "keen-wa".